According to a recent report, the leather industry in India accounts for around 13% of the world's leather production and provides jobs to more than 4 million people. India is the fourth largest exporter of leather goods in the world and leather industry occupies and significant place in country's economy.
At the same time, leather industry is also a major contributor of pollution. One cannot forget nauseating black smoke, an overwhelming pungent stink in the air and the sight of a snow like white foam drifting across fields and water canals in Jajmau, the industrial suburb in Kanpur that houses close to 400 leather tanneries. The Leather industry releases large amounts toxic chemicals and acidic effluents which make their way into the sacred river Ganges. Kanpur is just one example. Just imagine the pollution caused by leather industry across the nation!
Keeping in mind long term effects, several companies which produce leather-based products like bags, footwear etc are switching to alternatives for genuine leather called synthetic leather.
Rise in Demand of Vegan Products
The trend towards ethical and sustainable products has led to a rise in demand for vegan footwear made from synthetic or plant-based materials, rather than leather or other animal products due to its affordability, durability, and eco-friendliness. Artificial leather, sometimes referred to as synthetic leather is a man-made material that resembles real leather in appearance and feel but is comprised of synthetic materials like polyurethane or PVC.
Since, India is one of the largest footwear consumer and producer markets in the world, the size of the synthetic leather market in India is set to grow by $ 1,590.53 million between 2022 and 2027 and register a CAGR of 7.96%, according to Technavio's latest market research report estimates.
The Global vegan footwear market size is estimated at $157,898.2 million in 2020. It is expected to reach $3,199.6 million by 2030, growing at a CAGR of 6.8% from 2021 to 2030 as per another report.
According to various estimates, the vegan leather market worldwide will expand to nearly $90 billion by 2025, while the overall vegan fashion market will reach $837 billion by 2030.
Vegan Leather
Vegan leather, also known as faux leather, artificial leather or synthetic leather, is a type of material that is designed to mimic the look and feel of real leather but is made from synthetic or plant-based materials instead of animal hides. Traditional leather is typically made from the hides of cows, pigs, goats, or sheep, and the production process involves treating the hides with various chemicals and dyes to create the desired texture and color leading to the slaughter of billions of animals every year.
Even raising livestock for leather products is detrimental to the environment as raising cattle for its skin also results in the destruction of forests and the production of greenhouse gases like methane which is considered worse than carbon dioxide as per several experts.
However, vegan leather can be made from a variety of materials, including polyurethane (PU), polyvinyl chloride (PVC), recycled plastics, cork, pineapple leaves, mushrooms, and even apples. These materials can be processed and treated to create a texture and appearance that is similar to real leather.
Several brands, institutes and companies are working towards creating their own versions of artificial leather. Recently scientists and researchers from the CSIR-CLRI (Council for Scientific & Industrial Research- Central Leather Research Institute) in Chennai have developed a type of vegan leather from mangoes. Similarly a Kanpur based start-up called Phool has created an alternative to animal leather from flowers.
India is already a home to several vegan leather footwear brands like Malai, Happpy Sole, Senso, Paio, Monkstory etc. Internationally too, several brands have started creating an impact including Alkind shoes (UK), Matt and Nat shoes (Canada), Nae shoes (Portugal), Bhava (US).
The list seems endless as we have entered a golden age of cruelty-free leather and leather-based items that consider both animal welfare and environmental issues.
Factors for Rise in Demand
The growing demand for artificial leather and sustainable products in India has led to the development of a thriving industry. Indian manufacturers are producing a wide range of artificial leather products, including fashion accessories (bags, footwear etc), furniture, and automotive upholstery. The artificial leather industry in India has created employment opportunities for thousands of people, helped farmers and has contributed to the country's economy and also has numerous environmental benefits
According to Shweta Nimkar, Founder & Chief Creative Officer, Paio, their brand is PETA (People for the Ethical Treatment of Animals) approved vegan footwear. On vegan leather quality she explained that it was deficient in quality 5-6 years ago, colours would fade and material would peel over a year. The industry has managed to overcome these material challenges today. With a wide variety of colours and textures available there is no limit to what is achievable.
India is a country with large population of vegetarian people, hence there is a huge demand for animal-free leather footwear. Many brands have responded to this trend by offering more vegan footwear options, including sneakers, sandals, boots, and dress shoes.
Vegan leather production is less resource-intensive and has a lower environmental impact compared to traditional leather. It is also free from animal cruelty and its production requires less water and energy.
On demand of vegan leather, Nimkar added, "Vegan leather perceptions have changed over the years. Consumers are aware of the harmful effect of leather not only on the environment but even on the animals used for leather production. With growing knowledge and awareness, most consumers have mindfully shifted their beliefs and choices to purchase more sustainable and conscious production. The demand for vegan footwear has grown by over 7% CAGR over the last 5 years and is expected to be a market size of $300,199.6 million by 2030."
Finally, vegan leather can also be more affordable than traditional leather, making it a popular choice for those who want the look and feel of leather without the high cost. Artificial leather is also easier to maintain as it is resistant to stains. This durability has made artificial leather a popular choice for products compared to genuine leather products that are subject to wear and tear.
A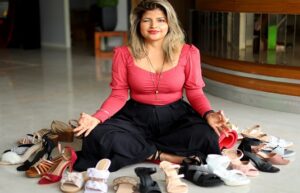 ccording to various market reports and analyses, the women's segment is expected to be the fastest-growing segment in the vegan footwear market. "This is primarily due to the demand of vegan footwear options for women in the market, as well as the growing awareness and preference for sustainable and ethical fashion choices among female consumers," says Veena Ashiya, Founder Monrow Shoes.
Challenges
One of the challenges facing the artificial leather industry in India is the quality of the products. To address this challenge, the Indian government has introduced regulations to ensure that artificial leather products meet certain quality standards. Manufacturers are required to obtain certification from the Bureau of Indian Standards before they can sell their products in the market.
Indian manufacturers are investing in research and development to produce high-quality artificial leather products that meet the needs of consumers.
Another challenge is competition from genuine leather products. While artificial leather is more affordable and eco-friendly than genuine leather, there are still consumers who prefer the look and feel of genuine leather. To address this challenge, Indian manufacturers are producing high-quality artificial leather that looks and feels like genuine leather. This has helped to increase the popularity of artificial leather among consumers who are looking for a more affordable and eco-friendly alternative to genuine leather.
Indian manufacturers are investing in research and development to produce high-quality artificial leather products that meet the needs of consumers. Additionally, the Indian government is providing support to the industry through initiatives such as Make in India, which aims to promote domestic manufacturing. The footwear sector in India is now de-licensed and de-reserved, paving the way for growth of capacities on modern lines with state-of-the-art machinery. To further assist this process, the government has permitted 100 per cent foreign direct investment (FDI) through the automatic route for the footwear sector. 
Conclusion
According to a report, the footwear industry in India contributes about two percent to India's overall GDP along with employing two million workers, making the sector one of the top employment generators in the country. As demand for sustainable and cruelty-free fashion continues to grow, we can expect to see more products made from vegan leather in the future and not only footwear. Due to factors like breathability, durability, and aesthetic quality of vegan footwear, some footwear producers are uncertain about its long-term market presence.
Despite its advantages for the environment, these factors might prevent its widespread implementation. However, with more research funding and greater public awareness surrounding bio-based leather created from plant and food waste, there is a substantial market opportunity. This is a significant opportunity for the sector to fund this eco-friendly substitute.