The dynamic evolution of fashion trends throughout history has been a constant source of fascination to many. Over time, fashion enthusiasts have witnessed the rise and fall of trending silhouettes, timeless designs, classic pieces, bold prints and much more. However, over time, the definition of fashion has undergone a remarkable transformation.
In a cultural landscape where values, identities and societal norms are in a constant flux, the fashion industry too seems to be rapidly adapting and responding to what this generation of shoppers resonates with the most. One of the most exciting facets of this transformation is the rise of gender-neutral fashion; a movement that has made fashion transcend its sartorial-centric image and instead become a vehicle that furthers self-expression and inclusivity.
According to EY's analysis of the 2020 World Bank data, the next decade will be greatly shaped by Generation Z, a massive demographic of 1.8 billion people. In India, this group accounts for 375 million individuals, making up for 27% of the nation's total population. As the largest generational group in history, their consumption patterns will undoubtedly mold the future of our economic landscape.
Today, the Gen-Z group is at the forefront of the fashion revolution, passionately championing equality in style. Refusing to be confined by traditional fashion norms, they care not only about what a brand produces but instead, what its ideologies and ethos are. Their demand for inclusive fashion is reshaping the industry and is inspiring brands to prioritize representation and authenticity like never before.
We bring you 6 Indian brands that are inviting individuals to be part of a defining and new-age journey in fashion and are pioneering the cause of a gender-neutral style.
Not long ago, Being Human, a brand recognized for its significant contributions to many social and charitable initiatives, launched 'Blur' – their one-of-a-kind collection that celebrated inclusivity and gender neutrality.
Aptly named Blur, the collection aimed to offer clothing that blurred the lines between men's and women's fashion and offered casualwear garments fashioned in a trendy, gender-diffused style. Urging wearers to embrace their real selves, 'Blur' boasts of another feature too: It is size – unrestricted, offering access to all.
Sanjeev Rao, CEO of 'Being Human Clothing' says, "The world, at large, is embracing the concept of oneness and inclusivity within its diversity. With 'Blur', we are extremely proud to now feature among the progressive labels of India who have embraced the concept of gender-fluid fashion."
He adds significantly, "From our perspective, 'Blur' is a fashion offering that diffuses all boundaries. I'm quite optimistic that it will appeal to individuals from all walks of life."
Being Human Clothing was founded in 2012 with the objective of furthering the interest of 'Being Human – The Salman Khan Foundation,' a charitable trust devoted to education and healthcare initiatives for the underserved population in India. 
Co-founded by Pranav Misra and Shyma Shetty in 2012, HUEMN (pronounced human) is an award-winning ready-to-wear fashion label that is homegrown in India and retails in Europe, China and the Middle East besides its home country.
As a brand, Huemn is credited for challenging traditional fashion norms by offering unisex designs. They are renowned for creating visually striking garments that often carry relevant socio-political messages; making their clothing a medium for important conversations.
Collaborating with various artists and designers, the brand creates thoughtful collaborations that are genderless with a fusion of global and local elements. Their USP is to experiment with materials, patterns and themes to create pieces that are unconventional, distinctive and desirable by fashion-forward men and women. Besides making a stance in a gender-neutral fashion, Huemn is also a staunch advocate of sustainability, inclusivity and mindful buying.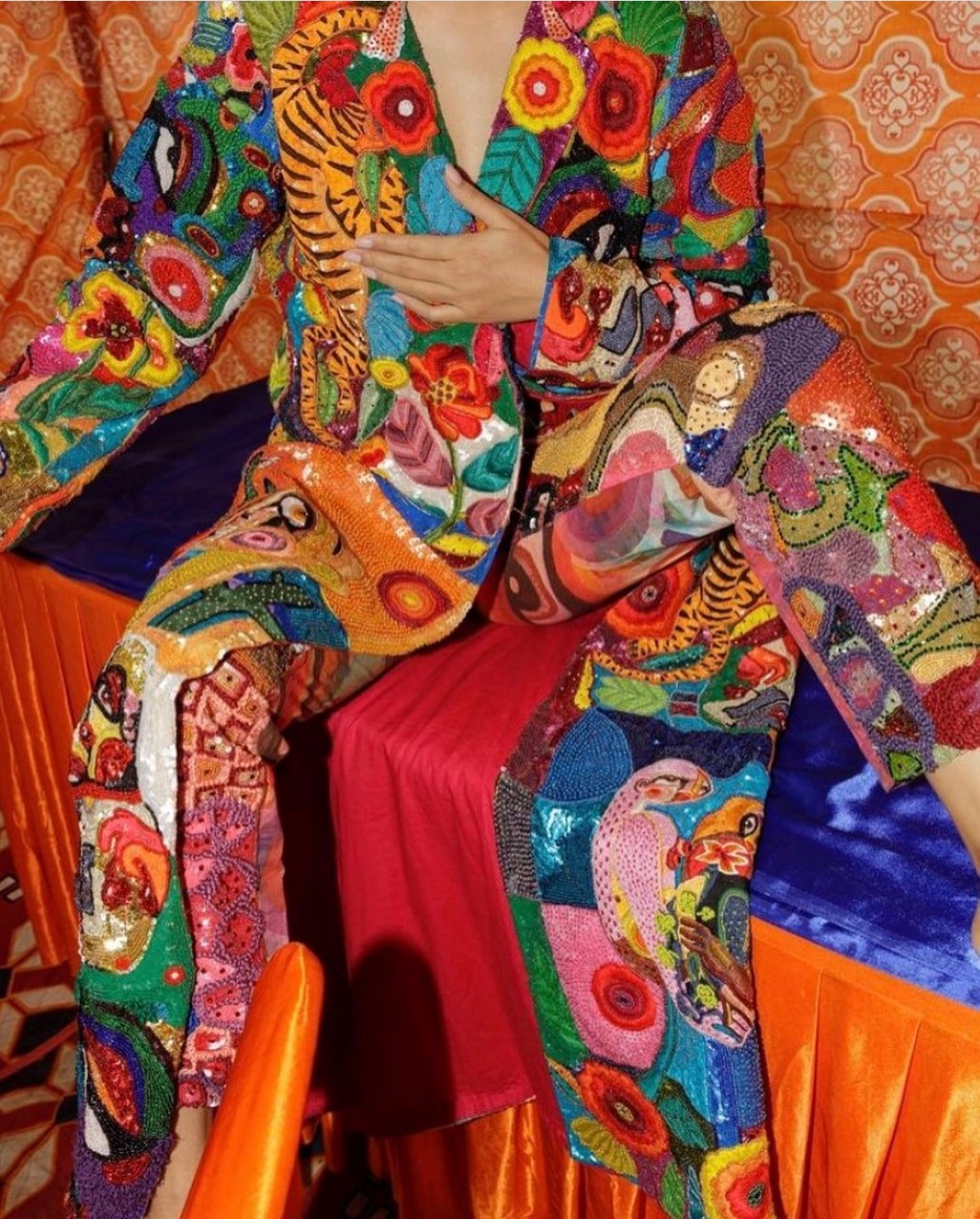 Started by Ayushman Mitra (best known as Bobo) and Jeet Shahi, with the idea of making art available in the form of clothes, Bobo Calcutta carved its niche in fashion through its one-of-a-kind designs that are vibrant, playful, loud and unapologetic.
Imbibed in floral motifs and intricate hand embroidery, the brand creates clothing that encourages individuals to celebrate their sense of fashion without fear. All of their garments boast motifs that are gender-fluid and that can be stylishly worn by both genders.
The brand's market success is credited to its boundary-pushing designs, which draw inspiration from Indian culture, mythology and folklore. Bobo-Calcutta has also gained recognition on the international fashion front for championing self-acceptance through its eclectic and quirky take on fashion.
Two Point Two was founded in 2017 by Anvita Sharma. This genderless, all-inclusive and sustainable label is characteristically non-conformist and aspires to 'refashion' a world that operates within set notions. Being "Typically Atypical" is the brand's motto, which is all about embracing one's uniqueness and quirkiness.
The brand is best known for featuring collections of experimental silhouettes that are avant-garde in nature. Their designs push the boundaries of conventional fashion, offering unique and visually striking options for people, regardless of their gender.
Garments from Two Point Two are thoughtful, concept-driven and have a multi-cultural approach which creates more diversity and room for storytelling through fashion. The brand also supports sustainability and is gaining recognition worldwide for its take on fluidity of style.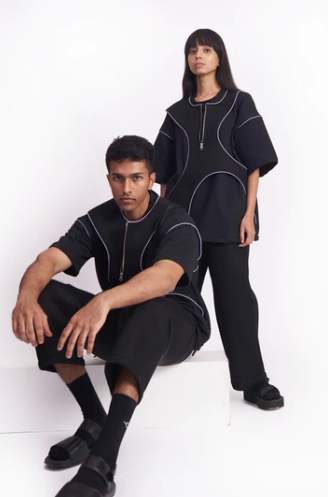 Founded by siblings Shruti and Harsha Biswajit in 2017, Biskit was established to explore the boundaries of fashion, art, photography and design. The brand envisions a gender-neutral society where clothing can be worn by anyone and everyone for comfort, functionality and durability above all else.
­­­Biskit's USP is that it creates garments and designs based on thoughts and concepts rather than seasons and trends. Their collections are inspired by concepts like the human mind and space, which are then blended with detailed craftsmanship and modern-day, striking visuals that are created to last long, so individuals buy less over time.
Taking pride in their mindful creations, Biskit as a brand is on a mission to challenge industrial standards of gender-based style along with mass production. By breaking the wall between menswear and womenswear, the brand creates clothing that is responsibly produced, limited-edition and high-quality pieces that can be worn by anyone.
A label by Delhi-based Creative Director and Founder Sumiran Kabir Sharma, Anaam was founded with the commitment to breaking down gender norms in fashion and creating inclusive and versatile pieces for all. The brand has an anomalous approach to fashion and the label's ethos lies in its unique language which is communicated through its silhouettes, drapes and detailing.
Anaam specializes in working with concepts to transform them into tactile pieces. Throughout its creation process, the brand envisions providing its wearers with freedom and comfort that is not bound by stereotypical fashion norms. The brand's designs are mainly characterized by minimalist aesthetics and neutral colour palettes that are art-like in their appeal and allow people to mix and match effortlessly.