Purplle was born with the vision to make beauty accessible to all. Today, the brand services over 28,000 pin codes enabling women in the remotest corners of the country access to beauty products, delivering the joy of beauty in a manner they have never experienced before. A strong cap table, with reputed investors, has led to the exponential growth of the brand in the past few years.
In this tell-all interview to IMAGES Business of Fashion, Manish Taneja, Co-Founder & CEO, Purplle talks technology, growth, consumer experience and the path ahead for Purplle.
Tell us about Purplle's growth story.
We started as a beauty marketplace but have today grown into a community that enables beauty for all. The business expanded to fill the gap in the market with home-grown private D2C brands that make beauty products affordable and accessible to women across India.
Purplle today includes 5 private D2C brands, Faces Canada, Good Vibes, Carmesi, Purplle, and NY Bae, with strong brand philosophies each creating a niche for themselves. Evaluating the potential of the offline platform, Purplle has expanded into the segment with exclusive Purplle stores, brand-led stores, kiosks, and retail touchpoints. Purplle's online marketplace business has grown from strength-to-strength with:
7 million monthly active users
1200+  brands
70,000 products
30 brand kiosks and stores and over 6,000 touchpoints offline.
Overall, Purplle has grown from an annualized GMV of Rs 50 Cr in FY 2018 to Rs 1,400Cr in FY 2022, which is an exponential 28X growth.
How does Purplle use technology to keep itself relevant in a country flooded with cosmetic brands?
Our emphasis has always been on delivering beauty backed by technology, be that on our website and app or our private brands. We provide high-quality innovative products across categories where there have not been brands to fill in the white space at a price point lucrative for consumers.
Over 70% of our audience is from Tier II and III cities, we cater to their requirements and are their go-to beauty partners. Our app and our private brands have created a niche for themselves in the market. We offer 2-day delivery across most cities and our delivery time in regional centers is reducing. Infused with the latest technology, our app offers personalization to our consumers along with a virtual try-on, and a skin analyzer.
Tell us about the brands you house.
From a brand point of view, we have Faces Canada, which is one of India's largest make-up brands. Our second largest brand Good Vibes, offers consumers natural and exotic ingredients at pocket-friendly prices. Our large assortment of brands, consumer-centric innovations, new-edge tech, a rich repository of educative content, and a unique 2-day return policy are just some of the differentiators that enable Purplle to provide beauty for all.
Which beauty brands enjoy strong demand? Why?
Purplle.com has a host of brands that retail on the platform and therefore has the opportunity to analyze co-related data and trends. Skincare, make-up, and haircare continue to remain the leading categories on the platform. A brand or product that has a key differentiator and is available at a consumer-friendly price point is essentially the one that garners major demand. Reliant on trends, and the external environment, these brands and products are constantly changing on the platform.
What criteria do you consider before listing a brand on your platform? Is sustainability a major criterion?
Purplle has a strong process and due diligence for listing brands on the platform, the brand must have strong credentials. We generally look for consumer-fit, clean and green ingredients, and reliable products.
We are high on sourcing from brands across the globe that can offer Indian consumers additional value. We have recently on boarded some famous Korean brands and are the exclusive retailers for the brands in India, these brands include, Kaja beauty, I Dew Care, Purito, and the Dokdo range by Round Lab.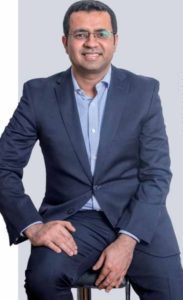 How much has the demand for beauty products increased over the years? To what factors do you attribute this?
In the initial years, the penetration of beauty knowledge did not exceed basic, kajal, lipstick, and powder. Today, with the reach and accessibility of social media, accentuated by the rise of influencers, education in the beauty and personal care space is high. We were the initial pioneers of regional influencers who created content for their audiences across categories. Today, apart from the basics, consumers are aware of the range of products available to them along with information on how to use products.
At Purplle, we are also equipping consumers with the power of personalization, with the data collected we have a recommendation engine that seamlessly displays products for a consumer based on skin tone and type.
Touch-and-feel is quite important in the beauty business, how do you address this?
Initially building a vertical e-commerce business, especially in beauty was unheard of. However, with the internet penetration and boom, we were confident this model would work in the future. Given the restrictions, challenges, and constraints with offline retail in India, the management believed e-retail could be the best to reach millions of consumers who are dispersed all over the country. At the time, it was an easy option to reach consumers who were looking to buy online. While people were hesitant and they began with small purchases, eventually vertical e-commerce grew in India and many companies benefitted from the boom.
Over time, we have reaped immense benefits of e-retail, foremost would be the access to consumer data that enables Purplle to serve consumers with personalized recommendations based on their browsing history. The pandemic was another boost to the sector that invited consumers to purchase their favorite products online.
Purplle capitalized on this and introduced a host of technology innovations that allowed for the seamless purchase of beauty and skincare products. The virtual try-on features have a plethora of lipsticks for consumers to try and then buy based on what suits their skin tone.
In terms of skin type, the skin analyzer on the platform analyzes your skin and provides product recommendations best suited to solve your skincare concerns.
Over and above, we do realize the importance of touch and feel and now Purplle has 8 exclusive stores across the country. Additionally, majority of Purplle's private D2C brands are also available across retail outlets in the country.
What are some of the challenges you face being an online brand.
During the nascent phase, 2012-2014 we were the first in the beauty e-commerce space, convincing naysayers that the business of beauty can be conducted online via e-commerce. It was challenging to persuade industry biggies and FMCG players to navigate e-commerce territories. However, today, we deliver across 28,000 pin codes and provide accessible beauty for women across the country. Traversing the journey, investing in beauty education was a key pivot for Purplle. Very early the brand invested in budding regional inȄ uencers to create educative content ensuring category building for various skincare and make-up products. Purplle was also one of the few initial brands to launch serums in the country while also educating consumers on the beneȃ ts.
What are your expansion plans?
Purplle will continue to invest in building a strong brand from India, bringing the joy of beauty to all. We have a strong acquisition plan and a thorough retention funnel. Our other focus areas will be to scale our omnichannel platform, consistently build our technology innovations, and strengthen our private D2C brands, establishing the brand as a leader in the beauty industry. Our targets are ambitious and are long-term plans that will come to fruition in due course over the years, starting with 200 stores over the next 3 years.