Beyond being a futurist as well as being one of the most talented and unconventional designers Paco Rabanne had a history of stirring frenzy in the media with outlandish and controversial statements…
1934
Francisco 'Paco' Rabaneda Cuervo, more commonly known by his alias Paco Rabanne, was a fashion designer born on 18 February 1934 in Saint Sebastian, Spain. He fled from Spain to France with his mother as an infant during the Spanish Civil War. It was his mother – who worked as the chief seamstress at Balenciaga – that gave him the nickname Paco. Rabanne was interested in architecture as a teenager and he went on to study it at the Ecole National Superieure des Beaux Arts in Paris where he met many other artists in the industry. There, to finance his studies, he began producing accessories for couturiers of that time and also became involved in the artistic movement at the time.
1960s
In the 1960s, Rabanne began creating jewellery for Givenchy, Dior, Balenciaga, Nina Ricca, Pierre Cardin, Courreges and more. He made his connections in the industry through university as well as support from his mother. In 1965, Rabanne began his career as a designer by presenting his first collection in Paris called the 'The Unwearables' – a collection consisting of 12 otherworldly dresses and including his first plastic dress. Rabanne over the years became known for using unconventional material such as metals and plastic, he build this identity over multiple decades and stuck with it from his very first collection.

In 1966, Paco opened his own Haute Couture atelier, and began experimenting with unconventional materials such as metal, paper and plastic for his bizarre designs. Paco Rabanne's first mega-hit piece was his dress made with small rhodoid (plastic) tiles linked together like a bracelet with metals chains. It was the talk of the season in Paris at the time and some of these avant-garde dresses can still be seen today at the Museum of Modern Art (MOMA) in New York. Rabanne was also one of the first to use black models at the time and it was seen as outrageous. Just like this, there were multiple unspoken rules in the fashion industry at the time Rabanne didn't like to follow and therefore he was given the name l'enfant terrible by the French fashion world.
Throughout the 60s Rabanne gained momentum as a designer. He was a highly in demand costume designer as well, wanted by movies, theatres and ballet shows all over the world. One of his most famous costumes was the outfit worn by Jane Fonda in 1968 in the movie 'Barbarella.' The same year continuing into 1969, a collaboration with the Puig group began. This resulted in the creation of Paco Rabanne perfumes.
1970s
In 1976, the first perfume factory was built in Chartres, France and today the Million men's and women's scents is one of the most recognisable scents along with being one of the most popular. Rabanne had become a popular designer by 1975-76. However, his pieces were more art than functional and very few women wore them. At the time, trends for women were leaning towards softer silhouettes and designs and more ethnic wear.

1980s
In 1986, Paco Rabanne was awarded the Golden Thimble at the 1st International Festival of Fashion, to recognise his extraordinary service to fashion during the last fiscal year at the time. In the 80s, Rabanne continued innovating new fabrics and materials to dress women in. The collections throughout the 80s consisted of materials such as crinkled paper, rough cotton towelling (also known as terry cloth today), perspex (a type of plastic), patchwork leathers, ostrich feathers and tassels. He also continued to re-innovate his classic plastic tile dress with metal links over the years.
1990s
In 1990, Rabanne opened the doors to his new boutique on Rue De Cherche Midi, Paris. The architect Eric Raffy took inspiration from Rabanne's design identity and based the interiors in 3 themes – metal, glass and light.
The 90s were the years that Paco Rabanne began to stray away from only metals and plastics and began exploring softer cloths and man-made fabrics like sofrina and amaretta. He also began using Japanese materials and techniques. In 1996, he introduced 'Paco' a unisex line, catering to the menswear audience as well.
In 1999, Rabanne announced his retirement from Haute Couture. He felt as if it wasn't in harmony with the new millennium approaching. Instead he devoted his time and energy into making the brand bigger and therefore began concentrating on a ready-to-wear line and accessories for women.
2000s
In 2000, Rabanne discontinued the brand 'Paco,' the unisex brand, the same year that The Ministry of Education, Culture and Sports award him the gold medal of merit in Fine Arts. He also decided to take a step back from the brand and name Patrick Robinson as Artistic Director in 2005.

Paco Rabanne was fond of drawing as well as fashion, he had been drawing throughout his career but he had never opened his art for the public. The only person to have seen his art was Salvador Dali and this was 30 years prior to his exhibition in Moscow in 2005.
2010
In 2010 Rabanne was honoured with the highest French order of merit, he was made an Officer of Legion d'Honneur, a merit established by Napoleon Bonaparte in 1802. The brand went through a refurbishment and revival under the Puig group in 2011 after multiple rocky years.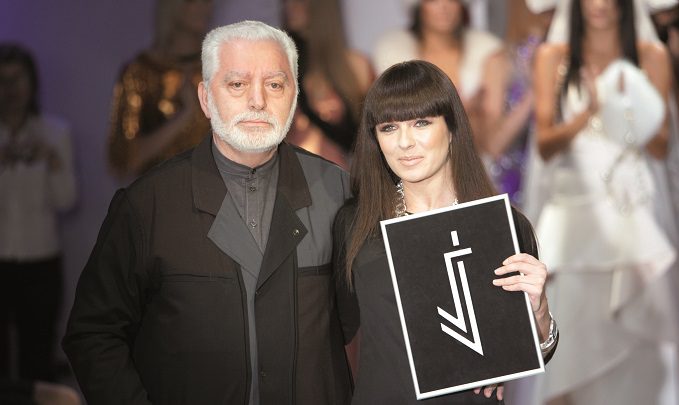 2023
On February 3rd 2023, it was reported that Paco Rabanne had passed away at his home in Paris at the age of 88.
Beyond being a futurist as well as being one of the most talented and unconventional designers Rabanne had a history of stirring frenzy in the media with outlandish and controversial statements. Rabanne, who was a puzzling figure in the media, made claims such as the Russian space station 'Mir' would fall on France, aliens had visited him and that he had seen God multiple times. He also claimed he had several previous lives, one in which he was a prostitute and another in which he was the murderer of Egyptian Emperor Tutankhamen.