Texvalley at Erode, South India's largest textile market center, recently concluded its 3rd edition of TAG EXPO 2023. The 1st edition of TAG Expo was held in August 2022 followed by 2nd edition in January 2023 with much wider reach and coverage.
Over the last two editions, TAG EXPO has evolved exponentially in terms of reach, coverage, product portfolio, participating brands, industry innovations, technology, buyer base, exhibitors, sponsors, footfalls and so on.
The much-awaited TAG EXPO 2023 was organized on 24th to 26th July'2023 which attracted exhibitors, merchandisers and buyers, manufacturers, exporters, agents, traders and wholesalers across various geographies, sectors and categories. The participation of leading brands and buyers from across the globe added to the grandeur of this exposition. With over 1200+ pre-registered buyers and over 150+ pre-registered exhibitors, the 3rd edition made an indelible mark in the textile, accessories and garments industry.
A 360 Degree Plan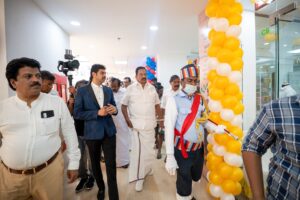 The event was not just advertised with 360 degree media plan but was also covered by all leading national and international media platforms which helped the expo to garner success. With wide coverage in trade magazines, influencer marketing, digital media, direct marketing, airport & outdoor hoardings, news publications and print ads, press meets and road shows, the expo managed to connect with the right audience across different regions. This also helped sponsors of the expo benefit from maximum media coverage and the noise created thereby attracting eyeballs from across the nation.
With the event witnessing global exhibitor profile, an international buyer base, display of wide variety of textile, accessories and garments, conferences with industry experts, fashion shows of international standards conducted by renowned fashion choreographers and an awards ceremony to felicitate the deserving brands, this edition was truly an international trends on display with a global theme.
Successful Associations
TAG Expo edition 3 successfully associated with MSME which indeed benefited the exhibitors to avail the subsidy of the exhibiting fees.
TAG Expo 2023 successfully created a seamless platform for both manufacturers and buyers to partner and grow through networking. Lead generation during TAG Expo helped them to capitalize on a global audience.
The business environment created by the expo brought together various components of the industry thereby giving an excellent opportunity for a wholesome experience. Additionally, TAG Expo fulfilled its commitments of creating and providing entrepreneurship opportunities for people by bringing all requirements on a single platform and encouraging the entrepreneurial aspirations to conduct the business in most favorable textile marketplace – The Texvalley.
The development of complete product life cycle and thereby the eco-system in the textile hub of India, TAG Expo has immensely contributed to the textile and apparel industry.
Use of Technology
TAG Expo 2023 was fully digitalized and all bookings either for stalls or even as a visitor / buyer was done completely online. To match up with the digital era, TAG Expo was also supported by an exclusive application which facilitated the buyer-manufacturer collaboration even after the event is over. This innovative technology helped the buyers / manufacturers to network in a better and full proof manner.
The exposure for the regional Brands to the global market, introduction to latest techniques and technologies, designs and trends, product know how, creating entrepreneurship opportunities and so on, TAG Expo has played a key role in shaping the future of textile, clothing and apparel markets.
TAG EXPO has lived up to its aim to make it as the most prominent exposition for garments and allied products on a pan India basis, looking beyond just the southern states. The next edition of TAG EXPO scheduled in July 2024 will see an increase in the buyers data base beyond the Indian shores, with the objective to make TAG Expo as India's biggest B2B exposition for textile, accessories & garment industry.