Horizon Performance Polyurethane's brand Rymbal – committed to pushing the boundaries of innovations in Polyurethane Systems elevating the footwear experience for consumers – has launched an advanced polyether-based polyurethane system designed to meet the emerging trends in footwear requiring additional comfort, especially for outsoles.
The demand for footwear with extra cushioning in the slipper and sandal categories has been steadily growing. Rymbal's new product, RymaSoft, offers unparalleled softness, high abrasion resistance, and superior flexibility, creating a new benchmark for comfort with performance in the footwear industry.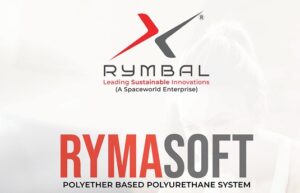 The The B2B player's primary objective for introducing RymaSoft is to provide footwear and sole manufacturers with a cutting-edge solution using advanced polyether technology, offering enhanced features without compromising the mechanical properties.
An outstanding features of RymaSoft is its antimicrobial property, which ensures enhanced hygiene and a fresh feel for the user even with prolonged usage.
Shersingh Kumar, CEO of Rymbal, spoke on the launch of RymaSoft, saying, "RymaSoft will be a game-changing solution designed to revolutionize the manufacturing of footwear soles. Developed using the latest polyether-based Polyurethane System, RymaSoft offers unprecedented comfort and longevity, thereby offering a lasting footwear experience to the Indian consumers."
With RymaSoft, Rymbal sets itself apart from its competitors as it was quickly able to capture the changing trend for comfort and offer a solution. The product complies with all relevant standards including SATRA.
"At Rymbal, we believe in pushing the boundaries through various initiatives from our R&D team. We have the best-in-class R&D infrastructure set up to meet the future expectations of Indian footwear users. This product embodies the relentless pursuit of excellence by our team, who have worked tirelessly in developing this product," stated Kumar.
With a strong focus on research and development, Rymbal continually strives to provide cutting-edge solutions to footwear manufacturers with sustainable solutions, enabling them to create exceptional products that cater to evolving market demands and being eco-friendly in nature.