Over the years, the Indian ethnic wear market, once thought to be unorganised and impenetrable, has grown rapidly. The opportunity it offers has motivated many companies, including retail giants, to enter.
With wider acceptance, increased disposable income, more women joining the workforce, the transformation of traditional clothing to modern design, and the Indian wedding becoming ever more elaborate, the Indian ethnic wear market has grown rapidly over the past few years.
Market Research
According to Statista, the average per capita income stands at $ 2,601; 29.4% of women (aged 15-59) were part of India's labour force in 2021-22, according to Periodic Labour Force Survey; and the Indian wedding industry will be worth $ 159 billion by the middle of this year.
These factors offer enormous opportunities to designers as well as manufacturers. According to Siddharath Bindra, Managing Director, Biba Fashion, "The Indian fashion market has experienced revolutionary changes – surprisingly all within the last decades or so only. The Indian consumer's preferences, likes and dislikes have undergone a complete transformation in lifestyle and, that is strikingly a visible fusion and blend of Indian, western elements and influences. Over the past several years, the sector has seen a change due to the explosion of ethnic wear-related online retailers and technological advancements in product and design development."
Bindra asserts that the disproportionate size of Indian wear in womenswear is an outcome
of the distinct positioning of Indian wear for women compared to that for men in India. "For Indian women, Indian fashion is a mainstream need for daily wear (in addition to strong
occasion wear) whereas for men it is currently restricted to occasion wear viz. weddings and festivals," he explains.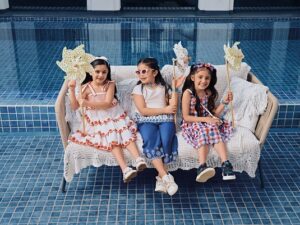 Within ethnicwear for kids, Indian wear for boy's accounts for 7% of overall apparel market for boys, while Indian wear for girls is ~21% of the overall apparel market for girls, Bindra states.
The growth has created hitherto unheard-of chances for retailers and brands alike operating within this sector.
Swedish fashion retailer H&M announced its global collaboration with designer Sabyasachi to launch a collection that included saree for the ȃ rst time.
Similarly, Japanese retailer Uniqlo tied up with local designer Rina Singh to launch a kurta collection that includes tunics, dresses, pants and stoles. This development has encouraged brands and retail giants to either launch new brands, enter into partnerships or acquire labels to grab a part of the pie.
Titan Company entered the segment with its ethnic range under Taneira. Launched in 2017, the youngest brand is looking to turn the largely unorganized saree business into a organised one by catering to the mid-premium to premium segment of the market. Today, the brand competes with saree retail chains such as Nalli Silk as well as Meena Bazaar.
In 2018, Raymond launched Ethnix by Raymond. "It took us time to scale it up. In 2020, everything stopped. And we relaunched it back in 2022. We kind of came back. In 2019, we opened 25 stores, and now we've taken up to 60. That's the journey, it's a new brand," Bidyut Bhanjeo, Chief Business Officer – Raymond Limited says.
In this backdrop, what is phenomenal is that retail giants like Reliance Retail and Aditya Birla Fashion & Lifestyle Limited (ABFRL) are joining the race in a segment dominated by brands like BIBA, W, Aurelia (both owned by TCNS Clothing) FabIndia and Manyavar to name a few, either by launching new brands or through acquisitions or partnerships.
Retail Giants X Designers
ABFRL's Designer Brands
> ABFRL, part of the Aditya Birla Group, acquired a 51 per cent stake in designers Shantanu & Nikhil's company Finesse International Design Pvt. Ltd. This was the company's second major acquisition in the ethnicwear segment. A month before this, it had acquired ethnic e-commerce player Jaypore for Rs 110 crore.
"Indian ethnic wear is a large segment in the Indian fashion market and we have identified it as an important growth opportunity for ABFRL. This partnership will further deepen our presence in this important and fast-growing segment and strengthen our leadership position in the overall branded apparel market," ABFRL Managing Director, Ashish Dikshit said in a statement.
> This was followed by ABFRL inking an agreement to buy 51 per cent stake in designer brand Sabyasachi for Rs 398 crore. In a press statement, Sabyasachi Mukherjee, CEO and Founder, brand Sabyasachi, said, "Over the course of the last couple of years, as my brand evolved and matured, I began searching for the right partner in order to ensure continuity and long-term sustainable growth."
> Then in 2021, ABFRL acquired 33% stake in the luxury couture business of Tarun Tahiliani, with the option to increase it to 51 per cent in the next few years. With the designer, it established a new company called Tasva, with the goal of selling Rs 500 crore worth of men's ethnic clothes and accessories in five years' time.
"We have invested strategically across the spectrum of ethnic wear. Tasva is a big play for us and in the spectrum of many occasions, we are placed in the premium segment of that. And there is the market growing at high double digits and is likely to grow at high double digits over the next several years. And the Indian consumers are a lot more confident about our roots. That's why I believe this category is about to explode," Tasva CEO Sandeep Pal stated.
> The latest in ABFRL's kitty is House of Masaba. It bought a 51% stake in House of Masaba Lifestyle Private Limited, the entity that houses apparel, non-apparel, beauty and personal care, and accessories businesses under the brand 'Masaba' owned by designer
Masaba Gupta. The brand is targeting to achieve annual revenues of around Rs 500
crore in the next 5 years.
Designers in Reliance Brands Limited's Kitty
In 2022, Reliance Brands Limited (RBL) signed an agreement to invest in couturiers Abu Jani Sandeep Khosla (AJSK) for a 51 percent stake. The strategic partnership aimed at
accelerating the 35-year-old couture house's growth plans in India and beyond, RBL
stated.
"Teaming up with India's foremost couturiers, who hold an unparalleled position in Indian fashion for their fine craftsmanship and impeccable attention to detail, techniques and embroideries is thrilling, as it allows us to build a stronger platform for their zealous commitment to reinvention of Indian craft," Isha Ambani, Director, Reliance Retail Ventures Ltd said in a statement.
> Reliance Retail Ventures Ltd, through various joint ventures and strategic partnerships has also brought to India a mix of western brands like Kate Spade, Tiffany & Co, Steve
Madden, Diesel and Burberry, to mention a few. It also acquired Satya Paul in 2018.
> In the same year, Reliance Brands picked up an equity stake in fashion designer Raghavendra Rathore's brand. Then in 2021, it acquired a 40 per cent stake in the Manish Malhotra brand. This was succeeded by picking a 52 per cent stake in couturier Ritu Kumar's firm Ritika Pvt Ltd.
Then came its 60:40 joint venture with couturier Anamika Khanna for owning and developing the brand AK-OK, another partnership with leading designer Rahul Mishra's design firm Rahul Mishra Designs Private Limited (RMDL) to launch a global fashion brand, and its subsidiary Reliance Retail Ventures Limited (RRVL) investing in a majority stake in legacy designers, Abraham & Thakore Abraham & Thakore Exports Pvt Ltd.
What is interesting is that all these happened in a span of one year. The apparent reasons appeared to be that without capital inflows, sophisticated operations and expanded bases, the labels would remain confined in certain markets, and hence they chose these arrangements or were motivated. As for the retail giants, the investments or the acquisitions are affordable.
In most arrangements, the designer stays focused on the creativity aspect while the management is handled by the retail giants.
The Market Now
"This category has been growing, mainly led by Manyavar. Now 25 per cent of this entire category was organized, 75 per cent is unorganized. Now, with all these players jumping into, the conversion from unorganized to organized will be faster. So, by the next two to three years, the unorganized will come down to 50 per cent and organized will come up to 50 per cent. Even if the unorganized market is growing at 10 to 11 per cent, the organized market will grow at more than 15-16 per cent," Bhanjeo observes. "We will probably be looking at touching Rs 500 crores in the next three to four years and open around 300 to 350 stores," he adds.
On Tasva's retail footprint, Sandeep Pal says, "We are a pan India player and we have carefully selected markets where we believe there is a large opportunity available and this is a very well split geography. But in our current 42 stores we are present in metros tier 1 tier 2 towns."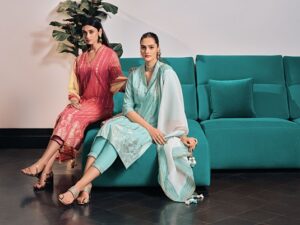 Bindra claims that BIBA has witnessed strong growth in tier 2, tier 3, and Tier 4 cities across India. As per a Technopak report, the distributive growth across India has resulted in the growth of demand from these regions, which together accounted for 34 per cent of the demand in the apparel market in the financial year 2020. The company intends to capitalize on this trend by setting up new exclusive brand outlets and expanding its network in additional regions across India, he stresses.
Bridging Diversity
But in a nation where the language changes every 300 miles, along with clothes and food, cultures, mindsets and ideologies, a design that works in the North may not work in the South.
Bhanjeo says, "I'm from the East, I'm based in Mumbai. Borders there have sort of merged and celebrations are common. So therefore, I think that this is becoming common across. But there are colour preferences, which are there. But in terms of garments, there isn't any differentiation."
On markets, he says, "If you look at the market, it is more focused in the North. So North is the largest market, South is slightly weak. In the Northeast, beyond Assam, we find less traction. Our brand Parx sells well there, but ethnic is little muted."
Pal believes that the influence of cinema is helping bring in a little more homogeneity in consumption patterns. "We have ladies sangeet happening everywhere, cocktails happening everywhere. That being said, there is a nuance of preferences. For example, there is a nuance of colour palettes, there is a nuance of silhouettes," he says. "For example, a pathani kurta is a hot seller in the North but doesn't sell well in the South. When I go down south, let's say go to Kerala, people prefer shorter length kurta."
Retail Expansion
BIBA has already established a strong presence in Tier I cities in India and now intends to expand its focus to tier 2, tier 3 and tier 4 cities, Bindra claims. He says that the move is expected to drive further growth for the company and widen its reach among its target audience. "Biba's strategy of expanding its network in the growing tier 2, 3 and 4 cities of India is expected to enable it to capture the untapped potential of the Indian ethnic wear market and strengthen its position as a leading brand in the industry," Bindra further explains.
2023 holds a lot of promise, because we are opening 100 stores, Bhanjeo shares. For Tasva, it has a 200 market roadmap. "It is well spread across metro, tier 1 and tier 2.
metros in the beginning will get a higher share. But if I look at my 200 markets, it's a fair distribution across these two, because the size of the opportunity in tier 2 is as exciting as it is in the metros," Pal says.
He goes on to conclude, "A lot of customers in smaller towns are very well aware. Whatever it is, they have the money to spend, they're looking for the right brands, which can allow them to express themselves in the right manner."