As a fashionable Sportswear brand, FILA's mantra has always been 'without beauty, there is no performance', and rightly so, since the brand's products are an amalgamation of beauty, style and performance.
FILA, which operates under Metro Brands in India (since it was bought over from Batra Group) has been able to balance both manufacturing its products locally versus import in its portfolio – 80 percent in India and 20 percent imported.
In an exclusive chat with IMAGES Business of Fashion, FILA Creative Director, Abdon Lepcha, talks about product diversification for an Indian audience, the marketing collaboration with Hailey Bieber and the brand's plans for the Indian market.
Excerpts from the exclusive chat…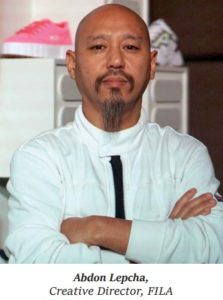 Tell us about FILA's product diversification strategy.
Our product portfolio consists of apparel, footwear and accessories under which most of the lifestyle, sportswear and athleisure styles are covered. In the apparel segment, the products range from crop and tank tops for women, sweatshirts, sweathoodies, jackets and joggers are important silhouettes that cover most of the athleisure pillar.
Sneakers as an overall blanket covers the footwear category under which we have differentiated products like the tennis-inspired court sneakers, triple black and white sneakers, chunky silhouettes, fashion and style infused products for daily lifestyle. There are also many new, innovative products for outdoor running and training.
Which product categories are the best performing in the Indian market?
In footwear, chunky sneakers, classics, court sneakers, outdoor and retro.
In apparel, tennis lifestyle, terracewear, unicolor sets, normcore looks, tech and tennis.
What has been the impact (in terms of product demand, visibility and designs) FILA has experienced after its collaboration with Hailey Bieber.
The FILA x Hailey Bieber collab came as a limited edition range. The iconic archival styles such as crewneck sweatshirts pieces and tops were specifically designed and curated based on her style personality and the FILA DNA.
After this collab, we have observed that Indian consumers have evolved to understand the value of limited editions and the desire to own fashionable, expensive products has increased. The products, which were available on all our platforms, received a great response, considering the price was on the higher side.
What kind of manufacturing arrangement do you have in India? How much do you source locally?
As a brand, we have been able to balance product manufacturing locally versus importing in our portfolio. The apparel manufacturing contribution is 80% India and 20% import. We also have partnerships and ties with Indian factories that fulfill most compliances, and have the expertise to make differentiated products and play with different materials as well.
For footwear, we are working towards a higher percentage of production in India not only to keep up with the norms of the Bureau of Indian Standards (BIS is the mandatory Indian product certification for products to be exported to and distributed in India) but also because products made in India will help with the overall growth of the domestic economy.
Footwear manufacturing in India is in an upward trajectory with the BIS being implemented. Currently there are challenges of procuring differentiated materials and trims but in due course of time, we will be able to find ways to improve and innovate.
How do you see FILA being positioned in India's sportswear market heavily dominated by brands like Adidas, Nike and Puma? How much market share are you eyeing in 2023-24?
The sportswear market is filled with brands that have been present for a long time, but FILA has its own strengths which we are capitalizing on. As a brand, we are focused on bringing freshness and style with premium quality to sportswear and athleisure. While we may be considered a sportswear brand, but our X factor lies in fashion and style and in the rich heritage and culture that we aim to imbibe in every country we are present in. We place FILA products in the mid to premium price segment, keeping young consumers in mind. What separates FILA from other sportswear brands is the attitude and aura of Italian heritage and workmanship.
What is your operational arrangement with Batra Group and Metro Brands?
FILA completely operates under Metro Brands ever since it was bought over from Batra Group.
Tell us about your retail strategy and store expansion plans.
FILA will be present across all Metro and Mochi stores, but we will also invest in key flagship stores across cities. Our current focus however, lies in connecting with our consumer.
How do you view the Indian sportswear market in terms of growth, challenges and brands' positioning?
As per recent studies, the sportswear industry in India is expected to grow at 8-12% CAGR by 2026, which is a healthy growth in this segment. As the sportswear market size increases, so does the opportunity to capitalize and grow as a brand as well. India as a country is quite young in terms of pure performance sports. However, this is not to say the country and its people – who have adopted health as a major focus area recently – are not catching up. Pure activewear is still at a nascent stage but sportswear lifestyle / athleisure has grown manifold. This is evident in new and younger brands as well as other category brands like formalwear and casualwear foraying into the athleisure and sportswear categories to capture a piece of the pie.