Homegrown online retailer The Pant Project, which specializes in bespoke trousers, was launched by brothers Dhruv Toshniwal and Udit Toshniwal. The boys – who hail from a family which boasts of over 45 years of experience in the textile industry – decided to launch the brand after Dhruv couldn't find the perfect bottom wear when he came back to India from Wharton.
"The pandemic was upon us at that time and physical retail had taken a massive hit. We figured the time was right to launch an online brand, to leverage the power of the internet to digitize the traditional tailoring experience and offer never-seen-before levels of service to customers who were looking to buy quality products from the comfort of their homes," he said.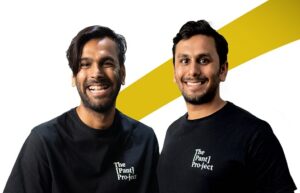 Dhruv, who studied finance at Wharton, spearheads the business side as CEO, while Udit, who studied at The School of the Art Institute of Chicago, leads the creative team of the brand. They say that their team conducted market research for a year before after The Pant Project was launched in October 2020.
The brothers confidently state that their company is now a leader in the bottom wear space in India. "While competing with legacy brands, we disrupt the current model through our customized solutions. We also aim to organize local tailors and over the counter fabric businesses through our online business. Our brand offers digital solutions to the age-old sizing issues," explains Dhruv.
What Research Says
According to a report by Technavio, the custom apparel market is estimated to grow at a CAGR of 7.22% between 2022 and 2027, while the size of the global market is forecast to increase by $ 1,790.48 million in the same period.
The growth of the customized apparel market depends on several factors:
The rise in Internet penetration and smartphone adoption
The growing use of customised t-shirts as a branding tool
The growing awareness among people about fitness and a healthy lifestyle
India is considered a big market for personalized and customized fashion. According the McKinsey State of Fashion report 2020, the total market size of personalized merchandise in India is 110 million consumers. Of this, 40 million are corporate employees at mid and senior levels, 50 million are middle class and 20 million are college students. As per McKinsey, personalization will be the main trigger for success in the fashion sector in the next 5 years. Companies that do not use personalization in their brands would face a huge loss of revenue or even go bankrupt.
Several homegrown customized apparel brands have come up in India including Bombay Shirt Company, Creyate, SS Hommme, Raymond MTM (Made to Measure) to name a few.
The Pant Project: A Unique Offering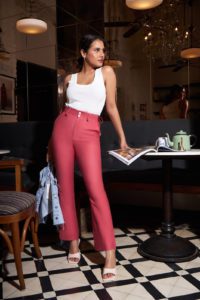 As per Udit, the offerings of The Pant Project are significantly different from traditional big retailers like Zara, H&M, Arrow, Tata Trent etc. and are personalized to meet the customer's demands including measurements and styling preferences.
"We offer a perfect fit, free customizations, free shipping and alterations, premium fabric options and free video consultations with our personal stylists. Our styles are classic and never go out of fashion. Clients can wear their pants for years, and get maximum value from the purchase. We are excited to offer something new and have been amazed by their positive response," he says.
In February this year, for example, The Pant Project launched its latest product line – power stretch jeans. The jeans are made from tightly woven twill and high-stretch technology, which allows the denim to adapt to the body contour instead of the other way round. This custom-fit technology ensures that the jeans are comfortable to wear 24 hours a day, seven days a week, 365 days a year.
The jeans are designed to look sharp and provide true freedom of movement, for the Indian body type, which the company has done an in-depth study of. Customers can choose from a range of washes and can opt for their perfect inseam length based on their height. In addition to their custom-fit design, the power stretch jeans are also machine washable for easy maintenance. The company has also conducted several tests to ensure that the jeans are comfortable, durable and long-lasting. Each garment undergoes three stretch tests, seven durability tests and 20 colour tests to ensure optimal comfort, longevity and colour retention.
Marketing Makes Perfect
The Pant Project recently partnered with Italian designer Guido Bertagnolio to launch a limited edition line of workwear pants for men. Bertagnolio graduated from Biella Textile School in 1962 and has over 60 years experience in fashion and has worked for several international luxury brands like Armani, Dolce & Gabbana, Loro Piana, and Cerruti.
On the partnership, Dhruv said, "Guido is the epitome of luxury Italian design and we have the privilege of working and learning from him to present this collection. It is a collaboration that marries luxury to everyday style for the perfect pantologist."
E-Customization, Transparency & Sustainability
Through e-customization, customers can opt for premium fabrics in their exact size and length and also add their initials on their pants. There is also free shipping, apart from free reverse pick-ups and alteration facilities.
The Pant Project prides itself on transparency, especially since it is a consumer-first brand. Their customers know exactly what they are getting. "Our fabrics are sourced from Rajasthan and products manufactured in Daman. Our alterations are done in our Bombay office, so we have complete control over our manufacturing to ensure maximum consumer satisfaction. We're also very proud to be a very ethical brand and provide above-average wages to all our employees," says Udit.
The brand has also dabbled in sustainability in that it uses polyester which is 100% recycled from PET bottles and relies on recycled water and renewable power. The company's aim is to neutralize 5000 kgs of carbon emissions every month.
Expansion Plans
Dhruv says The Pant Project aims to become 'India's No. 1, D2C clothing brand, and world's leading new-age e-tailor'. We hope to serve over a million customers and achieve an annual sales run-rate of over Rs 100 crore.
"We would like to engage with our clients, and potentially grow to have an omnichannel strategy. Apart from customised pants, we would like expand our product range with custom-made shorts, t-shirts, belts, shoes, socks etc. In the long term, we would also like become a global brand.  We want our clients to be satisfied with having found the perfect solution for their clothing needs," he concludes.