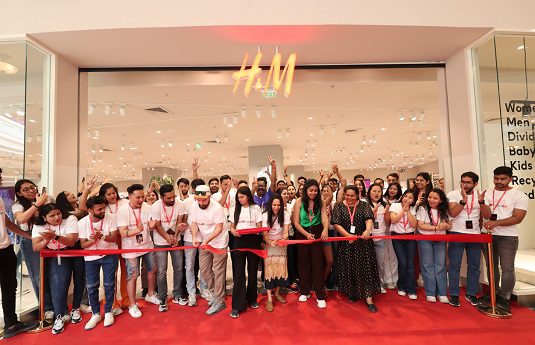 Swedish fashion brand H&M has opened its latest outlet at MR 10 road, junction, Phoenix Citadel Mall in Indore, Madhya Pradesh.
Spread over 1623.32 square meters, designed by the latest interior trends, the store offers a modern and welcoming shopping experience featuring H&M's latest collections at approachable price points.
The new store opening is complemented with exciting collections featuring Spring/Summer styles along with the latest Men's Linen collection, each of them offering a breadth of interchangeable styles presented in elevated fabrics. Additionally, as part of H&M's commitment to a more circular and sustainable future, the new store also offers the brand's Garment Collect initiative which allows customers to bring unwanted clothes and textiles by any brand, in any condition, at the store.
"We have felt right at home since we opened our first store in Indore in 2017, therefore we are very excited to launch our third store in the city! We now will be able to welcome our customers to a new location with an even more elevated and vibrant customer experience in addition to the collections. It is our pleasure to welcome our customers and to offer them added value through fashion and quality at the best price in a sustainable way." said Yanira Ramirez, Country Sales Manager, H&M India.
Even as it expands in India, H&M is also making waves globally. The brand is all set to open its first-ever global flagship stores of its beauty line, H&M Beauty in Oslo, Norway.
The first flagship store will open at 10.00 on 4 May 2023 in Oslo, Karl Johans gate 14 and the second store will open on 25th May 2023 in Oslo City. Read more about it here.
H&M was founded in 1947. The global apparel brand offers a variety of formal wear, basic wear, accessories, party wear. In 2015, it launched its beauty line H&M Beauty which offers a wide range of makeup, body and hair products and beauty accessories in its stores around the world and on its website.
The brand entered the Indian market eight years ago, to much fanfare and enthusiasm. Today, it retails through 50 stores across 26 cities in the country. It also offers an online shopping experience through its website, app and also through fashion e-commerce company, Myntra.