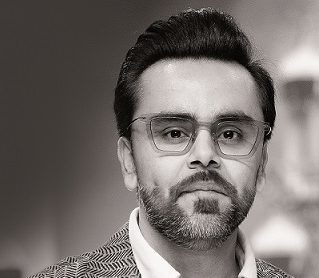 Education
Masters Degree in Entrepreneurship from the Royal Holloway University of London, UK
Career History
• I started my journey in retail at an early age, joining my father in the business.
• I got an opportunity to take Neerus to an altogether higher growth trajectory through innovative marketing and operational initiatives at the firm.
• I always believe to project Neerus not as just another ethnic regional brand but as an aspirational Indian wear brand.
Role and responsibilities
Minutely involved in every aspect of the business, yet make it a point it reaches a level of being auto-piloted. Being in fashion retail, my core role and responsibility is to reduce the
time of response within the team for any job. It could be from the aspects of design, production, replenishment, vendor management, repeat orders, and staff training so on and so forth.
Strengths and weaknesses
Strengths
• Fashion accuracy
• Infinite database that helps in foresight
• Always crunching numbers for decisions that's taken or yet to be taken.
Weaknesses
• Wish I was from tech background to break the monotony and help understand software part of retail
• Taking attrition decisions at human resource level
• Too busy in day to day operations, at time leaving behind the main focus that is merchandise
Aspiration
• To create the most aspirational brand in the ethnic wear space and invade this virgin space with maximum presence in India and abroad.
Skills that helped you succeed
• To reduce the response time of any job in the company and act urgently
• Most accurate SWOT (Strength, Weakness, Opportunity and Threat) analysis of myself and the brand. Analyze the SWOT and break it into pieces for action.
Lessons learned
• However big the brand is or however your retail store may look like, eventually what is important is -Product, Product and Product.
• The customer will come to your store once for the look and feel, ambience, interior, etc but comes again and again when you have the right merchandise at the right time.
On the future of Industry
The consumption story of India is big. Any consumer business will definitely have an uptick in India. India's growth story is growing from strength to strength, hence evidently
making us the best in consumer business compared to the best of the best in the world.
Role model
Role model as such none, but role brands for sure. From a Selfridges in London to fashion brands like Zara and Ralph and Lauren.
Life mantra
My late father's tip: Work like a labour and live like a king.