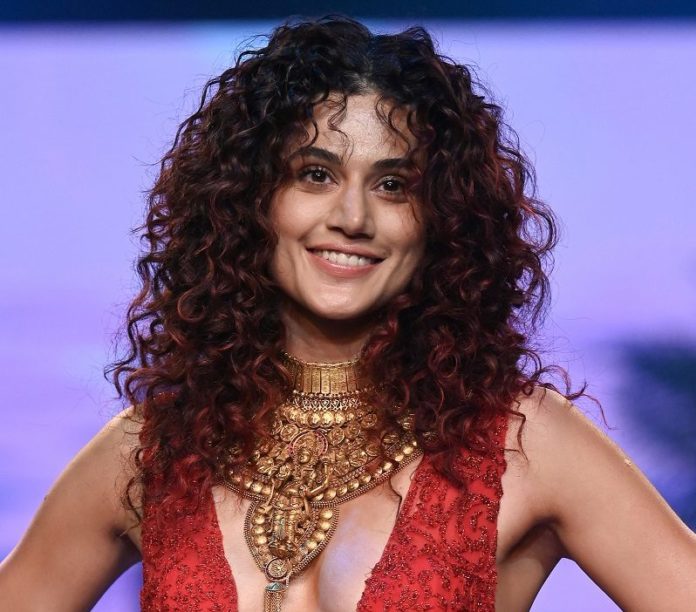 Reliance Jewels brought Tamil Nadu's Thanjavur region's rich heritage to life with the preview of their Akshaya Tritya Collection "Thanjavur" at Lakmé Fashion Week in partnership with FDCI and in collaboration with designer Monisha Jaising. The showcase featured Monisha Jaising's signature styles of 'Luxury pret' and 'Couture'.
The newest design was unveiled on the runway by Bollywood actress Taapsee Pannu. Taapsee's heritage neckpiece from the Thanjavur collection, which was inspired by the Golden Period of the Chola Empire in Thanjavur.
Located in Tamil Nadu, Thanjavur is an important landmark for South Indian art, architecture, and temples.  The collection draws inspiration from the divine temples, the mesmerizing architecture, the magnificent Durbar hall, Poompuhar, and the exemplary art of Thanjavur, including woodwork, paintings, metal and brass artefacts, and much more.
Commenting on the association, Sunil Nayak, CEO, Reliance Jewels, said, "We are delighted to have partnered with Monisha Jaising to preview our upcoming "Thanjavur" collection at Lakme Fashion Week x FDCI 2023. Her vision and creativity and the beautiful line created perfectly complement the essence of the THANJAVUR collection, and we were thrilled to see the magic unfold on the runway,"
He further added, "India is a country of diverse cultures, and every region has its own unique story to tell. At Reliance Jewels, we have always been passionate about capturing these stories and bringing them to life through our jewellery collections. This year, we continued the journey to the land of Thanjavur in Tamil Nadu, a living embodiment of Indian craft and culture. The Thanjavur collection is the culmination of our journey to this
beautiful region and the preview at LFW featured exquisite chokers, long necklaces in gold and diamond accompanied by a wide range of finger rings, bangles and other accessories that seamlessly blended with Monisha's Pret and Couture wear on the runway. We are excited to launch this collection at Reliance jewels Showrooms across India for Akshaya Tritya this April."
Pannu said,"It was an honour to walk for Reliance Jewels and Monisha Jaising. I feel like a queen in the fabulous couture wear by Monisha Jaising and the exquisite Jewellery by Reliance Jewels. Reliance Jewels' newest collection, Thanjavur, has my heart, as their jewellery line draws inspiration from breath- taking architecture of temples and its intricate carvings, the incandescent colours of darbar halls, and the effervescent charm of art & crafts from Thanjavur. This stunning heritage neckpiece I am wearing is inspired by the glorious Chola Empire's Golden Age in Thanjavur. The necklace is decorated with coins that represented the Chola Empire King's conquest of several nations, and the names inscribed in the plates represented the titles he attained as a result of his numerous triumphs. Every piece in the collection is equally stunning & I'm sure everyone will love the incredibly fascinating collection as much as I do."
Sharing her thoughts on the collaboration, Jaising said, "My collection is an amalgamation of costume artistry with the exquisite craftsmanship of Reliance Jewels. The signature MJ draped gowns teamed with embellished crop tops and accessorised with filigree neck chokers by Reliance Jewels instantly raise the glamour quotient."