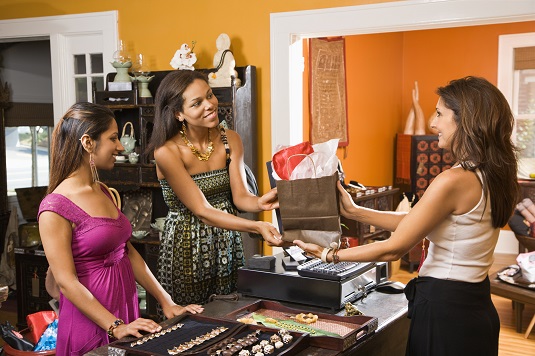 Every fashion brand has its own unique identity, which is a reflection of the people behind it. And behind every successful fashion retail brand are individuals who are passionate, resilient, and emotionally invested in their work.
There are three essential cogs in the store wheel and they are: Store Associates, Store Managers, and Brand Managers, essential stakeholders that work together in a fashion retail store. Each has their own unique role and responsibilities, and together they make up the backbone of any fashion retail brand.
The Store OS team at Fynd, India's top in-store omnichannel retail-tech solution, surveyed over 900 retail employees from different parts of India to understand their cognitive behaviors and personality types. The study revealed exciting insights into these stakeholders' work and responsibilities, highlighting each group's personality traits, key motivations, frustrations, and aspirations.
1. The Store Associate: The first point of contact with customers store associate is an important persona to understand because they are the face of your brand. They are the ones interacting with customers and helping them find what they're looking for. The Store Associate is crucial in creating a positive customer shopping experience, ultimately impacting the brand's success.
2. The Store Manager: Facilitator of the smooth functioning of the store, the store manager is a vital member of a retail team. S/he is responsible for profit and loss, the store's smooth functioning, and the employees' professional growth. Understanding this persona will help retailers understand how best to work with them, as well as what challenges they face daily that may affect a brand's success in their stores.
3. Brand Managers: The ultimate decision makers for the brand, the brand manager persona is significant to say the least. This person manages your brand's image and reputation online and offline. They make sure that the look of your store is in line with what consumers expect from the brand. Brand Managers, as the leaders of the brand, are responsible for the overall functioning of the brand, including the profit and loss of the brand stores.
Understanding the Differences
While there are similarities in the emotional personas of these stakeholders, there are also differences in their definitions of success and the metrics that motivate them.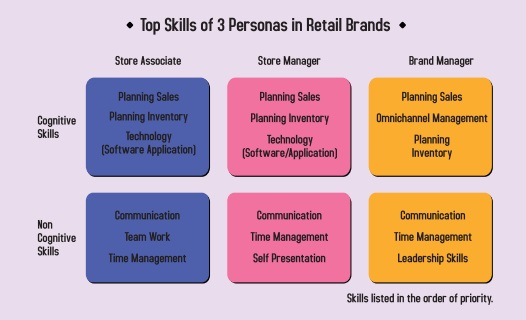 By understanding these differences, fashion retail brands can create a more satisfying work environment and improve their  performance.
Behavioral Traits
Comparing some behavioral traits among the three personas shows that Brand Managers are the most patient and least likely to get frustrated. A lesser percentage of Store Associates exhibit high patience and are more likely to get frustrated; Store Managers lie somewhere in the middle. All three personas are compassionate to a similar extent. Among the three, the highest number of Store Managers have come out as extroverts, and Brand Managers the least.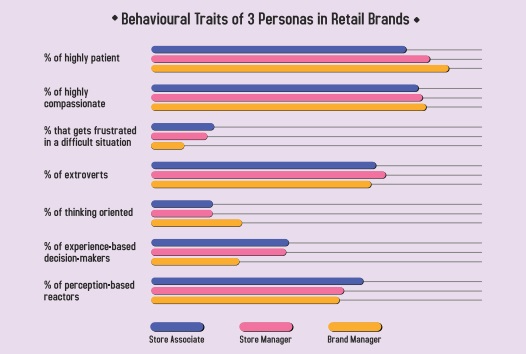 When it comes to decision-making, Store Managers and Store Associates think alike and are more oriented to make experience-based decisions, while more Brand Managers are inclined towards intuition-based decision-making. Brand Managers also have the highest percentage of thinking-oriented individuals compared to feeling-oriented, while Store Managers and Store Associates show similar traits here. The highest number of Store Associates react in a perceiving way rather than a judging way; Brand Managers have a lower percentage of perceiving way, Store Managers again in the middle.
Knowledge, Goals & Skills
All Brand Managers have high brand knowledge, while Store Managers and Store Associates have slightly less. When it comes to tech-friendliness, Store Managers ace the trend, and Brand Managers are at the bottom.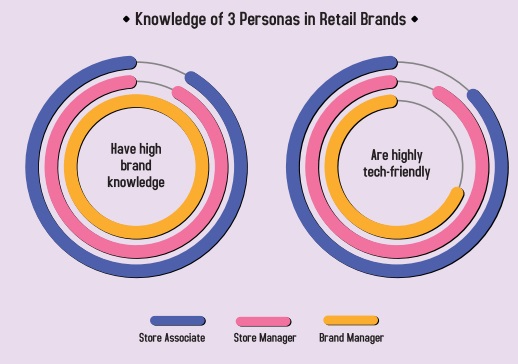 The survey revealed that increased sales hold high priority for all three personas, and all three care almost equally about customer satisfaction. Overall, the goals of the Store Manager and Store Associate are similar, while a Brand Manager has slightly different priorities.
Salary appears as one of the top 5 goals only for Store Associates. 100% target achievement is of the highest priority for Store Managers and Store Associates, while for a Brand Manager, it is the least.
When it comes to omnichannel, Store Associates and Store Managers care more about the functioning of omnichannel, while Brand Manager are inclined to derive more sales out of it. A Brand Manager also aims for timely deliveries, which is not in the list of top 5 goals for the other two personas. The three personas display the same trend for the top-most required skill for their jobs, both cognitive and non-cognitive, i.e., planning sales and communication. The Store Manager and Store Associate must have technology skills to work on software or applications, while for a Brand Manager, omnichannel management is essential. Planning inventory is a necessary skill for all three personas.
Motivations & Pain Points
Since Store Managers and Store Associates have more direct interactions with customers, customer satisfaction motivates them the most, while for Brand Managers, it is a lower priority.
The lower rungs in the hierarchy are motivated by professional growth, while Brand Managers are more driven by brand growth. Likewise, the Store Manager and Store Associate are more motivated by incentives, but it does not fall on the top list for a Brand Manager. All three prefer complete control of operation
The pain points of the three personas show a striking difference between the Brand Manager and the in-store staff —the Store Associates and Store Managers. The biggest pain point for the in-store staff is the availability of products since they deal with them in their day-to-day role.
A Brand Manager is not much bothered about the availability of products since they don't directly encounter this. Similarly, the in-store staff struggles more with managing and tracking deliveries and inventory. Dealing with omnichannel partners also ranks among the top priorities for the in-store staff.
A Brand Manager has different pain points, including operational activities, Ȅ oor planning, inventory indenting, store targets, and employee management. It is observed that these only bother the in-store staff a little.
Preferred Channels of Sales
Pitching an in-store customer is of the highest preference for all three personas. All three are least interested in driving sales on the brand website—the Store Manager, the least of the three. Interestingly, an in-store endless aisle is a highly preferred medium of sales by all three personas. All three are almost equally inclined to make sales through sharing a brand catalog with customers. Among the three, Brand Managers prefer calling the customers the least, as they interact less directly with them than the other two. The Store Associates prefer social channels the least, but Store Managers and Brand Managers prefer social channels, although it is the second-lowest priority for them.
Conclusion
By and large, the personas of a Store Associate and a Store Manager are similar to an extent, and Brand Manager differs from the two in some ways. These differences can be attributed to the fact that Brand Managers interact with customers less, hold higher responsibilities towards the brand, and are more experienced with higher positions of authority.
Understanding employee personas is critical for any business, particularly a fashion retail brand. Employees play an essential role in representing the brand to customers. Therefore, it is crucial to understand their attitudes, interests, and behaviors to create a conducive work environment that motivates them to perform their tasks efficiently.
By understanding the employee persona, a fashion retail brand can develop better training programs that cater to their needs, ensuring they have the necessary skills to serve customers effectively. This will enhance employee satisfaction, loyalty, and retention, leading to better customer service, increased sales, and, ultimately, a stronger brand image. Neglecting their emotional needs can lead to negative consequences such as employee burnout, high turnover rates, and a damaged brand image.