Eli Bitton's romance with fashion began in 1990, when he established his first Israeli fashion house with the help of his wife and sister. The newlyweds opened their first store in Zefat, the Galilee region's capital in Israel, with the help of Eli's elder sister Sarah.
Bitton's original creations were initially sold in the small boutique along with retail evening wear from different nearby businesses. The fashion company grew over time, and soon the boutique only sold the designer's original creations.
In 2006, Eli and Sarah came to India for the first time to look for fabrics and cutting-edge designs. They began working with embroidery businesses to create custom-made textiles.
In 2008, Eli Bitton opened a flagship shop in one of Israel's most prestigious malls.
In 2020, when the siblings came to India for a routine business trip, Eli's elder son Yehuda Bitton came to visit them for a two-week period from Puerto Rico, and Yehuda's visit coincided with the beginning of the first Covid19-induced lockdown.
In 2020-21, when the country started opening up after the last lockdown, their embroidery business was already left battered. This left them at a crossroads and in a very serious dilemma. They had to make a bold decision. To launch a fashion house, an independent operation in India. They knew that establishing a fashion house would be something big in terms of capabilities and dimensions.
In September, 2020, they decided to close the flagship store in Israel and opened an independent complex of 6,000 sq ft. instead.
In December 2022, Eli Bitton opened its first store in India. The Indian fashion house that Eli Bitton worked with didn't survive the second wave of the pandemic and that's when the brand decided to launch its own store in the country.
The brand needed enough space to showcase its premium collection properly. It, therefore, chose Patel Nagar in West Delhi over other localities in Delhi. On display were some of the most promising designs that included the newly launched 'Brilliant Pop Collection', as well as many other extravagant such as evening gowns, mini dresses, leisure suits, jumpsuits, and pantsuits.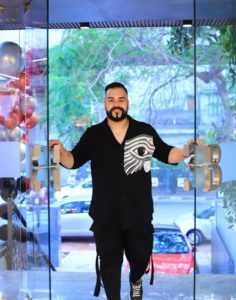 Yehuda Bitton, COO & Fashion Designer, Eli Bitton, says that Indian audience "finds Eli Bitton's dresses cost-friendly as compared with other luxury brands".
On the challenges the brand faces to increase its visibility, Yehuda says, "Being better every day than the day before is the true challenge for any brand, no matter where it is. We keep a proper check on quality, competence, reliability and services. We always make sure to maintain the best clothing and styles. When a client finally sees a completed product, they are not really aware of the drawn-out and laborious process that went into it. When it comes to novel cuts or patterns, it can sometimes take five months for a design to be implemented."
"We are," Yehuda claims, "still working to attract as many Indian eyeballs as we can because the audience in India tends to gravitate towards well-known brands, making it a little challenging to get their attention as a new brand."
However, he maintains that despite being a luxury brand, its price range is extremely economical. The brand is available in a variety of prices ranging from low to high.
The brand aims to open more franchise model stores in Delhi so that it can maintain the 'quality of its garments and can deliver best to the customers'.
"We have our own fashion house in Delhi where we prepare all the designs and ensure the quality of the dresses. The plan is to add two or three more locations before expanding to other Indian cities. We are currently establishing up an array for the marketing of our creations in prestigious multi-designer boutiques across the globe," he says.
Yehuda adds that 2022 has been the best year for the brand so far, financially. They got a lot of repeat customers who had purchased their products online. There were customers who followed them on social media and had been anticipating their launch in India.
"The most satisfying aspect is that 90% of the women who tried our designs purchased them," he concludes.