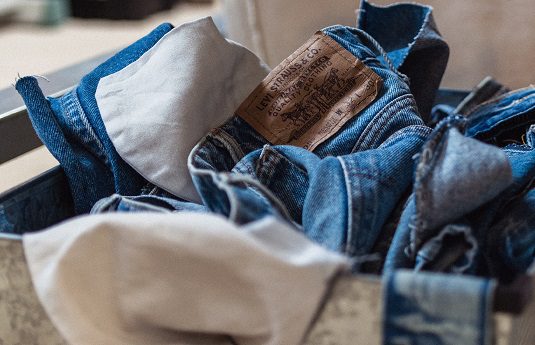 Levi Strauss & Co. is one of the world's largest brand-name apparel companies and a global leader in jeanswear. The company was founded by Levi Strauss in 1853 as a wholesale dry goods business in San Francisco that became known as Levi Strauss & Co. Seeing a need for work pants that could hold up under rougher conditions, he and Jacob Davis, a tailor, created the first pair of jeans. In 1873, they received a U.S. patent for "waist overalls" with metal rivets at points of strain. The first product line designated by the lot number "501" was created in 1890.
Today, the company designs and markets jeans, casual wear and related accessories for men, women and children under the Levi's®, Dockers®, Signature by Levi Strauss & Co.™, and Denizen® brands. Its products are sold in more than 110 countries worldwide through a combination of chain retailers, department stores, online sites, and a global footprint of approximately 3,000 retail stores and shop-in-shops.
Levi's® SecondHand Program
Levi's® SecondHand program aims to keep garments in circulation and out of landfills. This includes jeans and jackets that've been broken-in and made better by time.
The brand wants to encourage customers to buy better quality products which last longer, so that they can waste less.
They say that if everybody bought one used item this year, instead of buying new, it would save 449 million pounds of waste.
Addressing ESG Issues
Levi's second annual global sustainability report takes a deeper look at how the company is addressing pressing environmental, social and governance (ESG) issues for its business, industry and the communities in which it operates.
Through its sustainability initiatives, the brand seeks to be a leader in transparency and impact, to accelerate the circular economy ecosystem, and to increase collaboration by inspiring others to join our journey toward an inclusive and regenerative apparel industry.
Three Pillars of Sustainability for 2025 & Beyond
In 2021, Levi's updated its holistic sustainability strategy with clear goals such as climate action, water reduction, and commitments to workers with important focus areas such as biodiversity, waste and circular economy. The overall strategy and goals demonstrate the company's ambition and commitment to progress across key pillars of climate, consumption and community.
Climate
22% absolute reduction in supply chain greenhouse gas (GHG) emissions over the base year (2016)
66% absolute reduction in GHG emissions associated with all company-operated facilities over the base year (2016)
85% renewable electricity in company-operated facilities (of total electricity used in FY21)
5+ billion litres of water recycled since 2011, in line with supplier use of Reuse & Recycle standard and Water
Preliminary biodiversity roadmap developed (as a prelude to implementation of a comprehensive biodiversity strategy by 2025)
Consumption
First-ever circular Levi's® 501® jeans developed
95% of all cotton used in products was organic, recycled or Better Cotton*
100% of all down sourced from Responsible Down Standardcertified suppliers*
~1,300 chemicals on the LS&Co. Preferred Chemical List, which encourages our suppliers to use safer alternatives in their manufacturing
~28,000 units of clothing reclaimed or extended.
Community
~16,600 LS&Co. employees
~62% female LS&Co. executive leadership team
~509,000 workers in supply chain*
~80% of LS&Co. product volume sourced from factories using the Worker Well-being initiative
$13.5 million total charitable contributions to community partners**
Ongoing advocacy on climate change, paid family leave, gun violence prevention, voting rights, and, in 2022, reproductive rights
Sustainable Sourcing
The company sources its products primarily from independent contract manufacturers located in approximately 26 countries around the world. No single country represents more than 20 percent of their production.
Levi's requires all third-party contractors and subcontractors who manufacture or finish products for the company to comply with its code of conduct relating to supplier working conditions as well as environmental and employment practices. In addition, Levi's require its licensees to ensure that their manufacturers comply with the company's standards.
Additional Highlights
 · Developed and brought to market the circular Levi's® 501® jean, which contains a blend of organic cotton and fiber spun from discarded denim.
· Joined the Ellen MacArthur Foundation Jeans Redesign project in 2021 to help drive greater circularity in denim.
· Began pursuing brand-level certification to the Organic Content Standard (OCS), Recycled Claim Standard and Global Recycled Standard. Our company-operated factory in Plock, Poland is certified to develop products under the OCS.
· Joined Fashion for Good and began participating in projects focused on waste reduction and recycling, plant-based dyes and more.
· Began collaborating with Stony Creek Colors to pilot the use of plantbased, pre-reduced indigo.
· Adopted the AFIRM Group (Apparel Footwear Industry RSL Management Group) Restricted Substances List (RSL) and AFIRM Packaging RSL as part of our commitment to greater industry collaboration and consistency in chemical management.
· Earned the Zero Discharge of Hazardous Chemicals Leadership Aspirational Level designation — one of just five apparel companies to earn the designation in 2021 — recognizing our achievements in the Roadmap to Zero Program and related work on safer chemicals.
· Began using mannequins made from 100% recycled base stock and printed imagery made from upcycled plastics at some Levi's® retail and wholesale locations.
· Collected an estimated 400 metric tons of fabric scraps for recycling or recovery at our factory in Plock, Poland.
· Avoided more than 5,400 metric tons of pumice stone waste by LS&Co. suppliers switching to non-pumice fabric softening methods.
· Joined the U.S. Cotton Trust Protocol, a farm level, science-based program for more sustainably grown cotton.
"Our 'Buy Better, Wear Longer' campaign represents the continuation of our ongoing conversation with consumers about the need to combat overproduction and overconsumption in and by the apparel industry," Chip Bergh, President & CEO, Levi Strauss & Co., said.