Being sustainable in reality is not as glossy as it may seem. In the post Covid world, there are any number of retailers, brands and manufacturers who are pioneering the cause of sustainability – from social media influencers and environmental activists to designers and brand owners; everyone seems to be responding to a more responsible way of living.
However, for fashion connoisseurs, despite the rising awareness and responsible choices, sustainability and style might still be hard to combine. So, even as sustainability gains more and more momentum each day in fashion retail, the real question that most of us are left with is – what kind of style guide must one follow to truly achieve sustainability? How exactly are people supposed to follow trends if they're forced to repeat the same outfit in the name of saving the environment?
The '30 Wears Challenge'
While it is quick and easy to read and educate yourself on the topic, it is difficult to count yourself in the 'green tribe' unless you aren't involved in some 'eco-friendly' fashion practice.
The '30 Wears Challenge', was a term that was coined by Eco-Age co-founder Livia Firth and journalist Lucy Seigle in 2015 to encourage shoppers to ask themselves whether they'd wear a piece a minimum of 30 times before buying. So, for many years, wearing a piece at least 30 times was the minimum benchmark in fashion sustainability.
However, recently, there is a heightened sense of awareness about the fashion industry being one of the largest pollutants on earth. From CO2 emissions and large amounts of waste ending up in landfills to pollution of water bodies due to harmful chemical dyes, the industry is infamous when it comes to leaving its harmful footprints all over the natural ecosystem. This awareness has made many modern consumers question and even de-bunk the '30 Wears' concept.
In the modern age, being fully sustainable demands that consumers choose smarter and invest in clothing that can be used for years until it naturally reaches its recycling period.
Fast or Slow?
Most sustainable brands design clothes of a higher quality; they source selected fabrics that are meant to last long and stay durable over time. This selective quality that sustainable clothing possesses makes it more expensive than average brands. Moreover, ethical and conscious fashion demands to be consumed in a manner that is smart but slow; individuals are encouraged to build their style guide mindfully rather than giving in passing trends thoughtlessly.
Amidst the rising environmental challenges, the 30 wears rule feels somewhat dated and people are asking if they should really be buying pieces that they'll only wear 30 times. But – who says slow or conscious fashion has to be synonymous with dull styles? Not us, for sure!
Today, there's a vibrant parade of brands out there that are not only putting their A-game on display but are also revolutionizing sustainable style – one design at a time. They are the architects of the dress-to-dinner outfits, versatile colour palettes, and the dress-up/dress-down clothing equation!
By weaving wardrobe wonders into everyday style, these brands offer individuals a multitude of styling options that come with a single outfit; reminding us that when fashion is thoughtfully created, it makes sustainability an exciting journey of self-expression.
We bring you 4 homegrown and eco-friendly brands that prioritize sustainability without compromising on style.
Founded by Apurva Kothari in 2011, No Nasties does what its name implies – it avoids the usage of nasty and harmful chemicals that can damage the environment. The brand is best known for being 100% organic, local, vegan, and homegrown. Besides actively supporting a zero-waste approach, its USP is the organic and Fairtrade cotton it uses in its designs.
No Nasties want their clothes to stay longer in people's wardrobes. For this, their clothing items are simple and high-quality. By making use of colours that are more subdued, their clothing items are less prone to be discarded after a few washes by being considered 'old'.
The brand's 100% re-incarnated clothing is re-born from 'rescued' fabrics and is rewoven into new styles. No Nasties makes shirts, t-shirts, dresses, tops, skirts, bottoms and more, for him and her as well as unisex clothing for different body shapes and sizes. The brand's philosophy is to make clothing that is clean, comfortable and timeless.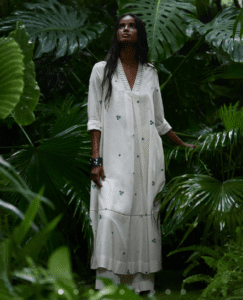 This D2C brand was founded by Simran Lal along with her husband Raul Rai in 2016 and retails in clothing, apparel and fashion accessories. Nicobar is known to design simple clothing that is intended to become wardrobe staples. The brand also engages with local artisans and the design community to build contemporary products in the areas of fashion, home and travel accessories.
Proclaimed to be a modern and mindful brand with Indian-rooted designs, Nicobar makes use of natural materials to create modern silhouettes. All of Nicobar's fabrics are natural and most of them are handloom woven as well. Making use of organically sourced cotton as well as linen and silk in their clothing, their fabrics are of the highest quality and are long-lasting.
The brand offers women's and men's clothing that include dresses, tops and blouses, bottoms, kurtas, shirts, t-shirts and shorts. They also retail in loungewear, traditional wear and beachwear. Nicobar's designs are known for their versatility, allowing individuals to seamlessly transition from casual to formal occasions while maintaining elegance.
Doodlage is an Indian sustainable brand founded by Kriti Tula in 2012. The brand is well-known for its innovative approach to fashion, which pioneers sustainability at every stage – from conception to the final product. Doodlage primarily works with upcycled materials, which are mainly discarded or surplus fabrics collected from various sources.
The brand's style guide consists of patchwork and mismatched fabrics, asymmetry and playful details and bold prints and colours. Doodlage creates clothing that are gender-neutral and inclusive on the design front as well. Characterized by a fusion of sustainability, creativity and artistry, this brand re-imagines fashion as a form of modern-day activism.
Buna Studio, a young brand in the fashion arena was the brainchild of Pallavi Shantam, a fashion graduate from NIFT, which was founded in 2017. Despite being very new, the brand has already secured a reputation for its thoughtful approach to slow and conscious fashion. Their collections are known for their minimalist designs and commitment to fair trade practices, making them a popular choice among conscious consumers.
'Buna' meaning handwork in the literal sense, is a brand that focuses on producing fabrics that are made by hand and with care for the environment. Using artisan-led techniques like hand block printing and weaving on natural fabrics, their collection is designed to last long and reduce waste. The brand strictly works with 'mulmul' (muslin), handwoven and handspun cotton to maintain a high quality of clothing.
Buna Studio's garments mostly come in shades of white and pastels and have a simplistic but earthy feel. They cater to women's clothing and sell hand-embroidered and delicate dresses, sarees, skirts, stole and scarves, and tops and blouses. Buna's minimalistic and elegant style allows its outfits to fit all occasions, irrespective of trends.