Arvind Ltd. has been in the apparel industry for more than 90 years, with its retail powerhouse Arvind Fashions Ltd. (Arvind) being the backbone of well-known names in the retail fashion industry in India.
Arvind has seen significant growth in its portfolio with new franchises being added every year. The six high conviction brands include Tommy Hilfiger, Calvin Klein, Sephora, Arrow, U.S. Polo Assn. and Flying Machine.
To secure a foundation for future growth, Arvind has embarked on a digital transformation (DX) journey, focusing on profitability and improving the customer experience. The key objectives for Arvind's DX were to unlock the value of existing applications, gain new insights, and build a solid workflow with resilient systems. To help in this journey, it partnered with Google Cloud
Getting Google Cloud to address the challenges around insights and analytics was a natural step forward, since Arvind had already formed a relationship with Google Cloud, starting with its productivity and collaboration tools during the pandemic.
The Business Need
Arvind's enterprise applications estate is a mix of SAP, Oracle POS, logistics management systems and other applications. Having so many different applications made it challenging for the company to bring all of this data together to drive retail insights and at the same time maintain the freshness of its products.
As a case in point, the existing sales reporting and inventory reconciliation process had been enabled by a mix of automated and semi-automated desktop applications. There were challenges to scale the infrastructure to process large amounts of data at a low latency.
The synchronization of master data across functions was critical to building the data platform that provides consistent insights to multiple stakeholders across the organization.
The Approach
There are several ways to solve the challenges above and do more by building a modern data analytics platform. For example, using a data lake-based approach that builds use case by use case, hybrid data estates and so on. Regardless of the approach, it is important to define the solution based on certain principles.
In Arvind's scenario, the key business principles considered are that data platforms should support Variety, Variability, Velocity and Volume, which are critical business pivots to successful fashion retailing.
Variety in SKUs to deal with myriad fashion trends every season, variability in shopping footfalls due to different festivities, weekends and special occasions, velocity to be agile and responsive to customer needs, volumes of data that bring richer insights.
This is where Google BigQuery-enabled data platform came in.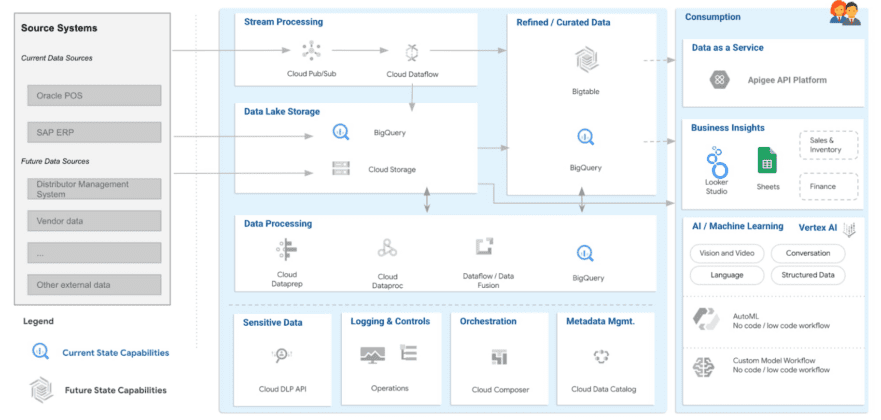 BigQuery is the mothership of the data and analytics platform on Google Cloud. Its serverless construct ensures that data engineering teams focus only on insights and analytics. Storage and compute are decoupled and can be independently scaled. BigQuery has been leveraged to service both the raw as well as the curated data zones.
With BigQuery procedures, it is possible to process the data natively within the data warehouse itself. Procedures have been leveraged to process the data in a low latency manner with the familiar SQL.
With simplicity being its key guiding principle, BigQuery machine learning ensures that data analysts can create, train and deploy analytics models even with complex requirements. It can also consume data from Looker Studio, which is seamlessly integrated with BigQuery.
Here are the key principles and highlights of the data platform that have been achieved:
Simple, yet exhaustive: What was needed is a solution with vast technical capabilities such as data lake and data warehouse, data processing, data consumption, and analytics amongst others. And at the same time, it needed to be simple to implement and run ongoing operations.
Agility: High-quality analytics use cases typically require a significant amount of time, effort and skill set. While building a simple solution it was ensured that the selection of technology services guaranteed agility in the long term.
Security: An organization can be truly successful if the insights and analytics operations are democratized. But while data is made available to a wider community, data governance and security need to be ensured.
Ease of operations: Data engineering teams spend a lot of time doing infrastructure setting and management operations. With BigQuery, teams can put more effort into building the data pipelines and models to feed into analytics instead of worrying about infrastructure operations.
Costs: Decoupling storage and computing allows for flexible pricing. A pay-as-you-go model is an ideal solution for managing costs.
The Impact
The ingestion frequency of the store-level inventory (~800 stores) has now been changed to daily. With the additional data volumes and processing the scaling on BigQuery has been seamless. There are new processes and dashboards to address the reconciliation and root cause analysis. Operational efficiencies have improved leading to better productivity and turnaround time of critical processes.
The discrepancies in various reconciliation activities have drastically reduced by an order of magnitude of 300X due to the capabilities offered by the data platform. It has also enabled the identification of the root causes of the discrepancies.
Arvind has been able to enhance some of the existing business processes and systems with insight from the data platform.
It's going to be an exciting journey for Arvind Fashions Ltd. and Google Cloud. There are several initiatives ready for kick off such as getting more apps on the edge devices, warehouse analytics, advanced customer data platforms, predicting the lifecycle of designs, style codes and other exciting initiatives.
Satish Panchapakesan is the Chief Information Officer at Arvind Fashions Ltd. and Mandar Chaphalkar is the customer engineer, Data Analytics Specialist at Google Cloud.