Salman Khan's brand, Being Human is all set to launch its maiden store in Dubai today (Aug 31, 2023).
In an exclusive conversation with IMAGES Business of Fashion, the COO of Being Human, Vivek Sandhwar said, "Our first Dubai store – measuring 2500 sq. ft. in size – is being launched in Deira City Centre shopping mall, one of the most popular malls in the country."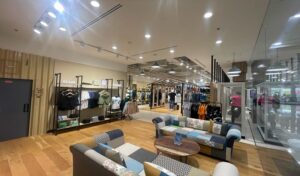 "The store has a very fresh, new look. It is a dramatic upliftment from the identity we have had so far in India. It's custom-designed to carry a lot of upcycled elements," he stated adding that the store's furniture has been designed using upcycled fabrics, as have other elements in the store including parts of the store façade," he said.
The store's façade is nearly 150 feet long, which is the longest in the mall. There are windows all around and it also boasts of a lounge area. There are two separate zones for trial rooms – one for ladies and one for men.
There is a gazebo in the store, the merchandise is artfully decorated all around and there are mannequins in the middle.
Preserving Brand Identity
Being Human has stayed true to its brand identity in India, the store not drifting from the lines on which stores in India are based.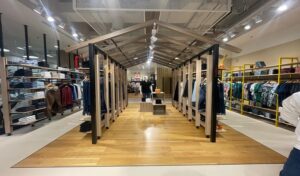 "At this point in time we will be starting with the category with which we launched in India, which is apparel. There will be some adjacent categories, all of which are similar to what is available in India. Of course, this is a larger store so the assortment here is much wider," he said.
However, Sandhwar said the brand is doing a lot of conscious products along with engaging with local communities as well as supporting charities.
Target Audience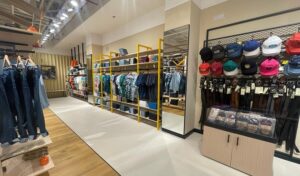 He said that in Dubai, Being Human has a huge fan base. "Our patrons in Dubai have a lot of confidence in us. Our page on Instagram went from 10 followers to 6000+ followers, within minutes of Salman Khan's announcement of the new store, and this is all organic growth."
Such was the excitement in Dubai that customers in the mall would stand in front of the under construction Being Human store and take pictures. Sandhwar said that the brand received countless messages on their social media handles enquiring about the store and when it would open. The teaser campaigns also garnered a lot of interest with the consumer community at large asking for more stores in the country.
Sandhwar said they are expecting a very diverse audience to hit the store.
He said that Being Human has been hyper-focussed on Gen Zers and Millennials for over a year-and-a-half now. "This part of the world is a melting pot of nationalities and from what our social media is telling us, we expect Gen Zers and Millennials from all these nationalities to visit us. Our name also resonates with the western audience living in Dubai and from what we can see on our social handles, they are equally excited about the store opening."
"We expect a very, very warm welcome in Dubai and in DCC. The mall management is as eager as consumers and their design and execution teams have told us that we are one of the best looking stores on our floor," he said.
International Expansion Plans
Sandhwar says the brand is planning 3 stores in Dubai before the financial year closes. "The first store is opening now, two months later we have a second store planned and third store will be launched in January."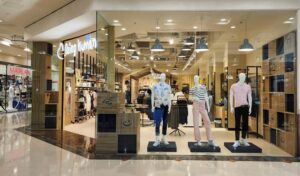 He said Being Human is looking at launching approximately 15 stores in Saudi Arabia in a year's time.
Aside from this, the brand is opening 3 stores in Canada before the end of FY23-24. "Canada was a natural choice for us because there is a large Indian population there and brand awareness for Being Human there is very high."
"Canada is a very conscious country in terms of consuming – much ahead of the curve from the rest of the world. When we did our research on Canada as a potential market, we felt that there was a very healthy demographic mix there in terms of people who already knew the brand and our conscious initiatives as well as people who would embrace our conscious line," he added.
Revenue Targets
Sandhwar concluded by saying that DCC is an extremely buzzing mall, has a brilliant mix of brands and there is very high footfall, so Being Human expects extremely good numbers.