The Indian activewear or activewear market is estimated to grow from $ 411 billion in 2021 to $ 793.46 billion by 2028 and is expected to grow at a 9.9 percent CAGR by 2028.
Capitalizing on this market is Minu Margeret, Founder Blissclub. The D2C women's activewear brand came into being in 2022 when Margeret realised the Indian market simply did not cater to her need for super functional, technical and innovative technical apparel. She felt that while some clothes were comfortable, they simply did not stretch enough and those that did were too compressive; problems were plenty, solutions scarce.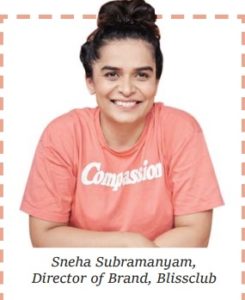 "Margeret envisioned a community-first brand to provide comfortable activewear to women of India, irrespective of their age and size. She discovered that women in India frequently have difficulty finding the right activewear due to a lack of options, the improper size, poor material quality, and the item's technical unsuitability for them," says Sneha Subramanyam, Director, Blissclub.
Women have few options because the brands that are already available are primarily geared towards men, she says. Blissclub aims to break the glass ceiling and offer a blend of comfort and style in all types of activewear – for home, for the workplace and for an evening out – all the while maintaining its own identity as a standard sportswear company.
Diversity & Variety
The uniqueness of Blissclub is its diversity of products, Subramanyam maintains. "It covers almost every size and type of body wear. We introduced the 'Ultimate' line of tights, which had pockets and was available in all sizes. Since only women know the true value of pockets, Blissclub understood this issue and developed tights with not one, but four pockets, which helped it become well-liked by influencers and women in general."
Blissclub focuses on areas like pain points, a vast size range to support heavier breasts, types of leggings and sports bras, Subramanyam explained. The brand claims that three years of the pandemic accelerated the growth of its fitness space and demand for workout tights is on the rise for both working and non-working women.
Its most recent product, The Motivator Leggings, is the 'ideal combination of utilitarian athleisure gear that you can wear while exercising, participating in sports, or even going out for a girls' brunch, Subramanyam explains.
"The broad, compressive waistband of the high-waisted leggings embraces the body so well. They are composed of the incredibly soft CloudLuxe fabric, which is made up of 78% polyester and 22% spandex," she says.
Growth & Retail Footprint
Last year, Blissclub raised a total of $20.25 million through seed and series A funding and is counted among LinkedIn's 25 top startups in 2022. It also recently raised a seed round
of $2.25 million led by Elevation Capital (previously SAIF Partners). The brand says it will use the funds to strengthen and grow its team, product development, and marketing.
"Since the women workforce is on the rise in India, we hope to become the largest women's activewear seller in the next 5 years and open retail outlets across Delhi NCR, Chandigarh, Pune etc. in 2023," Subramanyam states.
The company has opened its stores in Bangalore and Mumbai, expanding its reach into offline retail. It wants to win over offline shoppers who favour mall and street shopping over the internet.
This year, Blissclub plans to open over 20 offline stores throughout India, says Subramanyam. "These establishments would either be freestanding or include multiple brands," she explains.