Renowned online fashion brand FableStreet, which specializes in western workwear for Indian women, is taking a bold step forward by opening its first offline retail store in Mumbai. This move marks a significant milestone in the brand's journey, promising to bring its unique approach to addressing sizing and fit issues and diverse body types to a physical retail space and to a broader audience.
With a strong presence in Mumbai and plans for further expansion, the brand is poised to make a lasting impact on the Indian fashion industry, proving that the perfect fit is not limited to the online realm but extends to the world of brick-and-mortar retail as well.
In a freewheeling chat with IMAGES Business of Fashion's Sanya Arora, FableStreet Founder, Ayushi Gudwani, gives insights into the brand's offline expansion and its vision for the future.
Let's start with an overview of FableStreet's journey.
Back in my consulting days, I struggled to find well fitting western outfits for myself. That is when the FableStreet story began. I figured there was a white space in the industry and the struggle Indian women were going through to find smart, well fitting clothes to wear to work.
FableStreet started in 2016 as a western work wear brand for Indian women. Since then we have evolved into FS Life, a homegrown group of brands –FableStreet, Pink Fort, and March – dedicated to solving unmet apparel and lifestyle needs of Indian women.
Offline Expansion
So, how did offline retail happen for FableStreet?
Mumbai and Pune have always been strong bases for our brand, where we have been embraced by fashion-conscious individuals seeking quality and style. This expansion simply aims to solidify our presence in Maharashtra and cater to the growing demand from our very loyal customer base. We are opening one store in Phoenix Marketcity Kurla, Mumbai, on September 22, 2023. By the end of October, we will open 2 more in the Phoenix Palladium in Lower Parel, Mumbai and Phoenix Mall of Millennium in Pune, respectively.

The average store size will be between 700 sq. ft. to 1,000 sq. ft.
Retail is not a tactical move for us but a strategic long term channel that we are very bullish on. While we expect presence in physical retail to help in better brand awareness as well, the key focus will be on the store reaching its revenue potential and also act as a learning ground for us as it will act as a perfect way for our retail expansion.
Are there plans to expand your offline retail presence beyond Mumbai and Pune?
We do plan on penetrating deeper into, tier II and beyond, but initially, we will be opening stores in relevant malls and prominent high streets of metros and tier I cities.
Do you think you will be able to transition your online success into the physical retail space?
We are very sure we will since we intend to achieve EBITDA profitability for each store within the first 2-3 months of operations and recover capital investments in 1-1.5 years.

How will the offline store complement the existing e-commerce platform?
Immersive in-store experience is the biggest differentiator between online and offline shopping experiences. Talking about the offline stores' contribution, by the end of this fiscal, the offline retail will contribute around 5% of the overall revenue and by the end of next fiscal, we are aiming to take it up to 25-30%.
What's special in-store?
Customers can look forward to a range of retail exclusives, FS exclusives, versatile work wear, the LivIn collection, delightful florals, sophisticated marble prints, captivating geometric patterns, and exciting collections under FableStreet X.
Any in-store features and services customers should look out for?
The stores are envisioned to offer an Omnichannel experience, enabling customers to seamlessly browse the website and place orders in-store. However, at any point in time, the stores will be offering anywhere between 200 to 250 styles.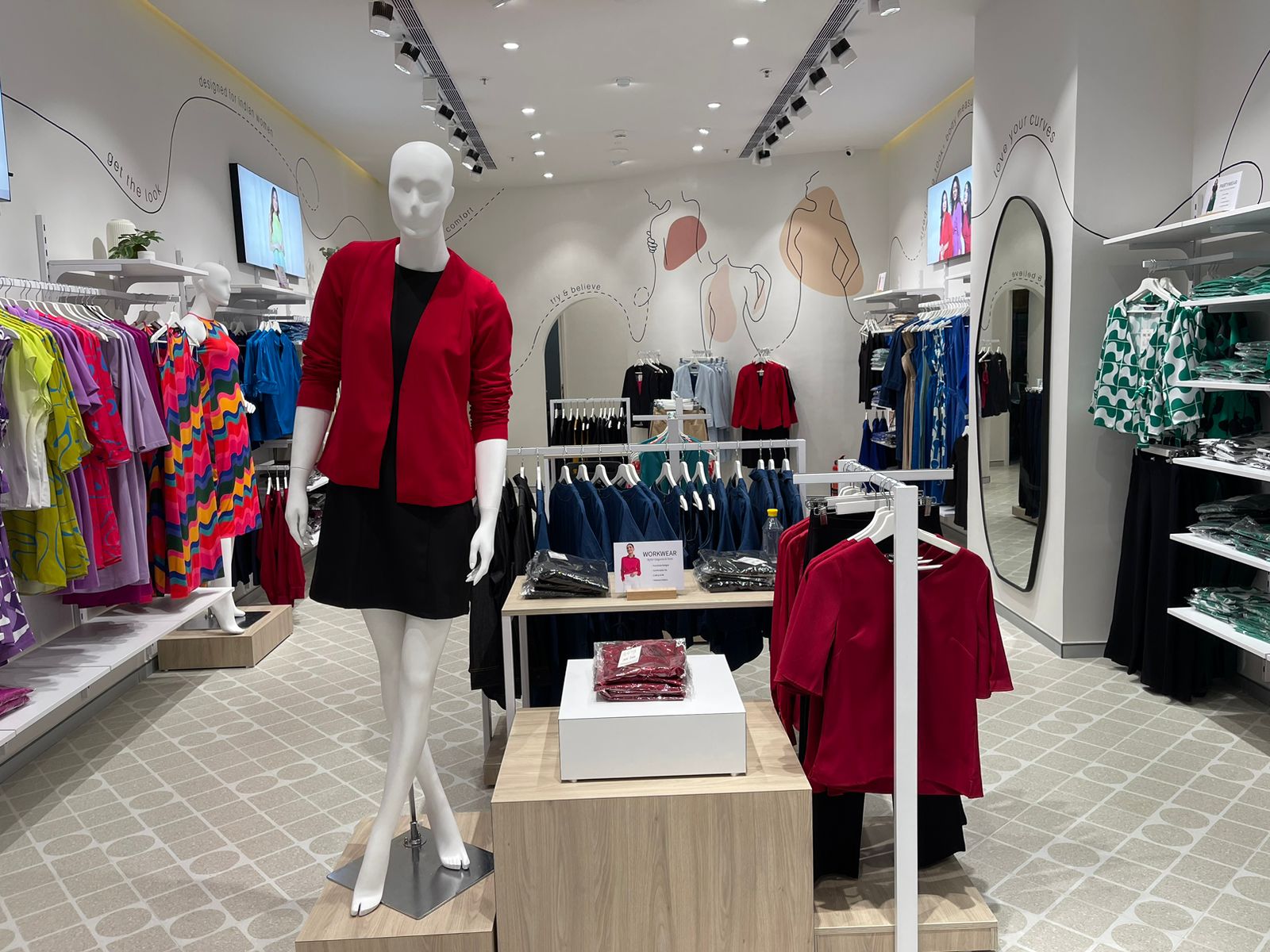 A Unique FITS Algorithm
We've heard about your very unique approach to addressing fitting issues. Tell us all about it.
In India, most westernwear brands design garments according to American or European body standards, which makes it hard for Indian women to find a comfortable and flattering fit. Brands expect Indian women to fit into clothing which has not been designed keeping their shape, height and proportions into consideration.
In 2015-16, we started measuring Indian women and understood the challenges they face when buying westernwear and we understood that with a great FIT, comes the relaxing sense of comfort and ease of movement. For us, a great fit doesn't mean that Indian women look stunning only when they stand tall in heels. It should look as alluring and feel as comfortable while they sit when the tummy and thighs expand. A great fit means that Indian women can effortlessly wear these clothes, all day long!
This is where our unique FS Fits Algorithm comes in and really sets us apart from other brands in the same space. Over the years, we have measured over 1 lakh Indian women and the algorithm is made basis these 1 lakh+ measurements of the Indian female body.
With research, data and technology the algorithm finds a fit that flatters while not compromising on style or comfort. We just need 3 body measurements – bust, waist and hips to find the right fit size for you.
How frequently do you update your exclusive size chart to ensure accuracy?
Our algorithm gets refreshed on an ongoing basis as more data flows through the system. Size charts are refreshed as and when required.
Private Labels Under FS Life
Have you launched any sub-brands?
To ensure women of all shapes and sizes feel beautiful and can embrace their bodies, we've recently launched FableStreet X, a sub-brand that redefines fashion for plus sized women across sizes 2XL-5XL.
We spoke to over 200 curvy women, and a common theme emerged – the struggle to find clothes that fit their curves and are stylish at the same time. FableStreet X is our answer to this problem, designed to empower plus sized women to be stylish and comfortable at the same time. It will be available in-stores as well.
What about March and Pink Fort?
March is a fine silver jewellery brand and Pink Fort is a modern-Indian wear brand. Both these brands were launched in early 2022 and currently, we expect almost 10-12% revenue of the company to come from these two brands.
Sustainability & Customer Loyalty
What sustainability initiatives has FableStreet undertaken?
In terms of sustainability, we use sustainable packaging and reuse scrap fabric in sampling.
We have also launched an initiative 'Value of Good' to reinstate our core objectives of people first, customer first and planet first. The actionable in each category includes minimizing waste, reuse and repurpose, diversity and inclusion, women in leadership, people development, research-backed clothing, education to enhance and community first.
Do you have any customer loyalty programs in place, and how do they contribute to customer retention and engagement?
We are working on our customer loyalty programs and shall launch it soon in both online and offline spaces. At present, we have a repeat rate of 50%.
Leveraging Technology & Data
What are your top technologies in the offline space to enhance shopping
experience?
We are going to go big on technology. Our main focus will be virtual trials.
How have data-driven insights influenced product development for FableStreet?
We look at data of all hues to give customers better products and a better experience. Our LivIn pants are the perfect example of data driven thinking and how it has impacted the product strategy. Analysing customer behavior patterns, we identified that women are looking for a different kind of pants for everyday use in the post Covid world which led to the birth of LivIn pants.
Revenue & The Future
What do FableStreet's revenue figures look like?
Our average cart size is Rs 3,200-3,300 and last fiscal, we clocked Rs 58 crore in revenue and this fiscal, we are eyeing to cross Rs 100 crore.
And are there any plans to raise funding?
We are planning to raise Series B investment and expect to hit the market early next year. We expect to raise $15-20 million to expand our offline presence and scale online presence, and we will also be using these funds or working capital and inventory build-up.