Vivienne Westwood died on the 29 December 2022 in London, United Kingdom "peacefully and surrounded by family."
1941-1965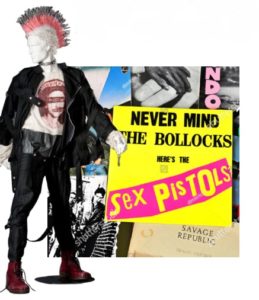 Westwood was born Vivienne Isabel Swire in Glossop, Derbyshire, on April 8, 1941. She grew up in a middle class family with a humble background – a world completely different from fashion however. Her father was a cobbler and her mother worked at a local cotton mill. Westwood moved to the countryside of Middlesex where she worked at a local factory to begin with, later becoming a primary school teacher. In 1962 she met her first husband Derek Westwood, later getting divorced in 1965 leading to her meeting boyfriend Malcolm McLaren the same year. McLaren was the manager of the band 'The Sex Pistols', huge in the 70s-80s and known for creating a punk movement. Both Westwood and McLaren started to pursue a career in fashion and music together.
Westwood never went to a fashion school or worked in fashion. She was a teacher and learned how to make dresses in her spare time. She was self taught and decided to shift careers when she was in her 30s – yet she managed to inspire a movement.
1971-1981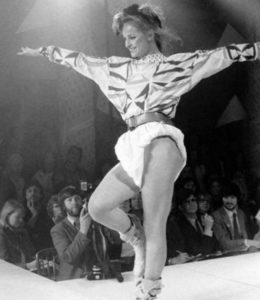 Vivienne Westwood began her clothing store, Let It Rock, in 1971, at 430 Kings Road, London. Slowly but surely, this area quickly transformed into the fashion hub and nucleus of the Punk Movement in London and around the world. Since Westwood had been already styling The Sex Pistols for a couple years, therefore the store was filled with designs that she dressed the band members in. This store changed its name 5 times from 1971 to 1980, to resonate with the collections; Let it Rock, Too Fast to Live Too Young to Die, Sex, Seditionaries, God Save The Queen until it was finally renamed 'The Worlds End' in 1980 till present day.
Westwood and McLaren created their first collaborative collection for Fall/Winter 1981-82 called the 'Pirate Show'. The collection was inspired by the pieces they had been selling at the store. The collection was praised for the breaking of chains from the strict mainstream silhouettes of the 70s.
In 1981, Westwood went through the toughest phase in her life, when she split with McLaren, which left her to design alone and raise their son Josphen Corré as well her son Ben Westwood from her first marriage alone. She continued to live in London raising her two sons as well as running the boutique and designing her next collection.
1988-1999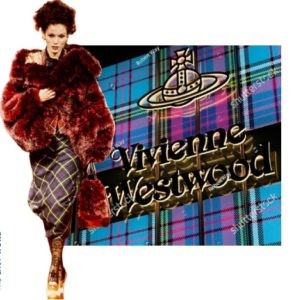 The Pagan Years began in 1988 when the Punk Movement was at its peak and slowly blended into mainstream culture. Westwood, at the centre of that culture shift, decided to change her ways as well. She came up with a concept that is till today referred to as 'Tatler Girls', referenced from the Tatler magazine. She began to create clothes that parodied the ones which the upper class was wearing at the time. To push this idea, in April 1989, Westwood herself modelled for the cover of Tatler magazine dressed as a parody of then-Prime Minister Margaret Thatcher, a bold and possibly the most controversial move at the time in British fashion. Westwood herself referred to this at the 'British Must Go Pagan' era, even using it as the name for one of her fashion shows. These Pagan collections combined ancient Greece and classic British tailoring. From this era, the standout collection is the AW/FW 1987 'Harris Tweed' collection.
During the 90s, Westwood went from a Punk initiator to an acclaimed fashion designer, winning the British Designer of the year in 1991 and the Queens Export award in 1998.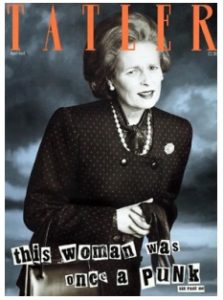 With the Pagan Years behind her, Westwood became a renowned name. She began embracing the roots of fashion from France and combined it with the elegant British tailoring of the 90s to create exaggerated proportions and very French-like silhouettes for the English. The byproduct of this French era for Vivienne Westwood was the 'Anglomania' collection for FW 1993/94. The Anglomania is possibly one of the most iconic shows of all time – mostly due to a young Naomi Campbell falling during the show. This was also the period in which she created the famous McAndreas tartan, named after her husband. It was woven by Lochcarron of Scotland, today the world's leader in manufacturing of tartan. A woven piece of the tartan she created has been recited by the Scottish Register of Tartans for permanent preservation in the National Records of Scotland.
Westwood's 90s were filled with notable events and accomplishments. She did a menswear show in Florence in 1990, giving the world a preview of the MAN label in 1996 before launch. In 1999, she created the Red Label under her eponymous brand. This label continued till 2016 and was the brand Vivienne Westwood's sister brand – a younger more affordable label.
By the end of the 20th century, Westwood had become an international name. She opened her first Vivienne Westwood licensed boutique in Tokyo, Japan in 1999 as well as one in New York.
2000-2022
The 2000s were Westwood's coming of age. She had come become older, wiser and more aware of real problems around her, affecting lives, lifestyles and livelihoods. Westwood had a growing influence on the fashion industry by the 2000s and she wanted use it to her advantage for the future. She used her influence to promote social and political movements. "Climate change, not fashion, is now my priority," she told The Guardian in 2014. This message was relayed by her through various collections. Every collection began to have an underlying meaning: protests about Brexit, global warming, free speech and even criticising politicians.
In 2007 Westwood was awarded the Outstanding Achievement in Fashion Design at the British Fashion Awards and in 2011 she was named Britain's greatest fashion designer in a poll conducted by Greenall. By this time both her sons had also become successful, the older Ben Westwood had become an erotic photographer and Josphen Corré had founded Agent Provocateur.
Around this time, she also started expanding her canvas, dabbling in interiors with her table cloth collections that were covered in bright and aggressive designs and made for the charity, Cool Earth.
Westwood never ended her reign in fashion. She worked till the end of her life and in the 2010s she managed to make some her most beautiful work.
Some shows include:
The Spring/Summer 2012 Menswear Show which was dedicated to the Olympics, where T-shirts were covered in printed torches, medals, or Greek figures.
Her AW 2011-12 collection, in which she collaborated with the German photographer Juergen Teller and went to Africa to enlist thousands of local women and make use of their skills. These women created bags for the Ethical Fashion Africa collections and earned a fair wage in return.
In 2012, for Queen Elizabeth's Diamond Jubilee, Westwood launched a capsule collection called Red Carpet Capsule collection, inspired by the gowns that were worn earlier by the Queen. The range paid homage to the Union Jack as well.
Besides her battle against politics and climate change, Westwood also focused on androgyny in her collections. Her FW15 catwalk was one of the first shows to showcase 'Unisex' looks. This effort of showcasing unisex fashion to the mainstream was all about bringing progress and inclusiveness into fashion which was commended at the time but not enough. Today we are in the world of androgyny in terms of fashion. Every designer is moving towards a unisex silhouette. From that perspective Westwood was avant-garde, much ahead of her times in the 20th and the 21st century, not shy of controversy and quick to comment on the lack of style in society. She famously told journalists after one of her Red Label Shows in London: "People have never looked so ugly as they do today, regarding their dress. We are so conformist, nobody is thinking. I'm a fashion designer and people think 'what do I know?' But I'm talking about all this disposable crap, so I'm saying buy less, choose well, make it last…in history people dressed much better than we do (now)."
2016 was an exciting year for the brand and Vivienne herself as her third husband Andreas Kronthaler and she began separate annual collections. Andreas debuted his first official collection during the 2016 Paris Fashion Week. This was also when the label name 'Andreas Kronthaler for Vivienne Westwood' replaced the Red Label.
In 2019, she decided to go fully digital with her fashion shows and the AW19 show was her last physical show.
2022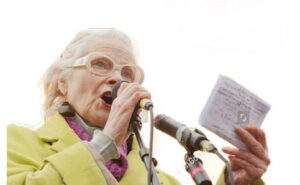 Vivienne Westwood passed way in December 2022. Her third husband Andreas said, "I will continue with Vivienne in my heart. We have been working until the end and she has given me plenty of things to get on with. Thank you darling." This was before he was named the director of her property firms, and her fellow designer and friend, Jeff Banks, was named the director of her label. Interestingly, both her children do not engage in any of her labels or companies. However, they may inherit her £150 million estate.