1948
Manfred Thierry Mugler was born in Strasbourg, France on December 21st 1948. From a young age Mugler was interested in the arts. Taking on ballet at the age of 9 and moving to the National Rhine Opera at age 14. At the end of his teens and his 20s, Mugler was formally training to become an interior designer at the Strasbourg School of Decorative Arts.
1960s-1970s
Mugler moved to Paris in his twenties, going on to work at various boutique stores. In the mid 60s Mugler also designed for London two boutiques, Mr Freedom and Mother Wouldn't Like It. He also worked under Karim a designer in Paris for whom he started to design. That is where Mugler discovered his iconic broad shoulder looks from the 40s, for which he later became iconic.
1973
Mugler decided it was enough of working under other labels and decided to introduce the world to his first collection titled, "Café de Paris". This collection showed the ideology of Mugler. The wide shoulders paired with a youthful flavour but being futuristic with his craft at the same time. Over the next couple years, Mugler was gaining some momentum to the point where he was in the same conversations as his contemporary at the time, the legendary Azzedine Alaia.
1978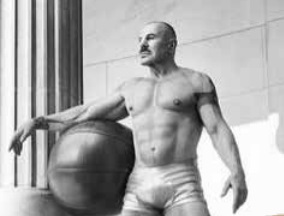 Thierry Mugler opened his first Mugler boutique in Paris on the 1st Arrondissement. During this year Mugler had gained a lot of success due to being one of the major designers at the head of the broad shoulder trend. Along with the 20th century sci theme, the exaggerated 40s tailoring were also huge in the 70s hence Mugler receive the fruits of his labour. His Spring Summer 1978 gained him domestic success around France which during the 80s he turned into international.
1980s
During the early 80s late 70s Mugler also introduced his menswear line. He continued into with his staple 40s-50s tailoring for mens suits. The 80s were also filled with exuberant and extravagant shows by Mugler. Except the straightforward and underwhelming collection in 86 and 87 Mugler shows had become notorious for arena like environments. The collections always had themes such as sci fi, jungle, cavewomen, late 70s, celestial, 60s, African, vampire-devil, aquatic and many more. Mugler also had a liking for Cadillacs resulting him to create a collection modelled the 50s car.
The 80s was also the time that Mugler acquired himself an army of beautiful and diverse models. Mugler himself was one of the first designers to accept all types of models from size, to gender, to sexuality, to race or colour. Some of the models included Naomi Campbell and Cindy Crawford, as well as Drag queens. Mugler had also began gaining international attention from stars like George Michael, Ru Paul and Michael Jackson.
1992
Mugler was requested by the Chambre Syndicale de la Haute Couture to create a Couture collection and he didn't disappoint. He combined the staple elements of sci-fi with the cuts and silhouettes of the 90s finished off with his cinched waists and broad shoulders. Being given the name a "Mugler Twist". He continued the 90s with extravagant theme centric collections. Leading his burnout in the early 2000s.
Thierry Mugler took the frangerace world by storm in 1992 when he launched the Angel. The scent was an instant hit and is one of the most popular scents till today. A few notable wearers of the Angel include, Diana Ross and Hillary Clinton. Later launching A Angel for men.
2000s
Thierry Mugler retired from his fashion and his eponymous label in 2002 which lead to Clarins, the French conglomerate that owned the rights to Thierry Mugler's name shut the ready-to-wear line down in 2003.
As he retired from fashion, Mugler continued working and collaborating with Cirque du Soleil on multiple shows. Directing and designing the costumes for years after his retirement. He also began to work out a lot after retiring, he wanted to look like a warrior instead of having his lean dancer frame.
In 2008, the Mugler brand launched a high end cosmetics line, Thierry Mugler Beauty.
Thierry Mugler decided to work with Beyoncé in 2009 and become her artistic advisor. He even went on to design the costumes for her "I Am…World" tour.
In 2010, The Mugler brand was renamed, removing the first name (Thierry).
In 2019, Thierry Mugler famously came out of retirement to design for the House of Mugler. He designed the famous wet dress for Kim Kardashian for the Met, taking inspiration from Sophie Loren in the film "Boy on a Dolphin." The same year Mugler dressed Cardi B up in three archival Mugler pieces, one being the famous Birth of Venus Dress.
Mugler had several accidents that changed his appearance over the years. His nose was broken in a jeep crash, he had a piece of metal removed from his leg after a motorcycle accident. He had a bone removed from his hip to his chin instead of using fillers. He famously said in 2019 with Interview Magazine, "I wanted my face to represent progress, because after years of being a thin, charming dancer, I wanted to be a warrior. I've done so much in my life. I've fought so much. I'm a superhero, so it's normal to have the face of one."
23rd January 2022
Thierry Mugler passed away of natural causes in Vincennes, Paris in his Residence.