High quality cloth, superior craftsmanship and unique designs all under one luxury brand name – yes say consumers. Fashion has become an indelible part of our daily lives and splurging on sophisticated luxurious clothes and accessories which are made to last is considered no less than an investment. Millennials & GenZ view luxury fashion as self-expression, a definition of who they are and they are certainly not going to leave their children behind in the race to look their best.
Kids are naturally stylish and the sheer confidence with which they don and flaunt the latest in fashion has opened up a brand new avenue for the luxury fashion retail industry to explore. Luxury fashion boutique Les Petits, launched in 2011, aims to bring this fashion within reach for parents with premium fashion apparel, accessories, and furniture from leading international brands such as Versace, Moschino, Dolce & Gabbana, Fendi, and many others, under a single roof.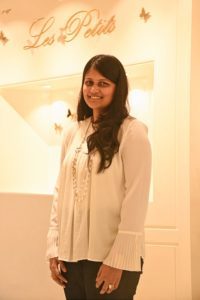 President, Les Petits, Swati Saraf, says that over the last decade, her brand has grown and is now spread over prime locations such as DLF Emporio in Delhi, Palladium in Mumbai and DLF Avenue Saket in Delhi. "We have recently launched a store in our fourth store in Banjara Hills, Hyderabad," she says.
In this exclusive interview with IMAGES Business of Fashion she talks of evolution of the premium fashion market for children in India and how consumers have responded to her brand. Edited excerpts…
How did you come up with the idea of Les Petits?
Les Petits was incepted in the year 2011 following one of my international trips. I saw parents – who themselves were well outfitted – struggling to find luxury products for their children. Upon deeper inspection, I realised that there was a dearth as far as luxury products were concerned in India and Les Petits was born to close this gap, bring trending global kids' fashion to India. Les Petits offers premium fashion apparel, accessories, and furniture from 24 leading international brands including Versace, Moschino, Dolce & Gabbana and Fendi. We also have exclusive rights to sell kids' collection of 7 brands.
Aside from this, we also have two in-house brands – Rang and Stella Rossa. Rang predominantly caters to ethnicwear needs of customers, whereas Stella Rossa offers the perfect partywear for children. Both the collections majorly focus on two seasons: Spring-Summer and Autumn-Winter.
What is your business model?
Catering to the age group varying from one-month-old babies to 12-year-old kids, Les Petits offers a wide range of products priced between Rs.2,000 going up to Rs.2 lakh. In order to expand the reach and enhance the customer experience, Les Petits works on an Omnichannel model. We have three stores in leading locations in India – in DLF Emporio and DLF Avenue in Delhi and in Palladium, Mumbai. We have recently launched a fourth store in Banjara Hills, Hyderabad. To expand our offering through the country and to consumers living beyond metros, we have a website. We realised this was extremely important because we noticed an increasing number of queries from major cities like Bengaluru as well as Tier-2 cities like Chandigarh, Jaipur, Chhattisgarh and Assam.
We use a third party to software to align sales across all its stores and website as well as for billing and inventory management. We are also planning on integrating AI & VR – along with further promoting our products on social media – to provide a seamless shopping experience to consumers.
Why branded kidswear? Why is Les Petits worth the splurge?
As per Statista, the global revenue in the luxury fashion segment of the luxury goods market was forecast to continuously increase between 2023 and 2028 by in total 20.2 billion U.S. dollars (+18.15 percent). The revenue is estimated to amount to 131,683.61 million U.S. dollars in 2028. Despite being a small consumer group, the kids' luxury fashions segment has been growing in leaps and bounds and is being recognised as an entirely different bucket in the market.
Rising disposable incomes, changing consumer lifestyles, the influence of social media and celebrities have all helped this market evolve. The growth and all-encompassing reach of the Internet has also helped this market grow exponentially. We simply aim to provide what consumers want – brands that are luxurious, curated collections in sync with latest global trends, clothes that stand the test of time (and dirt due to running and playing) and last longer as compared to alternatives. Other advantages of coming to us are that we ensure these collections are updated regularly and that many brands are on offer under one roof. These are what makes Les Petits worth the money!
How is your brand working towards sustainability in the kids fashion industry?
Sustainability is extremely important for the kidswear segment because aside from durability, we also aim to provide clothes which are as natural as possible owing to sensitive skin of children. We use organic material that is biodegradable and which breaks down naturally as compared to synthetic material. We've also extensively studied Millennial parents and have understood that they are pretty woke as far as the environment is concerned and they prefer to shell out a bit more to buy sustainable clothing.
Towards this, Les Petits has launched a line of sustainable clothing from the house of Mayoral. The collection brings about the confluence of fashion and functionality while accentuating the overall look with premium fabric flaunting delicate detailing with an urban undertone.
Trends in 2023-24?
Looking at the trends, the year is expected to see the comeback of the 'sporty style'.
A mixture of pastels, denims and a Bohemian style will be in vogue in 2023-24.
Pastels are expected to rule all season, to bring more fun into kidswear.
Digital colors such as bright yellow and teal will be the highlight of the summer season and at the same time, burnt oranges and mustard tones are expected to reflect the colder seasons of the year.