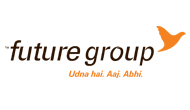 Future group is an Indian conglomerate founded by Kishore Biyani in Mumbai. The company has prominent presence in Indian retail and fashion sectors, supermarkets chains and lifestyle stores. More than 600 million customer visits are recorded across the 2,000 Future Group retail stores, covering over 24 million square feet of space in over 400 cities and towns. Future Retail Limited which houses Fashion at Big Bazaar (FBB), Future Lifestyle Fashions Limited which has brands like Central, Brand Factory, Planet Sports, I AM in, Future Style Lab are some the operating companies of Future Group.
In fashion, their manufacturing facilities produce garments designed and sourced by a talented team of trend-spotters, designers and merchandizers. Brands like Lee Cooper, John Miller, CoverStory, Indigo Nation, Scullers, Knighthood, DJ&C, Bare, UMM, and Ancestry are some of their key brands.
The flagship retail brand Big Bazaar is ranked among the most valuable Indian brands (Interbrand), and among the most trusted brands (Nielsen). Leading department store network, Central, smart prices retailer, Brand Factory, and popular fashion destination FBB are also a part of the group.
Some the fashion and retail brands under future group are coverstory, converse, buffalo, ceriz, ctee, Daniel Hechter, DJ&C, Ateesa, Hey, Holii, Jealous 21, Knighthood, Motherhood, Lombard, Pink & Blue, Utility Clothing, Scullers, Shatranj, Shyla, Spunk, Srishti, studio NYX, Umm, Urban Yoga International brands such as Skechers, Celio and Clark have entered the Indian market by entering into a Joint venture with future group.