Birla Cellulose, a unit of Grasim Industries Limited and part of the Aditya Birla Group, has unveiled its latest innovation, Birla SaFR, at ITMA 2023, Milan, Italy. This groundbreaking product marks a significant milestone in the company's strategic vision to offer products for the technical textile industry.
Birla Cellulose, a global leader in producing man-made cellulosic fibres, has established itself as a trusted name synonymous with innovation and sustainability. Its commitment to responsible manufacturing practices is evident in its focus on eco-friendly solutions that minimize the impact on the environment.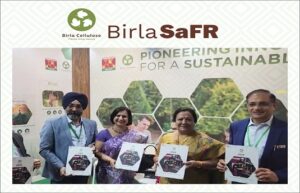 H.K Agarwal, Managing Director, Grasim Industries Ltd & Business Director, Pulp & Fibre Business, expressed his pride in the groundbreaking achievement, stating, "Birla SaFR is the first flame retardant fibre developed in India specifically for the technical textile segment. We take immense pride in knowing that our product will be used in various categories of protective wear, ultimately safeguarding lives."
What Makes Birla SaFR Special
Birla SaFR, is a phosphate-based, inherently flame-retardant, sustainable cellulosic fibre, and displays exceptional performance and eco-friendly characteristics.
Crafted with utmost precision, Birla SaFR is a result of meticulous research and development efforts combined with a deep understanding of industry demands.
Birla SaFR can be blended with other high-performance fibres (e.g aramid, FR mod acrylic, FR polyester) to create a diverse range of protective clothing solutions. This cutting-edge fibre offers enhanced protection against a multitude of heat-related hazards while ensuring optimum comfort for the wearer without compromising on the fire protection standard of the garment thus enhancing the user experience.
The company believes that this revolutionary product will be an ideal choice for industries requiring highest standard against fire protection, such as thermal protection, electric arc protection, and molten metal splash protection catering to the unique needs of sectors such as defense, emergency response (ER), oil & gas, electrical utility companies and for various manufacturing industries.
Birla SaFR has Oxygen Limiting Factor > 28 and sustains the flame retardant efficacy post multiple washes (> 50 washes) – something which has been tested and verified by third party agencies.
Commenting on the launch, ManMohan Singh, Chief Marketing Officer said, "It is a significant milestone and a proud moment for Birla Cellulose and the Aditya Birla Group as Birla SaFR fibre is developed indigenously providing an alternative to imported flame retardant fibre aligning to 'Made in India' initiative and poised to make lasting impact on the global textile industry."
Birla Cellulose: Creating Sustainable Textiles
With this revolutionary breakthrough, Birla Cellulose has set a new standard for flame-retardant fibres and solidifies its position as a leading solution innovator in sustainable textiles. This remarkable achievement showcases Birla Cellulose's commitment to fostering innovation and delivering products that revolutionize the textile landscape.
The company is well known for its diverse range of high-quality fibers, including viscose, modal, and lyocell. These fibres are known for their exceptional softness, breathability, and versatility, making them highly sought after by leading fashion and textile brands worldwide.
With a strong emphasis on research and development, Birla Cellulose continuously strives to introduce groundbreaking products that cater to evolving consumer preferences and market demands.