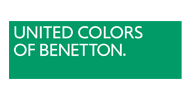 Benetton Group is one of the best-known fashion companies in the world, present in the most important markets in the world with a network of about 5,000 stores. Based in Ponzano, about 30 km from Venice, Benetton is a responsible group that plans for the future and lives in the present, with a watchful eye to the environment, to human dignity, and to a society in transformation.
The Group has a consolidated identity comprised of colour, authentic fashion, quality at democratic prices and passion for its work: these values are reflected in the strong, dynamic personality of the brands United Colors of Benetton and Sisley.
Benetton's "universal" communication has accompanied the Group's global expansion. When companies export around the world, they normally adapt their advertising to suit different areas. Benetton chooses a single, universal message that is valid for all consumers: wherever they may live, whatever the color of their skin and whichever language they may speak.
Benetton Group aims at all times to combine economic growth with social commitment, competitiveness, care for the environment, business and ethics. The people – their moral values, daily input and desire to look to the future and be the best – are central to every plan the Group makes and action it takes. Step by step, they are increasingly involved in – and responsible for – a range of issues including identifying areas of excellence as well as areas of possible improvement.
BRANDS
The development of the United Colors of Benetton sales network, which occupies prime positions in historic town centres and shopping centres, is supported by a significant programme of investments around the world. The stores exploit highly modular settings to create spaces in which the collections, their colours and design are always at the centre of attention, and are presented in a retail context that is increasingly attractive, dynamic and interactive.
Benetton entered the Indian market in 1991-92, as a 50:50 joint venture with the DCM Group in Delhi, and launched its flagship label UCB. Effective 22nd December 2004, Benetton became a wholly owned subsidiary of the Benetton Group, Italy. UCB is a leading brand in India with more than 106 stores across 45 cities in India. The retail network is a mix of owned and franchised stores. Many of these are mega stores, with size more than 4,500 square feet and an increased focus on apparel for men, women and kids.
While UCB is a casual wear brand, Sisley, the other key brand of the Benetton group is a fashion wear brand. Sisley comprises of 19% sales of the group. Since its launch in 1968 Sisley has consistently produced classy, trendy collections every season, making it one of the best ambassadors of Italian design in the world. With the Indian market increasing in strategic importance for the Benetton Group at the global level, its fashion label Sisley was launched in India in 2006.The first outlet, nearly 3,500 square feet in size, was opened in Delhi and featured a collection for men and women.