You may ask, what is the point of making astronomical expenditures when one has to keep it hush-hush? For a hefty sum, is there a real reason why anyone would ditch flashy logos for what is basic and beige? The answer is – Yes and yes. And this is why quiet luxury exists.
Quiet luxury today has traveled around the globe and has managed to make its way into India. More than ever before, there is now a slow but certain shift towards a style quotient that is understated but wholesome, minimal but elegant, and restrained but extravagant.
So what is quiet luxury? Simply put, quiet luxury (or stealth wealth) consists of products made using expensive materials, in muted tones and devoid of any logos, or anything too conspicuous.
Target Audience: It is worn by its discreet disciples who don't care about trends, are big spenders and don't mind splurging on pieces they consider timeless and investments. These are fiercely loyal customers who truly resonate with the ethos and philosophy of a brand. Easily able to detect every stitch, pattern, fold, and hue, they have no qualms about investing thousands or even lakhs of rupees into simple but classic pieces devoid of monograms.
Likewise, these quiet luxury brands make up of carefully assembled ideas, designs, and creative methods that thrive on singularity and purpose rather than trends and mass production. They are built to sustain over time and resonate with only a specific cult of individuals. So, instead of selling costumes that make you 'look' rich, quiet luxury helps you investigate possibilities that lead to new-age consumerism.
IMAGESBoF brings you 6 Indian-origin quiet luxury brands that are playing their A game in this silent domain:
The brand was founded by Sanjay Garg in 2008. In a nation that is generally known for layers upon layers of decorative pieces of clothing, designers like Sanjay Garg are producing saris and ethnic wear that are luxurious without being glitzy. Designs from the brand honor Indian traditions without being loud or heavily embellished.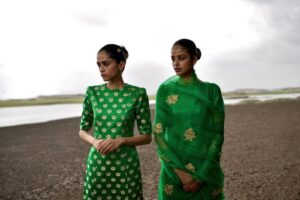 Raw Mango employs over 450 artisans who use traditional techniques to create contemporary textiles. Their defining principle is to create handmade products that stand out when compared to machine-produced ones.
Defined by the use of Banarasi, Brocade, and Chanderi fabrics, Raw Mango re-explores forgotten fabrics by bringing to the forefront India's rich crafts and weaves. It is among the few Indian brands that have envisioned handloom as high-end fashion.
Raw Mango offers a wide range of sarees, lehengas, and kurta sets featuring traditional motifs like marigold flowers, lotuses elephants, and peacocks in vibrant hues. These culturally-rooted motifs turn their clothing into beautiful works of art.
The brand retails online and through its stores in Bengaluru, Chennai, Hyderabad, Mumbai, and New Delhi.
Founded by Gautam Sinha in 2010, Nappa Dori is one of India's leading design brands that capture aesthetically-driven craftsmanship with an international appeal. The brand's neatness, minimal aesthetic, and attention to detail are what propelled it from a single store in Hauz Khas, Delhi, to its presence in over 20 countries across the globe.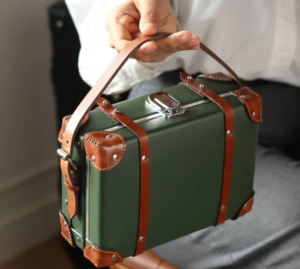 Specializing in bags, travel luggage, and accessories, leather plays a huge part in the brand's designs, and like any good architecture, Nappa Dori values structure and form across all its creations. It aims to revive timeless pieces with a blend of fashion and function so that they can be utilized today but also passed down tomorrow.
What sets them apart in the quiet luxury market is their craftsmanship – be it wood, metal, leather, or fabrics, all their products are made in small batches and are handcrafted and conceptualized with utmost detail and precision. This ensures that no product is finalized for sale without a careful inspection for the highest quality and standards.
Today, Nappa Dori has flagship stores in India and the United Kingdom, but it also retails online and through leading designer outlets that include the likes of Selfridges, Fortnum & Mason, and more. The brand also has boutiques in New Delhi, Mumbai and Dubai.
Ura Maku was founded in 2018 by Assam-originated Manuushree Saika, who grew up with Assamese textiles and folk cultures. According to the brand, Ura Maku is the story of every person who dares to fly high but is still rooted in their cultural values.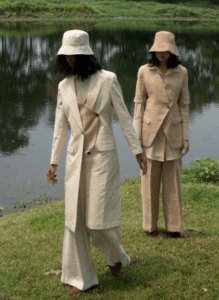 Founded to counter some of the worst downsides of the fashion industry, Ura Maku is a conscious fashion brand that is striving to revive India's indigenous crafts and one that was founded to support and keep alive the artisans of India, especially Assam.
All of their garments are made from hand-woven fabrics, using sustainable alternatives, such as Corozo buttons instead of plastic ones, and vegan silk. Their garments are also dyed by hand using tea rather than harmful chemicals.
Moreover, instead of creating collections that are only ever designed to be fashionable for one season or a micro-season, Ura Maku aims to produce timeless looks that can be worn and styled over the years and still feel relevant. The brand retails online, through a D2C medium, and delivers all over India as well internationally.
In the luxury handloom category, Ekaya was India's first brand to present the finest work of Banarasi art straight from the state's craftsmen themselves. The brand is led by Mr. Bharat Shah (Director) and his daughter Ms Palak Shah (CEO). Their family is best known for preserving the tradition of Banarasi textiles for over four generations.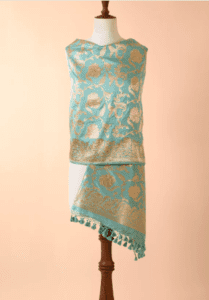 By establishing a collaboration model between renowned designers and weavers, the brand helped uplift the vision and existence of traditional Indian textiles and placed them in the category of luxury products.
Ekaya cares for the weavers of India and recognizes the importance of their craft which is needed to create designs that are iconic and irreplaceable. They have a community of over 10,000 weavers who contribute to the brand's heritage. They support these weavers to learn new skills and develop new and original designs for the domestic and global markets.
Their saris, lehengas, and suits are all bespoke, and of a bright and vibrant colour scheme that showcases the best of Indian handmade ethnic wear. Their outfits are well thought out and can seamlessly flow from one's everyday wear to a more elegant evening look as needed. Ekaya has four retail outlets in India and retails online for the domestic and international markets as well.
Cord is a homegrown Indian-origin label established in 2015 by Neha Singh and Pranav Guglani to design everyday statement pieces that are classic and timeless but equally functional and comfortable. Cord finds its roots and purpose in the rich heritage of Indian arts and crafts. The brand aims at restoring and reviving age-old techniques of artistry and employing them in their designs.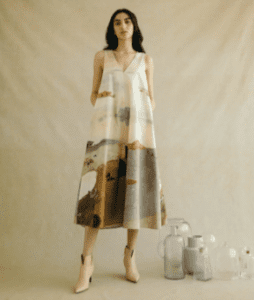 Their team of skilled craftsmen specializes in hand smocking, block printing, and screen printing. By using carefully sourced raw materials in their creations, they give voice to a new-age fashion that is built slowly and consciously. Here, each piece is distinctly created from scratch and is made to embody the stories and personality of the wearer.
Cord specializes in men's and women's clothing, along with bags and other accessories. They design dresses, tops, bottoms, shirts, overlays, co-ords, and jumpsuits. Their stores are located in Mumbai, Delhi, Bangalore, Hyderabad, Ahmedabad, Kochi, and Kolkata. Besides these, the brand also retails online through its website.
Launched by Mia Morikawa and Shani Himanshu, 11.11 made its debut at the Delhi Fashion Week with its spring/summer collection. Since then, the brand has gathered accolades and followers for questioning the system and inspiring an evocative change. Values like slowness, conscious fashion, natural dyeing, weaving, and an overall artisan-first process are at the heart of all their operations.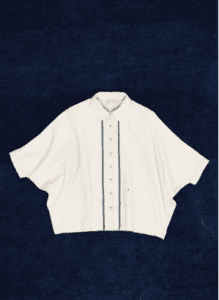 The brand launches limited batches of seasonless garments that are designed with a purpose. They specialize in working with indigenous cotton and focus on heritage techniques like hand-spinning, miniature tie-dye, and quilting. By creating fewer clothes, they aim to talk more about fashion's responsibility towards local artisans.
11.11 caters to women's and men's clothing along with accessories, quilts, rugs, and towels. All their looks are safe for the skin and transition seamlessly between cultures, time frames, and seasons. Their silhouettes are relaxed and easy; with a sartorial touch, they echo the brand's 'seed to stitch' philosophy.
They also have a Child Art Project that captures and recreates children's artwork on any of their chosen clothing items or textiles. Today, the designer brand has a wide reach and operates through its stand-alone stores and online site as well as through other prominent designer outlets in and out of India.