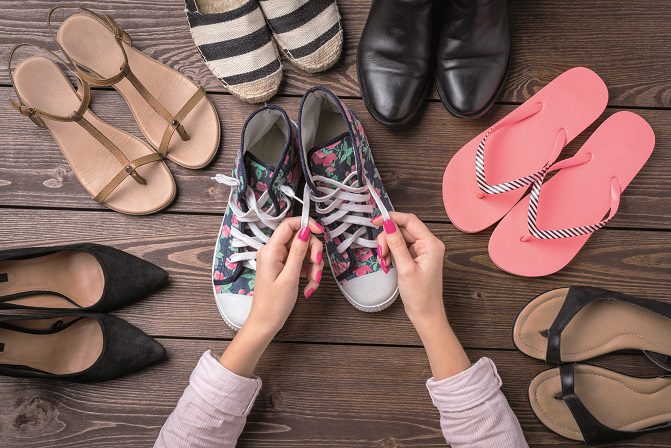 The burgeoning Indian footwear market has attracted a large number of domestic and international players in recent years. The long-term potential of India's consumer history cannot be ignored, as Gen Z and Millennials make up the bulk of India's over one billion population.
According to market experts, international brands account for less than 20% of the footwear market in India. However, local footwear brands and products are unable to fully engage with younger consumers in their innovation and product designs. Only one-third of the footwear market is organised, with the rest of the business made up of unorganised players. In the emerging markets, such as China, the footwear market is led by domestic brands. This is mainly due to innovation in the product range.
The Indian youth today have global ambitions, but don't have big budgets to buy shoes. A woman today owns approximately about 19 pairs of shoes, including 3 pairs of sneakers and other fashion shoes. Now-a-days, women have busy lifestyles and while being on their feet most of the time they prefer opting for footwear that is comfortable as well as serves the purpose of being fashionable. It is therefore imperative for them to have footwear with these two qualities.
According to Blue Weave Consulting, the Indian footwear market is valued at $ 11.7 billion in 2021 and is expected to reach $ 25.5 billion by 2028, growing at a CAGR of 11.70% from 2022 to 2028. The Indian retail sector is set to grow significantly in the coming years as the reach of organised retail gradually expands into smaller cities and underserved areas. Brands also recognize long-term growth opportunities in Indian consumer history. When it comes to retailing footwear products, traditional wholesale distribution channels such as multi-brand stores and traditional corner stores still dominate in terms of volume. As powerhouses from China to Germany grapple with slowing growth, the stakes mount to find another country that can power the global economy.
India has recently been aggressively shifting gears to enter trade deal overdrive due to several factors, fueling its ambitions to overtake China as an export powerhouse. With nearly 50% of exports coming from her MSME sector, the country has refocused its focus on free trade agreements (FTAs), launching an agreement with Mauritius in 2021.
After strong growth in recent years, Indian D2C brands are optimistic entering 2023. D2C brands are estimated to be growing at a compound annual growth rate (CAGR) of 40% in India. Total revenue for D2C brands is expected to reach $60 billion from $12 billion in FY2023. The evolving D2C space continues to disrupt traditional markets with consumer friendly services and presence where consumers are. D2C brands 2023 will see further expansion of online channels and expansion to offline outlets as Omni channel marketing strategies are one way to go and much of the focus is on customer loyalty and retention.
D2C brands are currently undergoing an organic growth shift in the market. The focus is on creating products with a sustainable and eco-friendly approach. The focus is gradually shifting to customer needs, putting customers at the forefront of the company and creating
ranges that meet the needs of target groups. The new D2C space evolves beyond traditional approaches and is consumer friendly. We entered the market at a price and found a buyer through social media. The growth of the D2C segment with such an approach is new and promising and should continue.
The D2C segment has multiple trends that drive the industry to a highly consumed gambit:
Conversational Commerce: The field of Social Media has generated millions of options enabling contact with customers aiding in replying instantly, solving queries and calling them to build personal rapport.
Influencer Marketing: Influencers have taken over the Social Media world influencing millions of users. The D2C brands have tapped into this by collaborating endlessly to promote their brands and establish mutually beneficial relationships with content creators.
AR/VR/Live Streaming: AR/VR/Live streaming provides D2C brands with the platform to establish their brand image while keeping in touch with real-time and reality.
Instant delivery: D2C brands are now maintaining the industry standards that involve instant deliveries within 1-2 business days that establish customer loyalty and trust on a better level.
Fashion Trends: Fashion trends have a directly proportional relationship with
D2C brands where they affect each other. During the pandemic, fashion trends were evolving at a triple-fold speed bringing in comfortable loungewear, baggy clothes, bulky footwear and accessories. The main factors that have influence on women's footwear is definitely the colour and the heels of the footwear.
The D2C industry is constantly evolving into something new every year. With growing trends, it is important for the brands to keep up with what the customer exactly wants. Every financial year, the industry will record a new revenue growth that portrays how involved the customers are in this industry.
D2C brands can understand consumer feedback because of their business model. This extends not only to color and style, but also to comfort and innovation. It is essential that the D2C brands tap into this wave and bring forth many more options for the customers to choose from. Additionally, this growth also means that the industry will be branding out into many more categories and ideas that the customers will have access to. Furthermore, all the above-mentioned trends such as Conversational Commerce, Influencer Marketing, AR/VR/Live streaming, Instant Delivery, and Fashion trends have enabled this industry to a humongous growth, especially since these factors were also considered and kept in mind during the pandemic. This will inevitably bring in more trends or possibly renew the old ones. It's a never-ending cycle that is growing with each day that arrives.