From being a mere necessity to protecting your feet, footwear has evolved as an important part of our lifestyle. In the last few years, the Indian footwear industry has seen an unprecedented upsurge. According to reports, India overtook the US as the second largest consumer of footwear. As per Statista, the overall revenue in the footwear market will reach US $17,500 million in 2019, with a CAGR of 10.5 percent between 2019 and 2022. According to recent Indian footwear industry report footwear production in India is over 22 billion pairs annually accounting for approximately 9.6 percent of total global footwear output per year. Footwear industry in India employs over 1.1 million workers. India is also the world's third largest footwear consumer after China and USA. About 90 percent of the footwear made in India is consumed by domestic market and the rest is exported…
Today the footwear industry has evolved into a highly technical and specialized one. The increased opportunities for footwear in sales channels like retail, key accounts, wholesale and growing e-commerce will further increase the opportunities to boost the performance of Indian footwear industry.This is certainly the sunny side up for the Indian footwear industry.Let's understand why.
Rise in Disposable Incomes
Disposable personal income in India increased to `1,92,817,450 million in 2018 from` 1,69,623,970 million in 2017.
With rising disposable incomes of customers, India's domestic footwear market is booming. Rising incomes, advent of globalization, improved employment and living standards in India has led to the expansion in the size of this market. Indian consumer's increased exposure to plastic money and imposition of GST is going to provide more organised retailing and trade transparency in long term. Consumer spending is on the rise in India. The buying behaviors of customers are changing rapidly. Urbanisation is also helping to drive consumption growth. The country is currently ranked eight largest consumer market as per The World Bank reports.
More Branding Spends: Demand of Branded Luxury Footwear
A large part of India's population is below 40 years of age. Along with factors like growing younger population and rising middle-class, there has been a significant rise in demand for branded products across categories specially footwear. Moreover, the younger generation is well-connected, tech-savvy and has high spending power. This class of generation is likely to consume more number of categories with an increasing preference for branded products to match their high aspirations. Speaking about the luxury footwear segment, India has also seen a rise in the number of upcoming indigenous brands in 2018. It's no surprise that some of these brands have understood how to position their product and have been spending a lot of their budgets on branding. This clearly indicates the reason why most of the international brands operating in India are spending huge money on branding and awareness. The overall branding and advertising spend are speculated to go higher in 2019. Marketing and branding is an integral recipe for the success of a lifestyle brand, specifically for brands catering in luxury footwear.
Sportswear is becoming extremely popular with younger consumers and fitness freaks because the sportswear companies spend a lot on their branding in both domestic and international markets.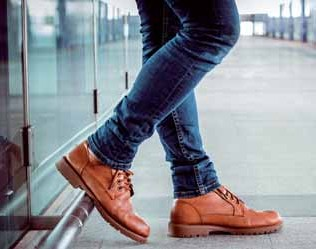 Evolving Shopping Patterns
The Indian footwear market is really confident about its growing awareness of latest trends and consciousness among consumers. Be it men's or women's category; footwear have now become a necessary style statement for everyone. The demand for footwear products in India is increasing with each passing day. The growth of integrated shopping malls, retail chains and multi-brand outlets is evidence of this change and is favorable to the growing organised segment of the business in the metros and small cities alike.
Online shopping has become an additional most popular pattern for shopping in India now a days. Online shopping is more beneficial for consumers who have high aspirations but limited access to brands.
Marketing and branding is an integral recipe for the success of a lifestyle brand, specifically for brands catering in luxury footwear
Different Categories: Footwear For Men, Women & Kids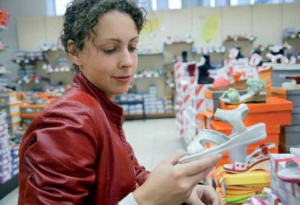 Talking about different categories in footwear, reports suggest that the men's category contributes around 55- 60 percent of sales in the footwear segment compared to women's share of about 30 percent. Men's footwear market is growing at a CAGR of 10 percent while women's segment, is growing at a much faster CAGR of 20 per cent. Unlike earlier times when people used to own a pair or two, often wearing the same pair to office, to parties, for tea, etc., today's consumer is more evolved and prefers different footwear for different occasions. A fitness enthusiast would need running shoes for jogging or exercising, a formal shoe for office, trendy and stylish shoes for parties and casual shoes for a casual outing, and so on. Footwear is not just a part of wardrobe but has become a huge status symbol these days.
There are vast varieties of shoe styles for women for their formal occasions, party wear, casual and sports.
The Indian market has wide range of footwear for kids, with character licensing, which are comfortable, stylish and colorful.
Men's footwear

Men's footwear choices are constantly evolving with fashion trends. And while these choices could be episodic, the consummate feeling of wearing success comes with the right footwear – be it casual, party or formal. This is because basic trends never go out of fashion. Men's footwear choices are based on longevity of use, style and elegance – and that's where the industry is moving: towards stunning designs, artistic sense of craftsmanship, finest artisanship and impeccable service for the male connoisseurs.
As men's footwear market holds the maximum contribution in domestic footwear market, International players always put their main emphasis on this category. The domestic brands also keep changing their products considering the change in the consumer's cultural lifestyles and requirements. In addition to existing channels in retail like key accounts and wholesale etc, e-commerce has evolved to a very great extent and has shown an exceptional growth for sales in the men's footwear category. Domestic and international brands are using online sales channels to connect with the target consumers. In a market like India, where availability of products is a very important element of success for brands, e- commerce has emerged as avatar to achieve this easily. As men have become more health and image conscious their spend on shoes categories like running, training, boxing, and other fight sports has increased in last few years. Performance shoes for all sports specific requirement is increasing day by day.
As per industry reports, the growth rate of the women footwear segment has been significantly higher than men's.
Women's Footwear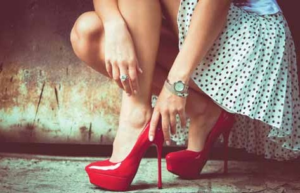 Women's footwear constitutes only around 30-35 percent of Indian market share currently. There has been steady rise in number of working women and their growing fashion consciousness may continue to drive higher demand of women footwear segment in the future. The major growth driver in this category is the increase in career women. There will be four times increase in number of career women estimated to be 45-50 million in the age group of 20-40 years by 2020.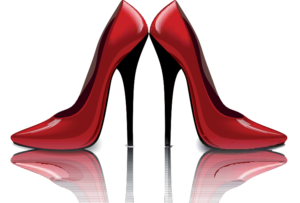 As per industry reports, the growth rate of the women footwear segment has been significantly higher than that of the men's segment in the past few years and it expects women segment to grow by at least 15-18 percent CAGR by 2020 as compared to around 10 percent CAGR for men's footwear. Moreover, as per various media reports, a large part of the unorganised footwear category is dominated by women footwear. So a shift from unorganised to organised space over the next few years is also likely to exponentially drive the volumes for the women footwear segment.
Kids Footwear

Kid's footwear segment which currently contributes only 10 percent of total market is seeing a rapid growth. The biggest challenge for the growth of this market is the price, as children outgrow their footwear very fast. The major international players in the market therefore tend not to give much focus into this sector, resulting is scarcity of product in the market. Kids footwear customers are polarized by price and that is the reason Indian kids footwear market is comprised of footwear products largely from unorganised players or from local Indian brands.
International renowned brands have a great window of opportunity for kids footwear due to double income households in tier I and tier II cities. For these international brands, e-commerce can be an easier way to set foot into this sector without the need for much initial investment, thus encouraging growth in this market. With increasing brand consciousness amongst parents and social media being a key factor in this "Designer Kids Footwear", brands are further incentivized to enter this unutilized segment of the market.
Challenges Ahead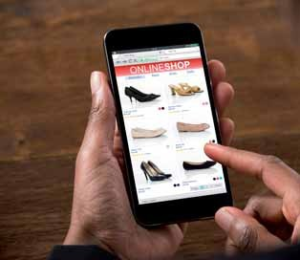 While the footwear industry is set for an exponential growth in the times to come, there are many challenges that are continuously erecting roadblocks in the process. The industry is already working towards consolidating the growth. This has seen technology being the key element in making things possible to enhance growth. Many institutes have blossomed to provide retail professionals to the industry which will help in the long run.
The unorganised retail market is the most dominant and popular mode of retailing and purchase destination for the majority of India's 1.3 billion population. Like food habits, footwear fashion changes with every 100 kilometers of Indian geography. Hence, fashion footwear has always been dominated as well as successfully managed by local retailers. The unorganised footwear industry also enjoys the advantage of the passion and zeal of its business owners that is difficult to replicate across employees and store personnel.
The 21st century consumer is more educated and knowledgeable because of the information available to him at one click. This puts the brands in a serious challenge for quickly adapt to consumer preferences which is the fundamental for his buying decisions.
Product counterfeiting is another big challenge for the organised footwear industry. It's easy to sell fake shoes for the unorganised retailers but that ultimately hampers the brand image as consumers start associating the quality and performance of a fake product to the brand. We can try to curtail that through legal processes but that still possess a big challenge.
Changing Trends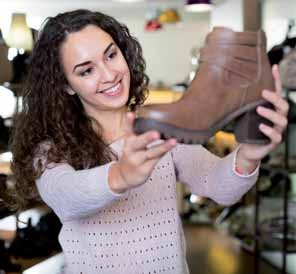 Footwear trends as such are difficult to forecast. They tend to change frequently with every season. Furthermore, it's also true that in fashion, trends have their way of repeating themselves over time and footwear is no exception.
Talking about the women footwear trends, boots are always preferred by them. Women are investing in stylish ankle and desert boots. Boots with block heels are also quite in vogue these days. Another shoe style, sneakers makes an ideal choice for daily wear. In the past, comfort was the most important factor during the selection of footwear. Unconventional colours and colour combinations in footwear are also trending these days. However, with the advent of media and increased global travel, Indians have become style conscious. Fashion footwear with comfort is now the trend in the market. Consumers have also started shopping for shoes that compliment and accentuate their clothes.
The Way Forward
Brand and product stories and clear brand communication is just as important as the product quality for the way forward. Beyond enjoying the product, customer should also feel proud to be associated with a purpose driven brand.
Going forward, with expansion in the retail sector, key accounts, e-commerce and technological advancements; footwear market will be amongst the fastest emerging sectors in the fashion industry. The demand for footwear products in India is definitelyon the rise. Indian customers do not want to compromise both with comfort and style.
With global integration of Indian industry, rapid change in lifestyle, income growth at bottom of the wealth pyramid- the footwear industry is expected to grow by leaps and bounds. For the Indian footwear to explode and deliver, favorable government policies, infrastructure, removal of high doses of taxation, infrastructural support in capacity building, skill education and technology upgradation, brand building exercise should be initiated expeditiously no later than now. Footwear is an extremely important segment of our life and always ensures to take steps forward and this is how the industry will have to move and encounter the challenges that will make all the difference.