Luxury designer jewelry brand Narayan Jewelers unveiled their new e-commerce website with Mira Rajput. She was decked up in their collections of stackable bracelets 'Be You' and layered chains 'Layered You' and OTaj Mahal inspired neckpiece, all which is now available globally on their e-store www.narayanjewellers.com.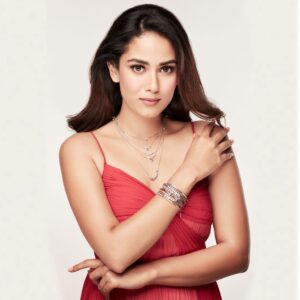 With the launch of their new website, Narayan jewelers also introduced their new category of jewellery 'Elegance', a limited edition collections with multiple pieces of same design. Accoding to the release, following their USP of not repeating designs, Narayan Jewellers' One-in-a-million category will showcase their exclusive high jeweley, cocktail and bridal designs. While consumers can browse the website for the entire collection, their On-in-a-million category will be available ata special mmebreship using which one can browse the design and purchase excusively.
Their new Elegance range showcases two new collections "Be You" of stackable Bracelets & "Layered You" including layered chain, both being every girl's best friend these days.
Mira Rajput said: "Many congratulations to Narayan Jewellers, Ketan & Jatin Chokshi for the launch of their new ecommerce website. It's amazing to see how Narayan has blended their over 80 years old legacy with newest technology with its designs and aesthetics. I loved wearing their jewellery. Their new Elegance range is so easy to wear, its light, makes you feel beautiful and you can take it from day to night & wear it almost everywhere! Wish them the very best for these new beginnings."