India's appeal to precious gems and jewellery goes back to the reign of rulers centuries ago when these were a symbol of power, position and success, of which the value may never depreciate. The history of attraction to gems and jewellery are deep-rooted in the Indus Valley more than 5,000 years ago when India was the largest manufacturer and exporter of gold, diamonds, beads, precious and semi-precious stones. India has earned the distinction of being the first country to introduce diamonds to the world. Diamonds and pearls produced in India lured merchants from across the globe. Still being one of the fastest growing, export oriented and labour intensive sectors, Gems and Jewellery contributes around 7 percent to India's GDP and 15 percent to India's total exports. Based on the sector's growth potential, the Indian Government has declared the Gems and Jewellery sector as a focus area for export promotion…
With more than 3,00,000 players and over 4.64 million workers, the Gems & Jewellery sector comprised of about $ 60 billion market size in 2017 and is expected to reach $100-110 billion by 2021-2022. Demand for the same in India rose to 523.93 tonnes between January to September 2018. India is one of the highest consumers of gold in the world and demand for gold has increased 9.13 percent every year up to 771.22 tonnes in 2017, an average of 840 tonnes over the last decade.
The Gems & Jewellery industry is characterised by highly unorganised trade, raw capital and labour intensive operations, raw material intensiveness, price dynamics of gold and its export. However, the sector's landscape has changed dramatically over the past 10 years. This vast yet largely unorganised market is revolutionizing itself with increasing speed only in the last decade-and-a-half.
Urbanisation in India is growing, and the population becoming modernized, resulting in a boost to the overall income of a family, leading to increase in demand for gold jewellery and other precious gems. The increasingly affluent and middle class population is slowly increasing its per capita spend on luxury items. Growing spends have served to trigger awareness among consumers regarding the structured retail jewellery industry and have also enhanced the perception of jewellery buying among consumers.
Rural consumption – on the back of a good monsoon supporting of growth in farmers' income – is also expected to go up, increasing the demand for gold in the country.
The Significance of Jewellery in India

Jewellery buying holds an emotional significance in diversified cultures and traditions of India. It is considered a matter of luxury and associated with glamour and fashion. Jewellery in India is also bought as a safe investment option – a precious metal that only appreciates with time. As income rises, so do savings and the most preferred type of saving for Indians is buying gold.
Aside from this, gold is also considered as an auspicious buy on many occasions. During festivals like Akshay Trithya and Dhanteras, weddings and other significant celebrations, people in India tend to spend a considerable amount of money on gems and jewellery especially gold, all of which drive demand of gold.
While the above still holds true in every sense, it is also important to note that the Indian Jewellery market is undergoing a gradual change from traditional to branded formats. Famous brands are using Indians' emotional connect to jewellery to create strongholds in their respective contemporary markets.
Rural consumption – on the back of a good monsoon supporting of growth in farmers' income – is also expected to go up, increasing the demand for gold in the country.
With consumers evolving their preferences and becoming more quality conscious than ever, and wanting value for money, building a brand which is known for providing genuine, trendy and designer jewellery is becoming extremely important. These brands are moving the Indian consumer's mindset away from 'only buying traditional and heavy jewellery during marriage season' to 'buying modern jewellery as gifts'. This evolution is very evidently depicted in the marketing and merchandising campaigns of the brands.
Again, taking the cue from the customer, leading jewellery brands are focusing on investing a sizeable amount of money in the advertising and marketing campaigns for increasing publicity. Brands are capitalizing on the emotional quotient to attract consumers through TVCs depicting strong family bonds and traditions. They are also appointing Bollywood stars their ambassadors in order to glamourise the brand.

Market Forecast & The Indian Scenario
According to a TechSci Research report titled 'Global Gems and Jewelry Market Forecast and Opportunities, 2020', the global Gems & Jewellery market is projected to register revenue growth at a CAGR of around 6 percent by 2020.
The Gems and Jewellery sector holds a significant place in the Indian economy due to its key role as a major contributor to the total foreign exchange reserves of the country. As per a report from IBEF, The overall net exports of gems and jewellery stood at $32.71 billion during FY18 registering a compound annual growth rate (CAGR) of 5.83 per cent over FY05; whereas gems and jewellery imports increased at a CAGR of 7.97 per cent from $11.63 billion in FY05 to $31.52 billion in FY18.
India accounts for 75 percent of exports of the world's polished diamonds and as quoted in one of the IBEF reports, India exported $17.86 billion worth of cut and polished diamonds in Apr-Dec 2018. Being the world's largest centre for polished and cut diamonds, the Government of India has permitted 100 percent Foreign Direct Investment (FDI) in this sector under the automatic route. UAE, US, Russia, Singapore, Hong Kong, Latin America and China are our biggest jewellery importers.
Though India plays a prominent role in the industry in terms of manufacturing, processing and consumption; but mining of gold and diamond is amongst the lowest in the world. India imports gold and rough uncut diamonds along with other precious metals. Gold is purchased from countries like South Africa, UAE, Australia, Switzerland, etc. and rough diamonds are sourced from UAE, UK, Israel, Belgium, etc. With political pressure to increase local beneficiation in African mining nations, new cutting and polishing centres like Botswana, Nambia, Angola will emerge, reducing India's dominance in diamond processing.
It is expected that organised sales should increase due to changing buying preference by growing young population, hallmarking and certifications. The dominant factors for the growth are the rising disposable income, continuous marketing efforts, rising young population with urge to spend and consider jewellery as fashion statement. However, with the economic crises worldwide, industry growth has taken a hit. The industry may witness a phase of revolution with small players either shutting down or merging operation with dominating players in the industry.
Government of India has permitted 100 percent Foreign Direct Investment (FDI) in this sector under the automatic route. UAE, US, Russia, Singapore, Hong Kong, Latin America and China are our biggest jewellery importers.
Along with domestic investment rising in the sector, Foreign Direct Investment (FDI) in gold and diamond stood from April 2000 to December 2017 at $11.1 billion. The Government of India has levied 3 percent Goods and Service Tax (GST) on gold, gold and silver jewellery, processed diamonds and 0.25 per cent on rough diamonds.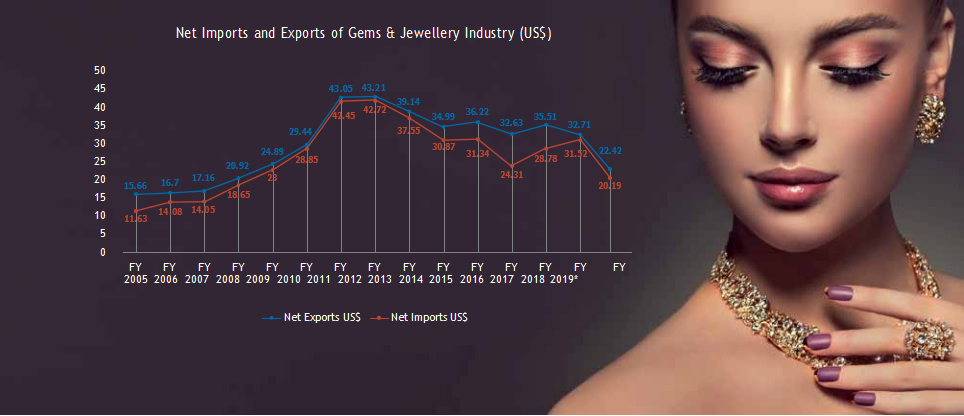 As of January 2018, the Reserve Bank of India (RBI) has widened the scope of gold-monetization scheme by allowing charitable institutions and government entities to deposit gold, which is expected to boost deposits in coming months. The import duty on platinum is lowered and the custom duty on rough coloured precious gems stones is exempted. Rough, semi-precious stones are also exempt from import duty. Duty-free import of consumables for metals other than gold and platinum up to 2 percent of freight on board value of exports. Setting up of SEZs and gems and jewellery parks to promote investment in the sector. The export of coloured gemstones on a consignment basis has been allowed.
Such initiatives and policy support from the government definitely gives a boost to the industry and the economy as a whole. The Bureau of Indian Standards (BIS) has updated the standard on gold hallmarking in India from January 2018, which now includes a BIS mark, purity in carat and fitness as well as the unit's identification and the jeweller's identification mark on gold jewellery. The move is aimed at ensuring a quality check on gold jewellery.
Considerable Shift in Usage of Jewellery
From wedding wear, jewellery has become a daily wear item. The traditional wedding jewellery driven market has changed, with Indian women choosing pieces which are lightweight and easy to carry, over huge traditional sets.
The daily and occasion wear segments are expected to take place of the wedding jewellery segment and contribute to 49 percent of the market by 2020.
Women are inclined more towards diamonds and shown their preference through rise in demand for them over the years.
The overall market share for diamond is consistently climbing north and is expected to rise to 25 percent by 2020.
Industry players have to be alert at all times, understanding that consequential changes are under way, both in consumer behavior as well as in the industry itself.
Melding Jewellery & Technology

Technology is one constraint where the Indian Gems & Jewellery sector has a gap to cover in as far as other countries are concerned. Until now, a combination of manual skill and semi-automatic machines has kept the Indian jewellery industry on the leading position. However, China with its modern and automatic factories is today in a similar position to manufacture jewellery at competitive prices.
Increased competition is forcing the Indian sector to focus more on high end products, with the associated requirement of increased investment in modern technology.
In today's world; digital influence cannot be ignored, consumers are investing their time heavily online on their smart phones, laptops and computers. It has become a necessity for the brands to have an online presence and be an Omnichannel store to tap their target audience.
It is no more a choice in today's scenario for a brand to have an e-commerce website since it is an imperative channel to increase brand awareness and sales. It has been observed that consumers mostly browse online channels for designs before walking into a store, so while online channels may not necessarily convert into sales, they help in making buying decisions as they provide ease of comparison.
The online market is not only limited to the already established players of this game, but young players are making their entry with advanced technology, fresh concepts and creative ideas, to understand the customer better and make a mark of their own.
The Future of the Sector
The consumption of branded jewellery – which is gaining a significant share in the market over the years – is expected to lead to a high demand in the near future, spelling a glittering future for the global Gems & Jewellery industry.
While the overall jewellery industry is going through some drastic changes, brands – by making innovative use of the market situation and being updated about their target audience – can surely identify avenues of growth. The execution of this strategy needs to be supported by the industry players' alertness both internally and externally.
However, industry players can't just simply do business as usual and expect to thrive; they have to be alert at all times, understanding that consequential changes are under way, both in consumer behavior as well as in the industry itself. They need to be responsive to significant trends and developments or face the risk of being left behind by more agile competitors.