The size of Indian apparel market in 2019 is US$ 56.4 billion. It is expected to grow at a CAGR of 8% by FY 2025, reaching US$ 89.2 billion. Factors contributing to the growth are higher brand consciousness, increasing digitization, greater purchasing power and increasing urbanization…
Indian Economy: A Glimpse
Indian economy is one of the fastest growing economies in the world. India is world's 7th largest economy in real terms and 3rd largest by GDP PPP terms. India is expected to be in top 5 global economies by 2020. India's real Gross Domestic Product (GDP) has sustained an average growth between 6% and 7% since FY 1991. Since FY 2015, India has become the fastest growing economy in the G20 and is expected to grow at approx. 6.5% in FY 2020. The government has implemented a
series of reforms to accelerate the growth of India's GDP ~ it slashed the income tax rate for companies to 25% and offered a lower rate of 17% for new manufacturing firms to boost economic growth rate. However, India's GDP growth rate slowed down to 4.5% in July – September quarter of FY 2019. Considering the current slowdown in the economy, there are chances of further downward revision in the growth projections of GDP for the current fiscal year.
India's nominal GDP is expected to reach approximately US$ 3 trillion and US$ 5 trillion by FY 2020 and 2025, respectively. According to IMF World Economic Outlook, per capita GDP (nominal) of India is projected at US$ 2,199. Several structural factors are likely to contribute to India's economic growth. These include favorable demographics, reducing dependency ratio, rapidly rising education levels, steady urbanization, growing young and working population,
IT revolution, increasing penetration of mobile and internet infrastructure, increasing aspirations and affordability, etc.
India's share of domestic consumption, measured as private final consumption expenditure, in its GDP was 60% in FY 2018. Real private final consumption expenditure (PFCE) growth is expected at 5.5% during 2019-20 and would improve to 7.0% during 2020-21.
India has one of the youngest populations in comparison to other leading economies. Younger populations are naturally pre-disposed to adopting new trends and exploration, given their educational profile and their exposure to media and technology, that presents an opportunity for domestic consumption in the form of branded behavior, organized retail and product designs.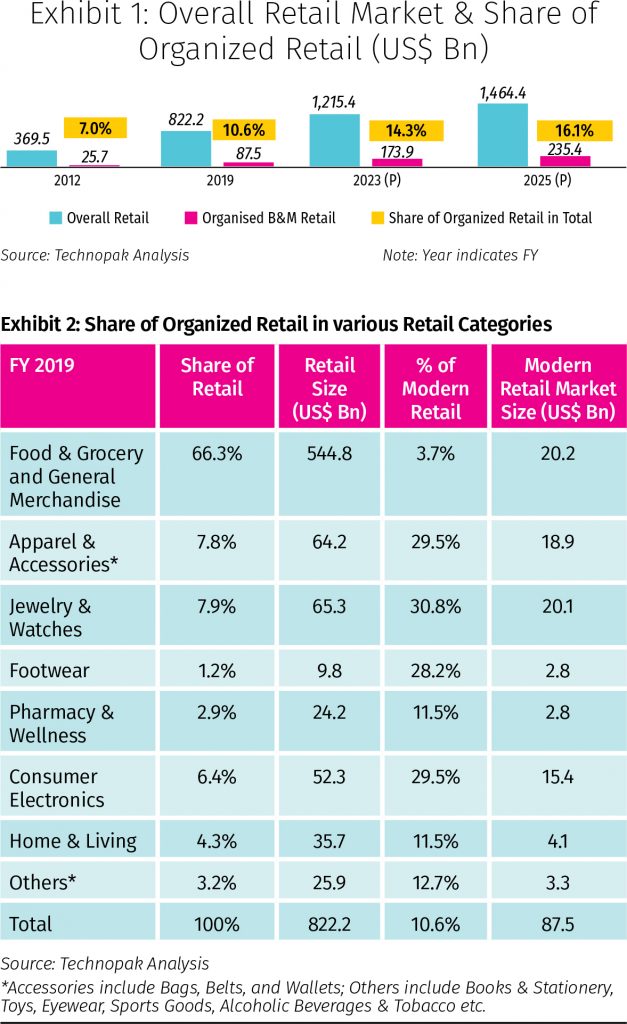 1. Overview of Indian Retail Industry
The total retail market in India is US$ 822.2 billion. Food & Grocery and General Merchandise take the largest share at US$ 544.8 billion. Fashion & Accessories and Jewellery & Watches are the close second, followed by Consumer durables and others. Modern retail, including Brick & Mortar and E-commerce, has been 10.6% of the total market. Fashion, including apparel, jewellery & watches and footwear, has a large share in the modern retail.
Modern retail is projected to grow at a CAGR of 18% vis-à-vis overall retail industry, which is projected to grow at a CAGR of 10%.
Apparel & Accessories, Jewelry & Watches and Consumer Electronics are the other three key categories that account for 7.8%, 7.9% and 6.4% respectively in 2019.
Jewelry & Watches, Apparel & Accessories, Consumer Durables & Information Technology (CDIT) and Footwear are amongst the categories with highest organized penetration at 31%, 30%, 30% and 28% respectively whereas F&G and GM are the least penetrated with 3.7% organized share.
2. Fashion Retail Market in India
2.1 Fashion Market Size of India
The size of Indian apparel market in 2019 is US$ 56.4 billion. It is expected to grow at a CAGR of 8% by FY 2025, reaching US$ 89.2 billion. Multiple factors contributing to the growth are higher brand consciousness, increasing digitization, greater purchasing power, increasing urbanization, etc. The branded apparel and organized apparel retail are expected to grow at CAGR of 13% and 15%, respectively, during the same period, outpacing the growth of the overall category.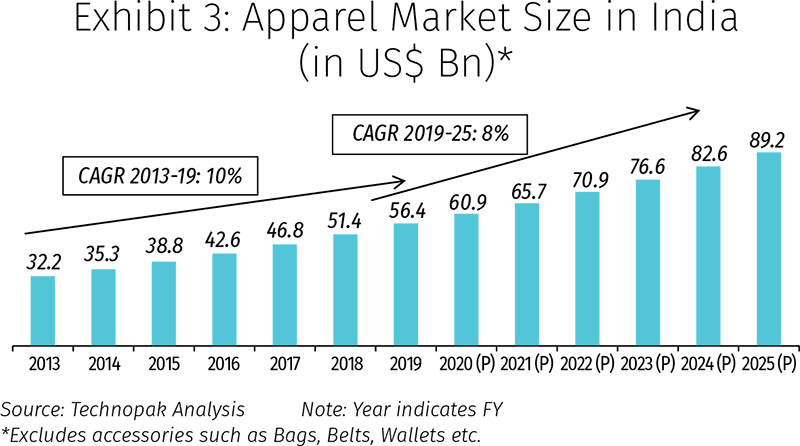 The share of branded apparel in India has been higher than the total modern retail of apparel because significant number of branded apparel also sell in traditional retail formats.
2.2 Intersegment Analysis
The Indian apparel market can be broadly classifi ed into Menswear, Womenswear and Kidswear. Currently menswear holds major share in the apparel market. It accounts for 42% of the total market. Women's wear contributes 37%, while kids wear contributes 21% of the market. It is estimated that over the next decade womens wear and kidswear will demonstrate high CAGR of 8.3% and 8.9% respectively, resulting in
rise in market share of these categories.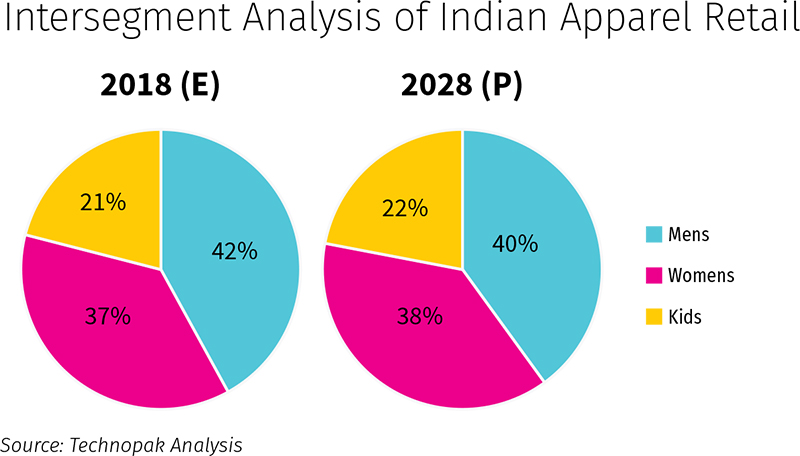 MENSWEAR MARKET SPLIT
Menswear market is expected to grow at a CAGR of 8% ~ from US$ 23.5 billion in FY 2019 to US$ 36.9 billion in FY 2025. Factors such as an upsurge in international brands and favorable demographics have led to high demand for casual attires such as denim, active-wear, T-shirts, etc. in menswear category. With renowned brands extending into innerwear category, it has become an emerging category in the premium segment.
Shirts and Trousers are the largest categories among menswear segment contributing 28% and 22% respectively. Denim and T-shirts have been large categories, and still continue to show a high growth rate of 12.7% and 10.1% respectively. Active wear combined with Athleisure is the new category which is evolving as a high growth
category in the menswear segment.
While casualization has been in fashion for a long time, Athleisure offers a combination of active and casual wear properties with sharp looks and is now not just restricted to sports or activity based clothing. Athliesure is now accepted as a regular – casual wear attire which promises both comfort and fashion to the consumer. The growth is not just limited to Metros and T -I cities but is well distributed across T -II and T -III cities, as well.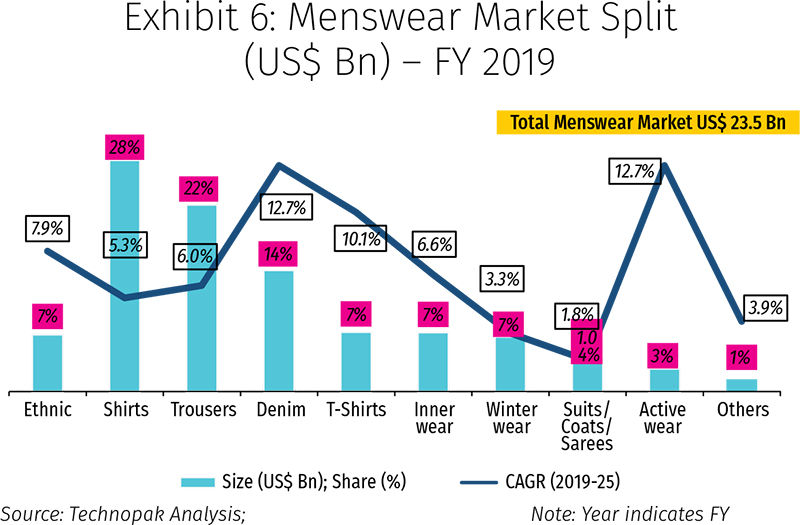 The acceptance of smart casuals to corporate wear has given a boost to the western wear in working professionals. Today, the formal wear includes smart jackets, chinos, printed shirts ~ more than just shirts and trouser, with formal jacket. Denimwear is also growing at a fast
pace. Denim jeans is accepted in both casual and formal settings, and has also grown to categories such as joggers and shorts for menswear. Denim jeans has seen demand from the young consumers across all strata. While the market is largely unorganized, there has been significant number of new brands entry. The value seeker is also
adequately catered by the unorganized market where youth can find high fashion affordable jeans easily across all cities.
Innerwear is another high growth category. With most branded players getting into this segment, it offers a wide variety and designs at various price points to the consumers to choose from.
WOMENSWEAR MARKET SPLIT
Womenswear market is expected to grow from US$ 21.2 billion in FY 2019 to US$ 33.3 billion in FY 2025. Factors such as increase in number of working women, rise in discretionary buying, innovation in designs etc., are contributing factors to the projected growth in womenswear.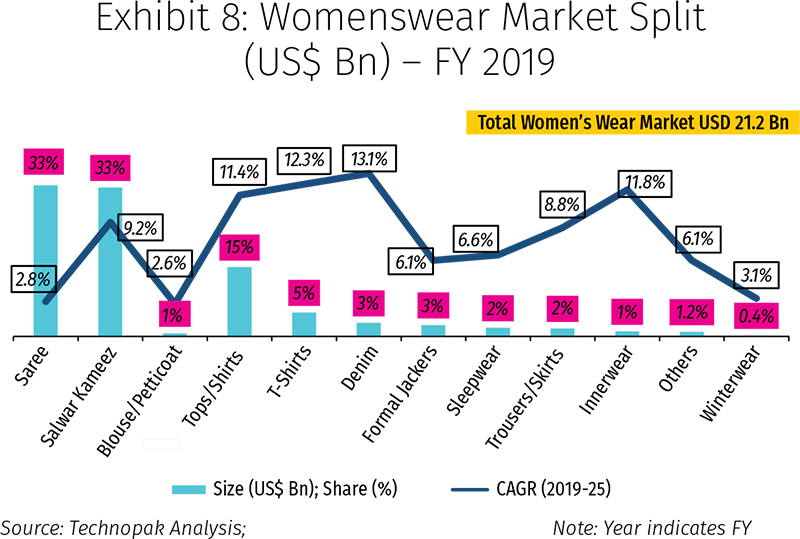 While ethnic wear such as Sarees and Salwar Kameez have always been the largest category in womenswear in India, new segments have seen rapid growth in the last decade. One such category has been Denim Jeans and the other has been Athleisure.
Denim at 13% CAGR is a high growth category in womenwear. Denim jeans is widely accepted as a casual wear attire for women. While the largest acceptance has been in the T-I and T-II cities, T -III and rural India are also gradually showing the propensity for the same. Fusion clothing which is very popular across all segments of women also gets extended to denim jeans. A kurti paired with a denim jeans is a smart option and is widely accepted.
Lingerie is also a fast growing category. This has traditionally been an unorganized play but with international brands coming into India, today's women have a choice of good quality lingerie in contemporary design. Brassieres, panties, camisoles, etc., are the key sub-categories of women's inner wear category. Branded innerwear contributes 40% – 45% of the total women innerwear market and is expected that branded share will account for 48% – 52% in 2025.
Stretch fabric is a key component in womenswear clothing. The leggings which came into use as yoga pants are now a staple with the young women in India. These are also used with ethnic wear and have become widely popular. Athleisure is also an emerging category among women and is gaining wide acceptance for various occasions rather than just being gym wear or active wear. In the casual wear space tops – both woven and knit are a high growth category especially with working women and young girls.
KIDSWEAR MARKET
Indian apparel market is witnessing high growth in kidswear segment. Kidswear market is expected to grow at a CAGR of 9% from US$ 11.7 billion in 2019 (20.8% of total apparel market) to approx. US$ 19.1 billion in 2025. India is globally one of the youngest nations ~ with approx. 29% of the total population in the age group of 0 – 14 years. Owing to the growth potential of this market segment, many
international brands have entered this segment in last few years. Indian private brands and boutique brands are also retailing into this segment through online channels and brick and mortar standalone stores ~ comprising of approx. 85% of the total market in kidswear.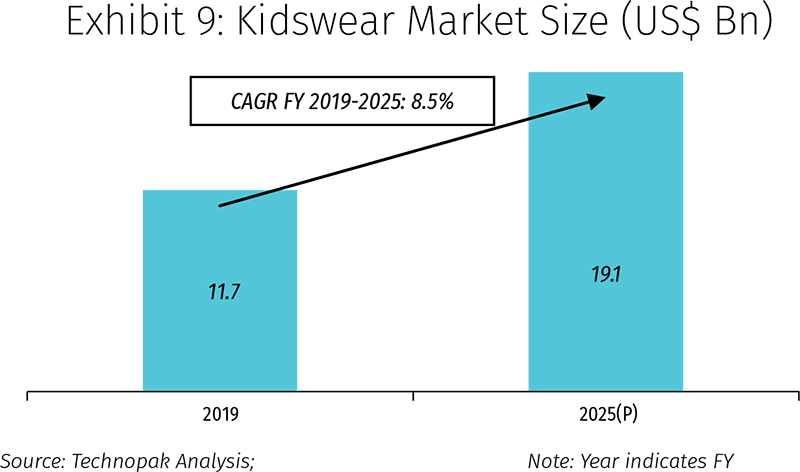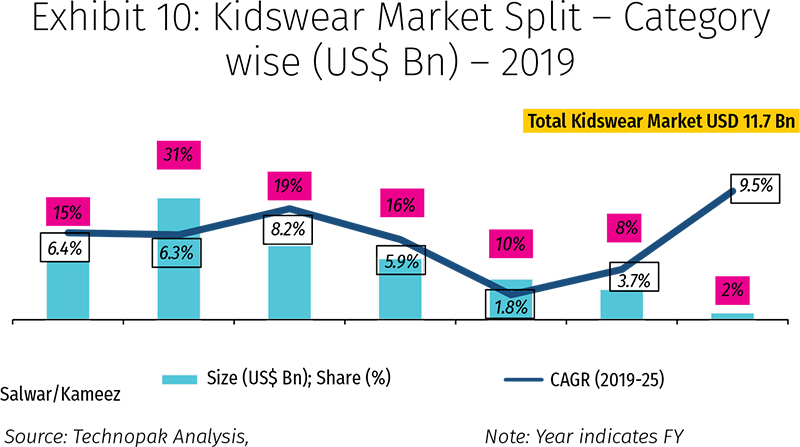 Factors such as exposure to global fashion trends, raising disposable income of the Indian working class and presence of foreign brands act as catalysts for the growth of kidswear market in India. After the implementation of GST, kidswear segment is expected to witness higher shift towards organized retail in near future.
Brands can gain advantage from growth in kidswear market segment by focusing on right business model, strong supply chain, and bridging the gap between pricing points of local and organized kidswear stores.
Traditionally, kidswear segment has been an unorganized market with few organized players entering this segment. The key success factor of the segment is to manage a large number styles which are high on fashion. The unorganized players have been able to manage these parameters successfully. A right business model based on strong supply chain capabilities is required to succeed in this fashion conscious value based business. Kids are also very fashion conscious and demand variety in what they wear. The access to smartphones, movies, and internet has made the kidswear of the on-going fashion trends. With higher disposable incomes because of double income families, parents do not mind spending frequently on kidswear.
Retailers have also introduced Private labels in this segment for the price conscious consumers. Popular fashion trends are translated into goods at sharper price points to attract the consumers.
Segmentation of Apparel Market in India ~ Western and Ethnic Wear
The total apparel market in India is US$ 56.4 billion as of FY 2019.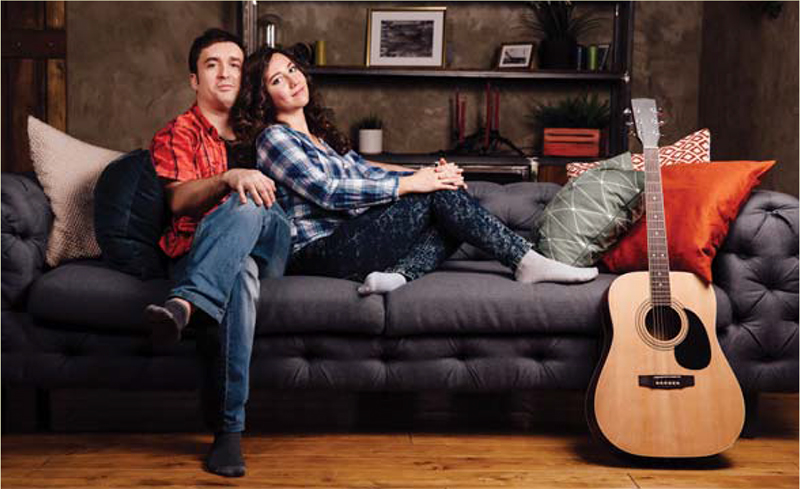 Men's apparel constitutes 42%, whereas women's apparel is 38% ~ the remaining 21% is contributed to kids apparel. Ethnic wear accounts for approx. 32% (US$ 10 billion) of the total apparel market, whereas western wear stands at 68%. Western wear is more significant in menswear and kidswear vis-à-vis womenswear. The share of western
wear through organized channels is approx. 32% and that of ethnic wear is 18%.
WESTERN WEAR MARKET
The share of menswear and kidswear for western clothes is higher than the share of womenswear ~93% and 85% of the total market of US$ 23.5 billion and US$ 11.7 billion, respectively, vis-à-vis approx. 30% of total market of US$ 21.2 billion for womenswear.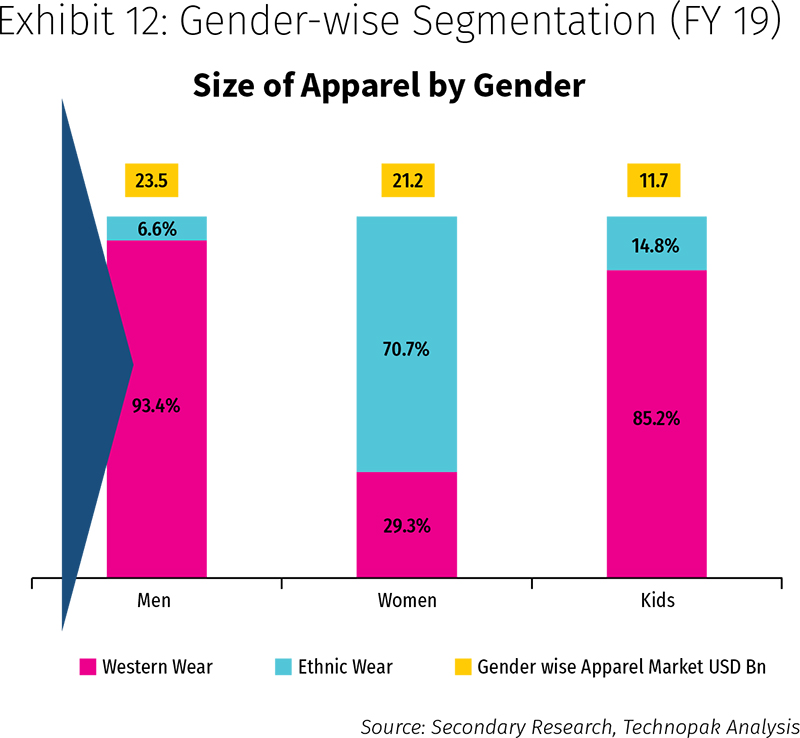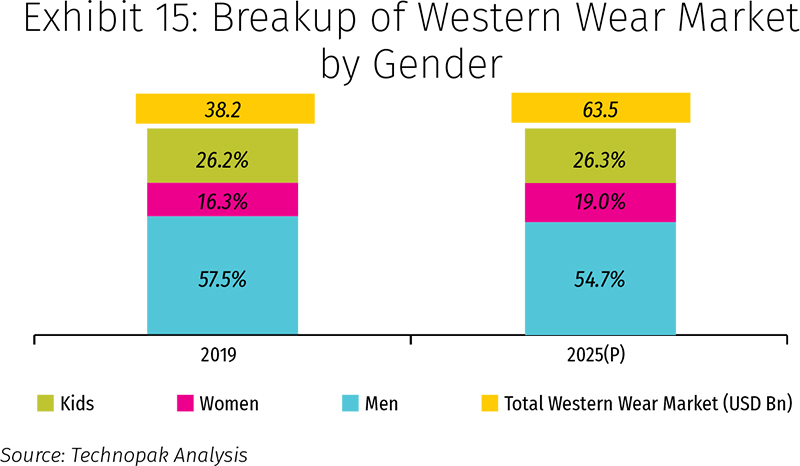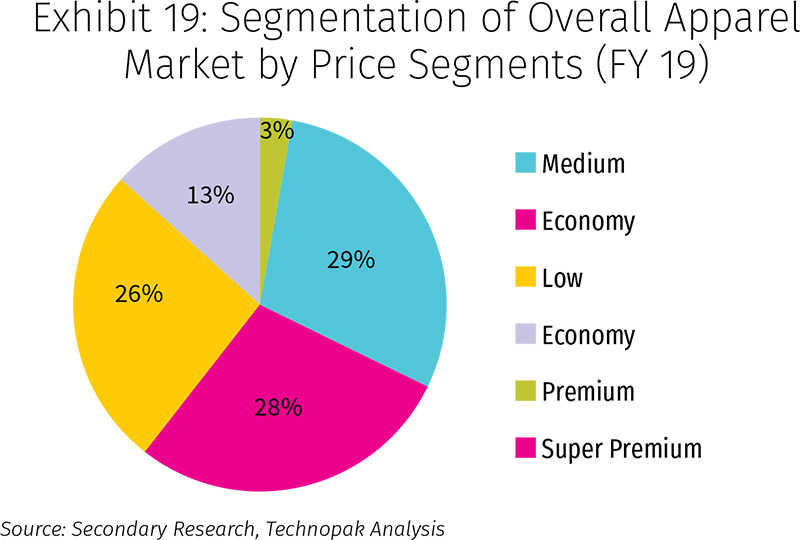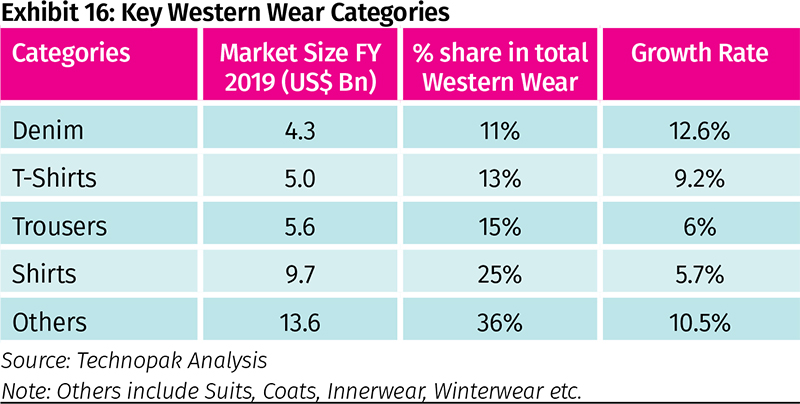 ETHNIC WEAR MARKET
Ethnic wear makes up 70.7% of the total womenswear market of US$ 21.2 billion; whereas ethnic wear accounts for only 6.6% of the total menswear market of US$ 23.5 billion ~ women ethnic wear is the mainstay for ethnic wear in India.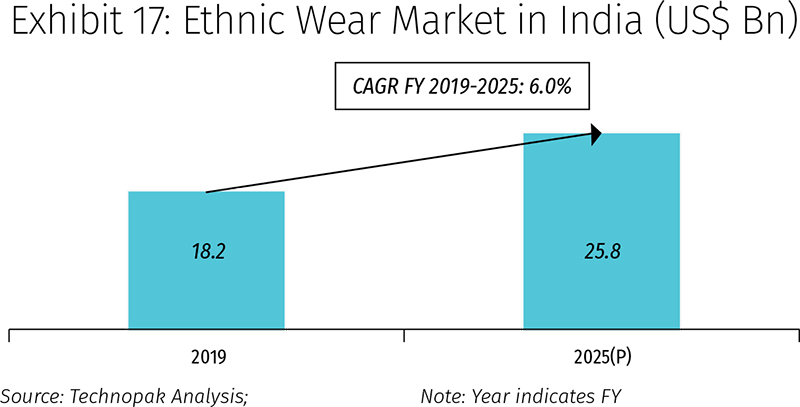 One of the reasons behind the huge difference between share of ethnic wear in womenswear and menswear is the 'ease of wear'. For Indian women, ethnic wear is a comfortable outfi t for daily wear use, whereas for men, ethnic wear is at present restricted to occasions such as festivals, weddings, etc.
2.3 Price Segmentation of Overall Apparel Market
Apparel market can be broadly divided into super premium, premium, medium, economy and low price segments. The medium price segment holds majority of the share among apparel segment of 29%, followed by economy at 28%. Price sensitive customers form a large part at 54% of the low and economy price segments of the apparel market.
Customers across income groups purchase medium priced apparel at varying frequencies. Sometimes the customers of the premium and super premium segment wish to trade down to medium segment, while in some other cases the low-income customer prefers to trade up to medium segment depending on the requirement of the attire and look. Many Indian consumer of the medium income level prefer medium price segments as it offers the assurance of certain minimum quality standards at a reasonable and affordable price.
3. Key Trends for 2020 and Beyond
3.1 Focus on Cities Beyond The Top 20: Cities beyond the top
20 will drive the next phase of growth for the apparel industry. While a large number of retailers and brands have expanded their presence to the top 40-50 cities, the next decade would see formats and business models developing for the smaller cities and towns.
3.2 Value Fashion: Value fashion is a combination of high fashion
quotient along with good quality, experience and value pricing. Over the next decade, the Indian market will see a rapid rise of this segment. While the concept is led by international brands, a number of Indian brands have adopted the same model. Value fashion retailers such as fbb, Max Fashion, Unlimited, V-Mart along with Rangriti and Aurelia are the fi rst movers in the Indian market.
3.3 Digital Presence and E-Commerce to Drive Growth:
While Brick & Mortar has led the growth of fashion till now, digital media will be key drivers of growth in the coming decade. E-commerce has made a strong in-road in the fashion segment, and will see more rapid growth in the coming years. Multiple factors are driving this growth, including access and reach for consumers in smaller towns, semi urban and rural India; heavy discounting and easy trial and
return options. This trend will continue to grow going forward and will become intrinsic to the shopping process.
3.4 Technology in All Aspects of The Business, To Be
The Biggest Value Creator: Technology will be the key value creator. It is already helping brands and retailers in improving the processes and reducing lead times. This can be used in all aspects of the business starting from design to merchandizing, to planning & buying, managing inventories, supply chains and manufacturing. There has been early adoption of such technologies by the top brands and retailers; however, the use of technology will see a large increase in
the deployment.
3.5 Personalization – Either Through Bespoke Tailoring
or Through Use of Technology: The need to look different than the others is leading the way to bespoke clothing once again. Small insignia's like an embroidered initials or a choice of words, can make a huge impact on the clothes being used. These can be shown off as personal collections and is gaining momentum. This can also come in by the use of Technology – like 3D Printing or also just digital prints. The consumer is willing to spend that much extra for such personalization.
3.6 Experiential Retailing through Bricks and Mortar
and In Digital: The consumer wants an improved experience in the shopping process. While in the bricks and mortar store, consumer is looking at that pampering in the buying process. This may be through better use of technology, including Virtual Reality, Augmented Reality, Magic Mirrors among others, where a consumer can confi dently decide on what will look good on him/her to choosing the right size. Many such technologies have already been into play in the developed markets and are now being introduced in India. These will also see a large momentum going forward making the whole shopping experience for the consumer far better.
3.7 Large Format Stores In Smaller Cities As Real Estate
Supply Has Improved: The smaller cities offer reasonably good access to real estate at lower prices, which will help the large format stores to improve its presence in such cities. While, on one end it helps reaching closer to the consumer, it also provides a larger growth to the brands and retailers, who have been looking forward for such real estate for growth. Quality of real estate supply has improved over the last few years aided by the expansion of mixed-use development and re-development. This trend is refl ective in the continued growth of LFSs and EBOs store counts over last few years across all major brands and
concepts.
3.8 Accessorization: Accessories that enhance the looks of the
garments will become extremely prominent. There could be various kinds of accessories such as scarves, hair bands, bags, wallets, shades, pocket squares etc. All of these enhance the looks of the products by adding colors and making the outfi t look smarter. While, they have been in play for a long time, consumers will start using these more and more to add variety to the existing wardrobe. Typically, such accessories are lower in cost than the full ensemble but can help in giving a new look to the same.
3.9 A Strong Focus on International Brands for The India Market: India has seen an infl ux of international brands setting shops. H&M and Zara have been good examples. We should see a lot more of such international brands setting stores in India. They help in improving the overall fashion sense by bringing in apparel being produced for the global markets into India. Such brands are also
evolved in the processes managing the stores and give access to easy returns, better managed stores, attractive visual merchandising and some great offers.
3.10 Athleisure and Maybe Smart Clothes: In terms of categories, Athleisure will see a signifi cant growth in the coming times. Athleisure provides casual styling with great comfort and sharp looks and is becoming an important category across all segments. Smart clothes may also fi nd a place among the mass products. Such products with smart features such as heart beat monitoring, wearables like ear plugs, and maybe integrated chips for advanced usages could also start finding shelf space.
3.11 Private Labels: Growth of private brands among multi-brand
retailers is prominent across all product categories. Some reasons that can be attributed for this growth are:
Higher Margins ~ Private brands are able to offer higher margins given factors such as lower advertising and promotional costs.
Customer Loyalty ~ Private brands attract more loyal customers vis-à-vis local brands because of better quality products.
Differentiation ~ Retailers are in a better position to differentiate themselves from local brand retailers.
Higher Bargaining Power ~ Retailers with high share of private brands enjoy high bargaining powers with the suppliers.
Multi-brand retailers usually hold a share of approx. 25% of private brands. Brands such as Kohl's, Macy's, etc. have achieved high scale and profitability that gives them the benefi t to enjoy incremental gross margins. Similarly, both offl ine and online retailers are usually inclined towards selling private brands in India.