Globally, India is seen as one of the key consumer markets from where future growth is likely to emerge. As per this exclusive Technopak Report, growth in consumption will be driven by both services and merchandise consumption…
Indian economy is one of the fastest growing economies in the world. India is world's 7th largest economy in real terms and third largest by GDP PPP terms is expected to be in top 5 global economies by 2020. India's $2.7 trillion economy witnessed a relative slowdown in the financial year 2017-18 due to various economic measures taken by the Indian government. However, P projected by IMF to grow at ~7.2 percent in 2018-19, faster than the 6.7 t growth clocked in 2017-18. Sustained real GDP growth of over 6 percent since FY 1991, has led to a fundamental transformation of the Indian economy. India has become the fastest-growing G20 economy since FY 2015, with growth rates hovering around 7 percent. India's economy is projected to expand by 7.3 percent and 7.4 percent in FY 2019 and FY 2020, respectively, benefiting from strong private consumption.
Globally, India is seen as one of the key consumer markets from where future growth is likely to emerge. The growth in consumption will be driven by both services and merchandise consumption.
As more people move beyond the basic sustenance level in any country, it reflects in consumption expenditure. Although, the share of Private Final Consumption Expenditure (PFCE) as percentage of GDP is slowly decreasing, in absolute terms it increased from US$ 61 Bn to US$ 1,308 Bn (FY 1991 to FY 2016). Rising income levels coupled with growing young working-age population will lead private final consumption expenditure to grow steadily over the years and is expected to reach to ~$ 2 trillion by FY 2020.
Increasing disposable income, brand awareness and tech-savvy millennial population are the driving factors of corporatized retail within the country. Overall, Indian retail scenario has shown sustainable long term growth compared to other developing economies.
1. Indian Fashion Retail Market
Indian Retail Market is estimated to be worth `53,06,400 Crore ($792 billion) in 2018 and is expected to reach `1,50,68,300 Crore ($2,249 billion) by 2028, growing at a Compound Annual Growth Rate (CAGR) of 11 percent. It is envisaged that the current fashion retail market worth `3,61,160 Crore ($54 billion) will grow at a promising CAGR of 8.1 percent for next ten years to reach `7,88,532 Crore ($118 billion) by 2028.
Indian apparel industry, which is the second largest contributor in the retail industry after food and grocery, is seeing some major shifts. Entry of international brands, changes in preferences from non-branded to branded, the fast growing economy, large young consuming population in the country has made India a highly lucrative market. India has the world's largest youth  population, which is becoming fashion conscious owing to mass media andsocial media penetration. This has opened unprecedented retail market opportunities. The promising growth rate of 8.1 percent makes Indian fashion industry prominent in the retail sector. With GDP growth rate of 7.2 percent India has an edge over developed markets of the US and EU, which are growing at ~2 percent and ~2.5 percent each. It is the developing nations which will drive the future Apparel consumption and India is one of the major consuming nations. Favourable trade policies, increased penetration of organised retail among other factors contribute in making Indian fashion industry attractive for investors.
2. Intersegment Analysis
The Indian apparel market can be broadly classified into Menswear, Womenswear and Kidswear. Currently menswear holds major share in the apparel market. It accounts for 42 percent of the total market. Women's wear contributes 37 percent, while kids wear contributes 21 percent of the market.
It is estimated that over the next decade women's wear and kidswear will demonstrate high CAGR of 8.3 percent and 8.9 percent respectively, resulting in rise in market share of these categories.
2.1 Menswear

With the market size of `1,56,496 crore ($24 billion), menswear is the largest segment in apparel market and is expected to grow at a CAGR of 7.6 percent for next ten years to reach market of `3,26,869 crore ($49 billion) by 2028.
The various product categories of Men's wear segment includes Shirts, Trousers, Suits, Winter wear, T-shirts, Denim, Active wear, Ethnic, Innerwear etc. Shirts are single largest category in Menswear, followed by Trousers and Denim.
In recent years, denim, activewear and t-shirts have shown promising growth and are expected to grow at high CAGRs of 12 percent, 13 percent and 10.3 percent respectively, owing to changing preference of the consumers.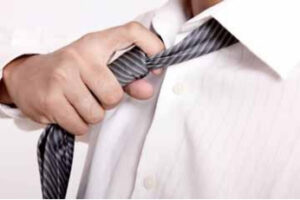 Shirts and trousers are the largest categories among Menswear contributing 27 percent and 22 percent respectively. Denim is another major category among Mneswear contributing ~16 percent of the total Menswear. Denim and T-shirts have matured as categories and have shown a consistent growth over a considerable period of time. Whereas, Active wear has recently evolved and has high growth potential.
This is due to the boom in fitness and healthcare. In addition, the consumers in India have evolved and now understand that clothing for fitness is different from everyday clothing. These factors contribute to high growth projections of 13 percent over the next decade. The growth in this category is not just restricted to Metro and Tier 1 cities and has shown growth in Tier 2 and Tier 3 cities as well.
The acceptance of smart casuals in corporate has boosted growth of western wear among working professionals. Formal wear is not restricted only to shirts and trousers but has a wide range of other options such as smart jackets, brightly colored or patterned shirts complemented with loafers etc.
There are no two opinions about the influence of denim in wardrobes across the globe and Indian Fashion Market is not left untouched.
Men's denim wear is expected to grow at a rate of 14 percent per year. The young population of the country is the key demand driver for this segment. Due to rise in media penetration in the country and global fashion awareness, a shift in consumer's preference of the Denimwear has been witnessed. Penetration of international brands in Denimwear has provided consumers with more product options. The concept of 'Friday Dressing' has also promoted the denimwear among the working class.
Denimwear market is currently dominated by unorganised players. However, with many private labels and international brands entering Indian apparel market, the inclination towards branded denims is increasing among consumers. The value growth within the denim category shall be owing to increased demand for enhanced product attributes: fashion, quotient, stretch and light weight fabric, varying colours, styling and detailing. Thus, making denim best material to quench thirst of both comfort and utility seekers.
2.2 Womenswear
Women's wear market in India contributes 36 percent to the total apparel industry. It is estimated to be worth `1,31,389 crore ($20 bn) in 2018 and is expected to grow at a CAGR of 8.3 percent to reach `2,90,504 crore ($43 bn). Globalisation coupled with fast fashion has resulted in awareness on fashion trends and styling. Further the increase in number of working women has fuelled the corporatized Women's wear market. The demand is expected for Western wear, Fusion wear and occasion specific ethnic wear.
Women's wear in India comprises of Ethnic wear, Western wear, Indo western and Inner wear etc. Ethnic wear is the single biggest category in Womenswear segment with a share of 65 percent of Womenswear market. The women's ethnic wear can be further classified into Sarees, Salwar kameez and Blouse Petticoat. Saree is perhaps the most common traditional Indian dress for women and has a market value of `~40,649 Crore. It is most widely accepted women wear in India. It is expected to grow at a CAGR of 3 percent and reach `54,629 crore by 2028. Though a market shift is expected from Saree to Salwar kameez and Western wear in Urban and Semi-urban markets, but still Saree will remain as the predominant category among elderly and middle aged women across Urban and Rural India.
Salwar Kameez is another dominant category in Ethnic wear. The comfort level provided by Salwar kameez has made it popular among the working women. With market size of `44,193 Crore, it is expected to grow at a CAGR of 10 percent to reach `1,14,627 crore by 2028. However, it has started facing stiff competition from the western wear in the urban areas. Owing to increasing number of working women in the country, Western formal / Western casual has led to increase the competition for ethnic wear in urban areas.
The increased competition from Western wear has resulted in a new category, Indo-Western (fusion-wear). It is a blend of both Ethnic and Western. With higher publicity of Indian fashion in the western nations, the integration of women's clothing designs has become inevitable. Comfort comes first while selecting attires. The clothing of Indo-Western ensemble includes trouser suit, which is a short kurta with straight pants with or without dupatta. Newer designs often feature sleeveless tops, short dupattas and pants with slits.
The Inner wear is another promising category in the women's wear market. The innerwear market is growing at a CAGR of 12.5 percent and is expected to reach `68,017 crore by 2028 from the current market size of `20,946 crore. Brassieres, panties and camisoles etc are the key sub-categories of women's inner wear category. Branded innerwear contributes 40 percent-45 percent of the total women's innerwear market and is expected that branded share will account for 45 percent-50 percent in 2023.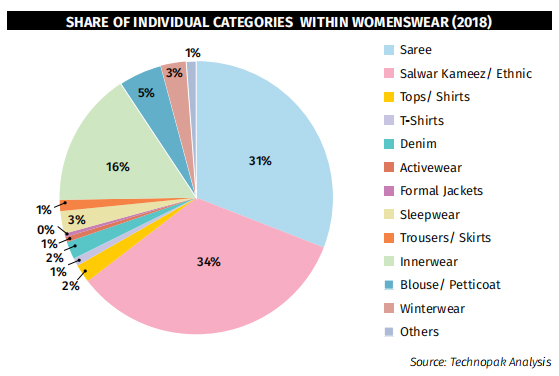 Denim is another high growth category among womenwear. It is expected to grow at a promising rate of 14 percent for next ten years to become a market of `5,250 crore by 2028 from `2,727 crore currently. Initially, the denim brands used to focus primarily on the men consumers, but with the change in the demand and preferences of women, they started catering to women consumers. Among all types of denim wear, jeans or trousers are the most popular articles among Indian women. Women of different age brackets like to wear denim as it is comfortable, functional and durable. Denim is also gaining popularity as athleisure among women owing to the comfort provided by the stretch denims. Women who are not at ease with western wear have taken up to wearing jeans by pairing them with Indian ethnic wear like kurtis. This mix and match style is gradually picking up, particularly among women in small towns who come from a traditional background and is likely to fuel the growth of the segment.
The fashion element which is so inherently present in women's clothes has been taken care of through the introduction of 'flexible / stretch' fabric for different applications. Whilst the women's segment represents a smaller share, it is expected to grow at a faster rate over the coming years. The segment is expected to grow at a faster CAGR of 14 percent.
Women T-shirts and Tops categories are also growing fast owing to inclination for western wear categories. The women tops and shirts market is of Rs. 2,830 crore and is expected to grow at a CAGR of 11 percent to reach `8,036 crore by 2028. The women's t-shirts market of Rs. 1,217 crore is witnessing growth in tandem with the growth of all other casualwear categories and is expected to grow at a CAGR of 12 percent to reach `3,781 crore by 2028.

The increased competition from Western wear has resulted in a new category, Indo- Western (fusion-wear). It is a blend of both Ethnic and Western.
2.3 Kidswear

The kids wear segment is one of the fastest growing segments in Indian apparel market. The Indian kids wear market in year 2018 was estimated to be worth `73,274 crore and accounted for ~20 percent of the total apparel market of the country. It is expected that kids wear will significantly surpass the growth of men wear and women wear by growing at a CAGR of 9 percent to reach `1,66,147 crore by 2028. With such market potential, numbers of national and international players have entered this segment. The competition between the new entrants and existing players has ultimately benefited the Indian consumers as the firms have shifted their focus to improve the quality while reducing costs at the same time.
India has one of the youngest population in the world in the age group 0 – 14 years, accounting for 29 percent (337 million) of the total population. Owing to the growth potential of this market segment, many international brands have entered India in last few years.
Exposure to global fashion trends, rising disposable income of the Indian working class and presence of foreign brands acts as a catalyst for the growth of kids wear market in India. A well planned approach is required to understand the demands of kids wear market. After the implementation of GST, kidswear segment is expected to witness higher shift towards organised retail in near future. Right business model, backed by the strong supply chain will ensure brands capitalize on growth of kids wear market segment. There exists a gap between the local kidswear store and organised store in terms of their price points. Brands which would cater to this vacuum can capitalize and seize significant market share.
Fashion, has touched every sphere of consumers, including kids. Awareness about latest kids wear is not only limited to metro cities, but it is widespread among Tier 2 and Tier 3 cities, due to access to various media such as televisions, smart phones, movies etc. With growing disposable income, exposure to global fashion trends and entrance of foreign brands in the country – spending on kidswear by Indian populace has increased.
In the recent times, the kidswear market has witnessed several trends which have implications for stakeholders across the value chain. The preference for branded apparel has increased in Indian kidswear market. Brand awareness of parents as well as that of kids of higher age brackets has improved owing to entrance of more brands and marketing activities of such brands.
Retailers have started introducing kidswear specific private labels to cater to the price conscious consumer groups. Consumers have accepted these privatelabels offering as alternatives to brands. Brands and retailers are no longer restricting themselves to kids' westernwear and have started offering kids ethnicwear as well. The trend of occasion-specific clothing has started gaining momentum even among kids.
Kidswear segment is expected to remain lucrative in the coming years, but also requires cautious approach to penetrate deep into the segment. Awareness about latest kids wear is not only limited to metro cities, but it is widespread among Tier 2 and Tier 3 cities also due to access to various media such as televisions, smart phones, movies etc.
The kidswear market can be further categorised into Boyswear and Girlswear
Boyswear
Boyswear was estimated to be worth `37,838 and is expected to grow at a CAGR of 8.8percent to reach `88,085 crore by 2028. Denim, Tee/Shirts and Uniforms are the high growth categories in Boyswear, growing at high CAGR's of 13 percent, 10 percent and 9 percent respectively.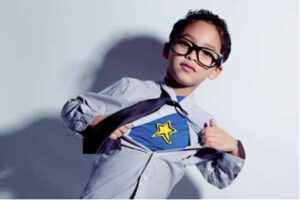 The various categories among Boys wear are Tee/Shirts, Denims, Bottom wear, Ethnic, winter wear and Uniforms etc. Uniforms, Tee/Shirts and Bottom wear are the dominating categories among boys wear. They together contribute around 78 percent of the total boys wear market. However, T-shirts and Denims are considered high growth potential categories in the segment with a CAGR of 10 percent and 13 percent respectively. The increased fashion awareness among kids has made western wear such as Denims and T-shirts popular.
Girlswear

Girlswear market, which accounts for remaining 49 percent of Kidswear market, comprises of Bottom wear, Ethnic, T-shirts, Denim, Dresses, Winter wear and Uniform etc. Like Boyswear, Uniforms are the dominating category among Girlswear as well. It is worth `10,806 crore and is expected to grow at a CAGR of 9 percent to reach `25,582 crore by 2028. Another dominant category in this segment is Ethnic wear, which comprises 23 percent of Girlswear market. However, a major shift has been seen in trend among girls wear in recent years. Western wear categories such as Denims and T-shirts are growing faster than traditional categories. These categories are expected to register CAGRs of 13 percent and 12 percent respectively.
Indian consumer of the medium income level prefer medium price segments
as it offers the assurance of minimum quality standards at a reasonable and affordable price.
Price Segmentation of Overall Apparel Market in India
Apparel market can be broadly divided into super premium, premium, medium, economy and low price segments. The medium price segment holds majority of the share in apparel segment viz. 29 percent, followed by economy which holds 28 percent of the share of the apparel market of the country. The price sensitive rural population forms a major chunk of 54 percent of the low and economy price segments of apparel market.
Customers across income groups purchase medium priced apparel at varying frequencies. Sometimes the customers of the premium and super premium segment wish to trade down to medium segment, while in some other cases the low income customer prefers to trade up to medium segment depending on the requirement of the attire and look. Many Indian consumer of the medium income level prefer medium price segments as it offers the assurance of certain minimum quality standards at a reasonable and affordable price.
Trends in Domestic Apparel Fashion
Key initiatives and trends that will impact profitability and growth drivers for Apparel Retailing in India:
1. Goods and Services Tax (GST) and Shift towards 'Corporatized Retail'
Implementation of GST not only streamlines the tax structure in India, but also reduces chances of non-compliance and tax evasion. It is likely to cause a shift in market shares, leading to expansion of organised sector by migration of significant share of unorganised sector.
GST applied on various goods and services range from 0 percent to 28 percent and exist largely in 5 slabs of 0 percent, 5 percent, 12 percent, 18 percent and 28 percent
Impact of GST on Apparels: While handloom does not attract GST, apparel up to `1,000 attract 5 percent GST and GST of 12 percent is levied on apparel above `1,000. However, this will not have a significant impact in the short to medium term on the pricing, in garments below `1,000 price tag, there could be a slight reduction by 1-2 percent in MRP while for garments priced above `1,000 there could be a price increase of 2-3 percent. But in the current competitive environment this price increase may not be passed on to the end customer.
GST also had a negative impact on the supply side of textile value chain as the industry was not ready for it. Textile clusters like Surat, Ludhiana and Tirupur had low production in 2017. Markets have started to come back to normal in late 2018.
2. Omnichannel Play:

In order to provide seamless experience to customers across channels, coupled with the need of sharper customer behaviour, Brick & Mortar (B&M) retailers and ecommerce players are adopting omni-channel retailing approach to:
Enhanced customer experience
Personalized marketing & promotion
Higher brand loyalty
Reliance Industries have launched Ajio, Tata Group has launched Tata Cliq and Landmark Group has launched Landmarkshops.com. Ecommerce players too are exploring Brick & Mortar retail. Myntra has launched Roadster. Zivame, Pretty Secrets, Jaypore etc. already have physical stores to serve the customers. Omni channel pampers customers through store pickups (click & collect), home delivery of customers etc.
3. Growth of Private Label:

Acceptance of private labels among multi-brand retailers is on rise across product categories. Some reasons that can be attributed for their growth are:
Higher Margins: Due to low advertising and promotional costs they offer higher margins
Customer Loyalty: Private label buyers are more store- loyal
Differentiation: Private labels provide an opportunity to retailers to differentiate themselves from other stores
Higher Bargaining Power: A successful retailer with high share of private labels gets higher bargaining power to negotiate with suppliers
Retailers that have achieved scale and profitability will naturally progress to building private label portfolio that will give incremental gross margin additions. Offline retailers like Lifestyle, Shopper's Stop and Pantaloons have been aggressive with their private labels.
Moreover, key leading online players such as Amazon, Flipkart, and Myntra have also increased their focus on private labels in last two years for Apparels in general. Myntra now has around 15 private labels and is expecting its private labels to contribute approximately 35 percent of overall revenues by year end. However private label is a complementary to the brand portfolio of multi-brand retailer and retailer use mix between the two to attract, engage and retain the customers. In this context, Private labels will be an important growth driver for Women's Ethnic wear.
Offline retailers like Lifestyle, Shopper's Stop and Pantaloons have been aggressive with their private labels.
4. Global brands going beyond metros:

The Indian Retail market is witnessing a shift in consumption patterns in smaller towns, where people are moving beyond necessities and using products that were hitherto only available in metro cities. Western influence, changing consumer behaviour, increasing working women and urbanisation are major factors fuelling this growth in Tier 2 and 3 cities.
The increasing purchasing power and awareness of fashion trends in small cities have resulted in new market opportunities for corporatized players. This has compelled premium international fashion brands, after consolidating their presence in the metros, to aggressively expand in Tier 2 and 3 cities, while domestic brands are also strengthening their position in these markets.
5. Increased awareness and implementation of sustainable practices:
As the country is confronted with environmental issues, it has become imperative for Textiles industries to adopt eco-friendly strategies. The industry is focusing on reducing water pollution and increasing use of organic colours in Apparel manufacturing. There has been a surge in awareness among consumers on environmental issues. Brands/private labels have started catering to this market especially in Babies, Kids wear and Premium Adult wear categories segments.
6. Impact of Digital India program on E- commerce

The Digital India programme is a flagship programme of the Government of India with a vision to transform India into a digitally empowered society and knowledge economy. This has resulted in internet penetration to 400 million users, 48,000 gram panchayat with optical fibre connectivity under Bharatnet and 120.8 million broadband users. The increasing spectrum of internet reach across geographies of India coupled with corporatization of apparel sector is paving way for emergence of e-commerce in apparel sales to new levels. With digitalisation of India, Apparel Retailers and Brands would have better access to Tier 2, Tier 3 cities and rural India through media and internet exposure.
7. Increased inclination towards smart casuals

Indian corporate dressing is witnessing a transitional phase from strict formal wear to smart casuals. The steady abandonment of formal attire is reflected in the top lines of formal wear brands and shelves of retailers. The changing work culture is driving the market for smart casuals. The underlying philosophy for the acceptance of smart casuals is that being casual helps people to be more relaxed at work place promoting a culture that is not bureaucratic and hierarchical giving equal opportunity to all genders and age groups. Smart casuals have inspired new categories like treggings (hybrid of trousers and leggings), knitted blazers etc. thus providing comfort, design and styling through casual wear and smart appearance for professionals.