The Indian fashion market is considered to be one of the most diverse in the world, offering everything from high-end to budget-friendly apparels. Banking his business on affordability, Ashwini Seth launched Gwalior-based brand Dennison Fashion India. His aim – to become 'a brand for everyone' and to provide an affordable, ready-to-wear apparel line.
Brand History
The story began in 1988 when Ashwini Seth's father, Rajendra Seth observed that many people were people struggling to procure material and then getting it tailored to their specifications. The enterprising man that he was, Seth senior decided to sell ready-to-wear shirts in Gwalior for just Rs 98.
It was considered a bold move then, but it reaped results, which led to the founding of a small 150. sq. ft store with just four machines. The success of this small store laid the foundation for Dennison.
In 2014, his son Ashwini joined the family business, bringing with him a plethora of innovative ideas. The result – today, the brand has branched out into affordable formalwear and casualwear for men and women.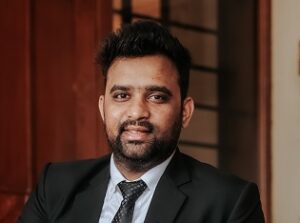 "Our brand focuses more on affordable everyday apparel for working professionals which requires the right combination of classic design, colour and pattern needs in everyday life," says Ashwini. According to him, the brand's uniqueness is "its functionality, sustainability, fashion forecasts and data-backed design".
The D2C brand, which targets Gen Z, counts ankle-fit trousers and satin solid shirts among its best performing products. These products are priced between Rs 800 and Rs 1,000.
An Immersive Experience
Dennison will soon launch a digital metaverse store which will offer a unique and immersive experience to its customers. This virtual shopping experience will allow for a more engaging and interactive way of showcasing and experiencing digital products in a 3D environment.
"Instead of traditional product images or descriptions, customers can view digital products in their full glory. Whether it's virtual artwork, virtual reality experiences, or digital collectibles, customers can see and interact with these products as if they were physically present," Ashwini explains.
Manufacturing & Sustainability
Dennison's manufacturing arrangements are spread across Gwalior, Bhilwara, Indore, Mumbai and Gurgaon, and the raw materials are mainly procured from Maharashtra.
On sustainability, Ashwini says that the brand sources raw materials from ISO-certified companies and uses materials certified by the Global Organic Textile Standard (GOTS). It intends to launch a plant-based sustainable fashion clothing range made entirely of hemp, bamboo, aloe vera, and banana, as well as organic cotton.
Trends & Expansion
As per Ashwini, Dennison's present GMV (Gross Merchandise Value) stood at Rs 20 crore in 2022-23. This is expected to increase to Rs 35 crore in 2023-24, with a growth of approximately 75 percent.
The formalwear category generates most of the revenue, 65%, due to its unique fit, quality, affordability, and design.
Casualwear contributes to 25% and ethnic casual about 10%.
The brand, which is already very popular in states like Maharashtra, Uttar Pradesh and metropolitan regions, is expected to start its offline journey in 2024 from Delhi NCR and its products are already available on its website as well as on e-commerce platform Myntra. Since it aims to connect with consumers directly, the brand will stick to the D2C and franchise store model only.